Hello and welcome to Boston Harbor Beacon!  This blog will be focusing on boating in the Boston Harbor.  We will be covering topics such as fishing, day trips, maintenance tips, navigational issues, and other boating-related subjects.  For non-boaters, we will also be writing posts about how to get access to the Harbor Islands, tourist ideas, and historical information about the Boston Harbor.  Please follow Boston Harbor Beacon on Facebook and/or Twitter to get updates!
Boating season will be warming up soon, but in the meanwhile, the harbor provides a great arena to bird-watch.  Boston harbor and the surrounding coastlines fill up with migratory cold-weather birds starting in late October and lasting into the spring. Two of the most common are the Surf Scoter and the Common Eider. They are beautiful birds with puffin-like bills. Its hard to get close to one as they shoot across the surface of the water (or dive under) as you approach. Here is a nice shot of a Common Eider as he came up for a breath of fresh air.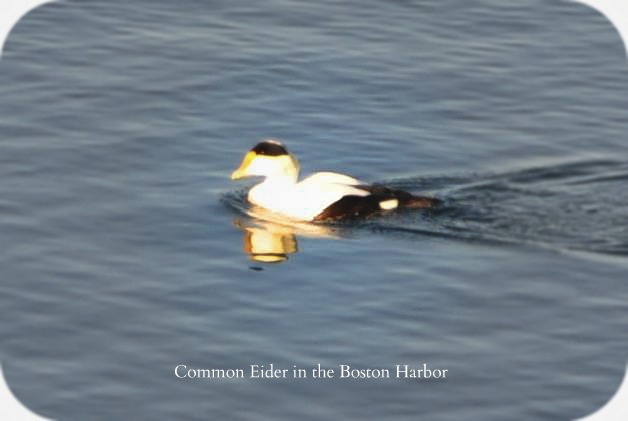 Do you have any favorite places to watch migratory birds in the Boston Harbor?  If so, please leave a comment!