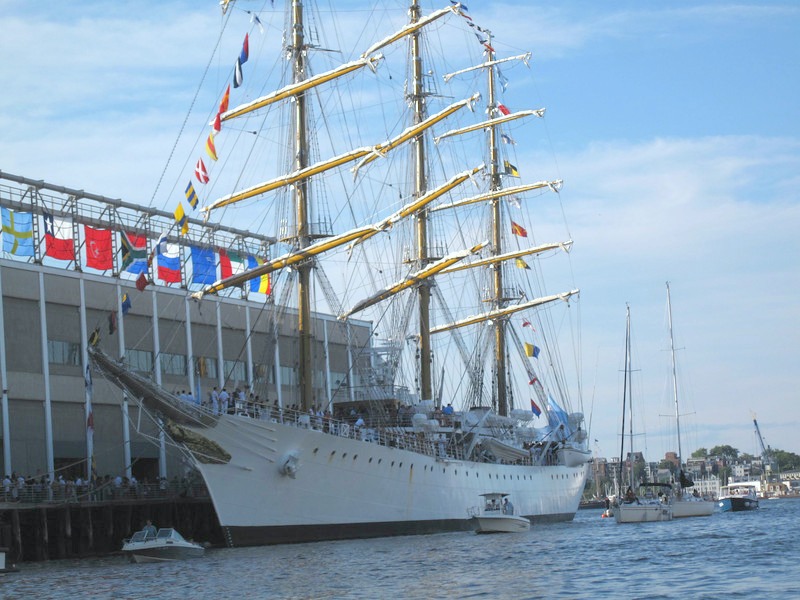 In just a few days, Boston will host the Tall Ships for Harborfest 2012. This year is particularly special given the bicentennial of the War of 1812, when the USS Constitution made her mark.  Some of the visiting tall ships include the USCG Barque Eagle, Cisne Branco, Dewaruci, Gloria, and Guayas.
There is a lot of info on the web about Boston Tall Ships 2012 and Harborfest, but we have done the tall ships routine before (in 2009), so we wanted to provide our brief thoughts in an "unofficial" guide, to anyone who may be interested. Here are the basics:
Boston Tall Ships 2012 if you have your own boat:
If it is anything like last time, be on your best behavior!!! There will be a set course for boaters to follow, which will be a counter-clockwise rotation around the ships that you will have to enter into.
Be prepared to be boarded: Every law enforcement agency has their boat out (wouldn't you want to be out there if you were them??)  Be very careful about consuming alcoholic beverages and have all of your documents and required safety equipment ready.
Finally, be comfortable maneuvering your boat in tight areas- you will have to go with the flow and be able to make a tight turn at the end of the channel while surrounded by other boats. Safety first!!!!
The tall ships are located at Rowes Wharf, the Boston Tea party Museum, and Piers 2-6 on the South Boston waterfront. From a boat this area should be easy to navigate, just mind the no wake zones. See corresponding locations below:Source: NOAA. As with all chart clips, these are not an official chart intended for navigation, and users should read the disclaimer.
The NOAA has also put out this War of 1812 Bicentennial commemorative nautical chart.
Boston Tall Ships 2012 if you don't have your own boat:
There are three options for viewing the Tall Ships:
#1- Viewing Tall Ships from a Boston Cruise Line:
For those exploring on foot, there is will be plenty of ships to see and a lot of walking and waiting in line to do. I would highly recommend getting a closer (and more relaxing) view of the Tall Ships by going out on a boat cruise with one of the local charter companies.  The ticket rates for these cruises are generally the least expensive for the morning, afternoon, and sunset cruises. The most expensive tickets rates are for the Tall Ships arrival and the 4th of July USS Constitution turnaround.
There are likely a few more, but these are the ones I am  aware of currently. I will post more if I find any more (comments welcome if you know of others.)  It's highly recommended that you take public transportation into the city during the event (July 30th through July 5th).  The MBTA has put out a special Tall Ships schedule to accommodate the large volume of visitors.
#2- Boarding the Tall Ships:
Last time, there was a very long line to approach and board the ships. Parking in the Seaport district can be difficult as well- for these reasons I recommend a boat cruise. If you do decide to go the pedestrian route, at least you will have a much better restaurant selection than last time! Check out all the new spots along the Seaport Waterfront.  Once again, consider taking the T to get into the city- see the MBTA schedule posted above for more details.
#3- Watching the Arrival of the Ships or the USS Constitution Turnaround from Castle Island
If you want to view the Tall Ships arriving on June 30th (7am-noon) or the USS Constitution turnaround on July 4th (11am-1pm), Castle Island is a great public viewing area.  The MBTA is offering a $3 round-trip shuttle on June 30th and July 4th from the JFK t stop to Castle Island.  In addition, an additional shuttle will be running on July 4th from the Bayside Expo Center to Castle Island (I assume there may be parking available there- I will update this as information becomes available.)  I've seen some amazing aerial photos of Castle Island taken during past Tall Ships events- expect massive crowds.
Photos from Boston Tall Ships 2009:
Ships lined up against Pier 2: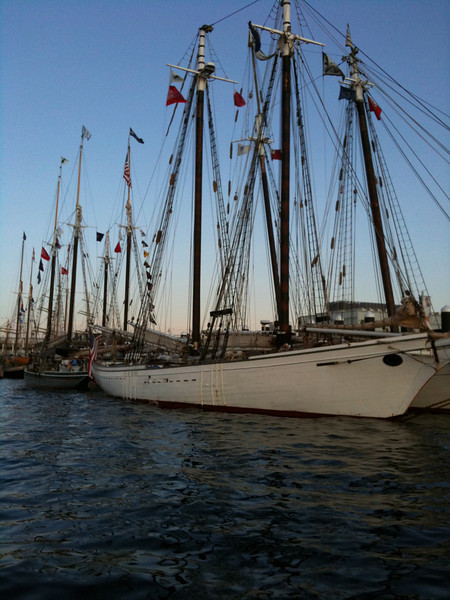 Tall Ships 2009- The Coast Guard Eagle at Constitution Wharf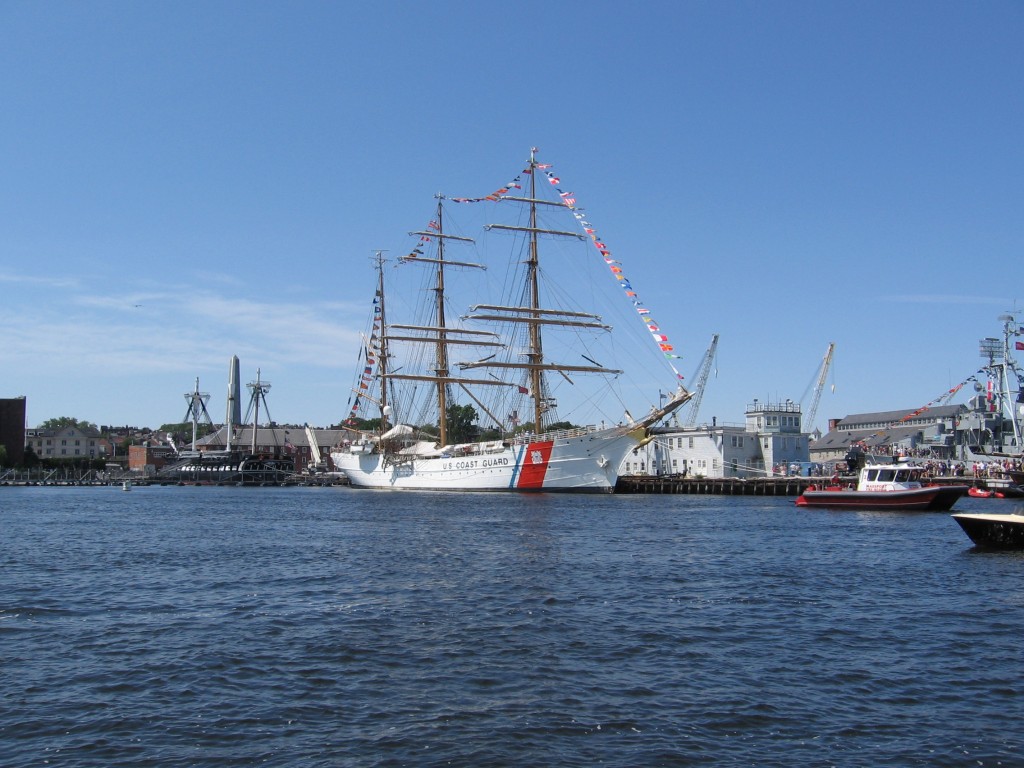 Tall Ships 2009- Navigating the WTC channel with some bigger tour boats: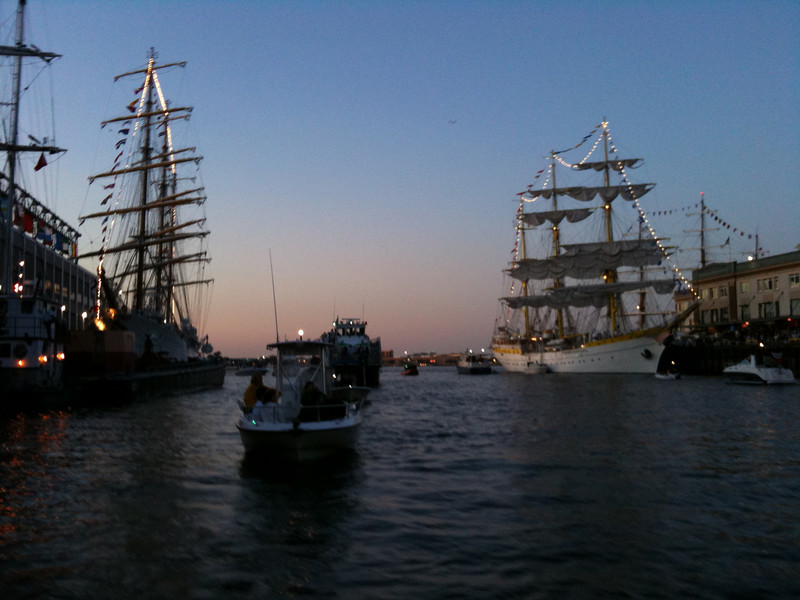 Tall Ships 2009- The Kruzenshtern, a Russian Ship, at the WTC