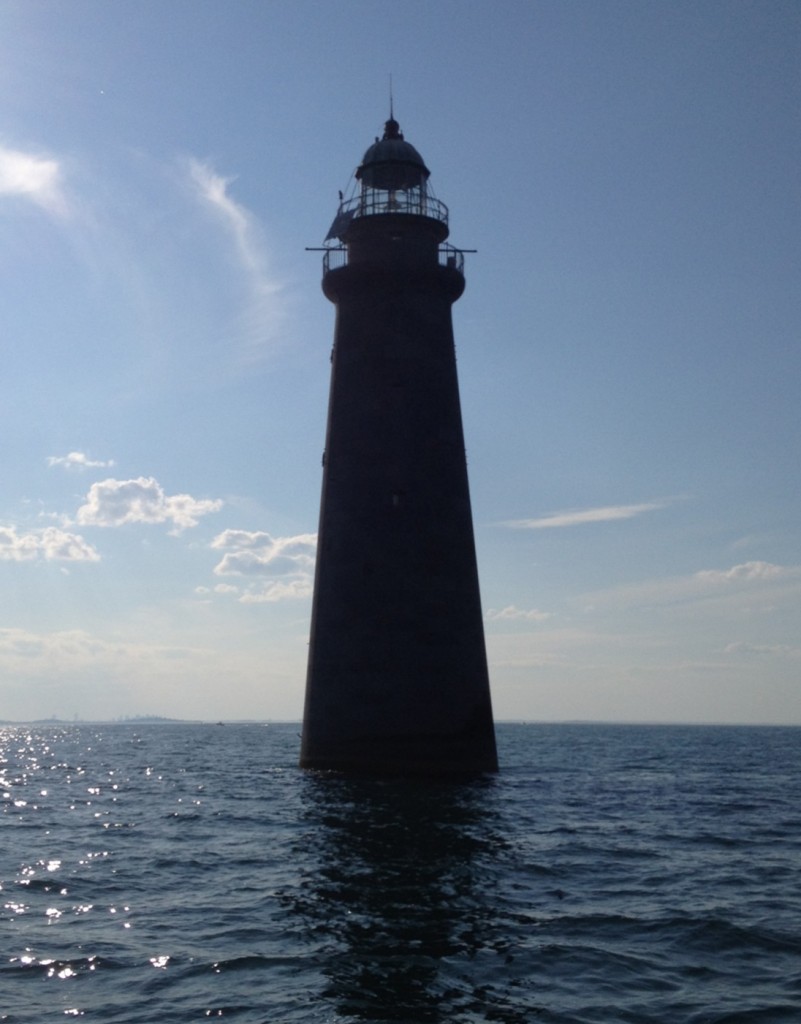 The trip from Boston Harbor to Cohasset Cove should take less than an hour in calm sea conditions. This is a small but beautiful harbor inlet between North Scituate and the South side of the town of Cohasset. To the South is Bassings Beach and the Scituate Glades, and the entrance to the North is marked by Minot light. This is a treacherous passage. There are multiple ledges and rocks, the outermost of which is Minot ledge, upon which the lighthouse sits, approximately one mile from shore. This area has been the scene of many deadly shipwrecks, including the wreck of the St. John, a ship bringing immigrants from Galway Ireland in 1849.
Here is a chart of the area, with the lighthouse in the upper right corner: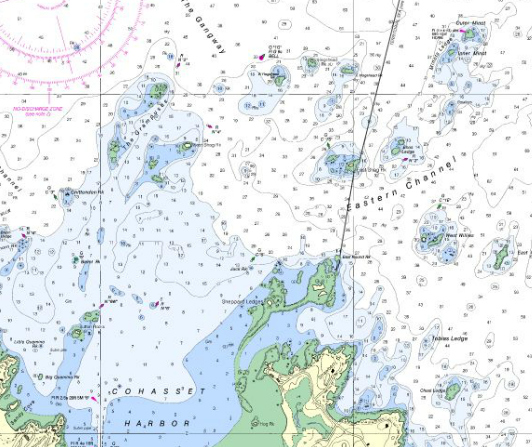 (Note chart clip is provided by NOAA and should not be relied on exclusively for navigation. See NOAA disclaimer here).
A view of the Barrel Rock, one of the many dangerous obstructions in the western channel approach. Fortunately this rock is well marked, unlike the nearby Grampus Ledge:
Minot light has quite an interesting history. I have heard that before the light was built, the great ledge beneath was a subject of legend among Native Americans. The original structure was built in 1847 in response to the many disastrous wrecks which had occurred on the nearby ledges, and in April of 1851, the light collapsed in a strong storm. The light has been known to have been hit by and withstood large very large waves -over 80 feet- during Nor'easter storms. Below is a picture I took during a Nor'easter storm last fall…I wouldn't want to be out there during that! For more details about Minot light and its history, see here.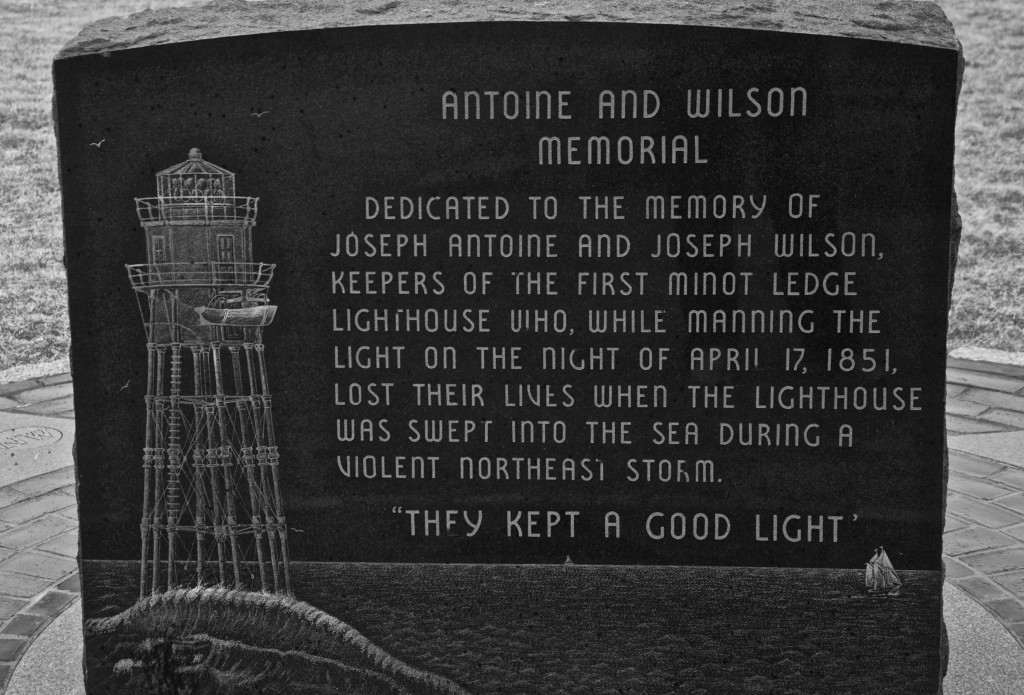 I would recommend making the trip to Cohasset Cove from Boston. If you decide to do it I would keep in mind that Cohasset Marina does offer transient slips, but does not have a fuel dock. The entrance around Minot is treacherous, and the entrance to the cove itself is tight, with a sandbar at Bassings Beach emerging at mid-tide. Once in the channel, you will find that it is well marked, but very narrow and tight given the large amount of boat traffic that you will see on a summer weekend afternoon. Finally, recall that on the way south from Hull, you have to beware of Harding Ledge, which lies right between the southern entrance of Boston Harbor and Cohasset.
Entering Cohasset Harbor through the very tight channel: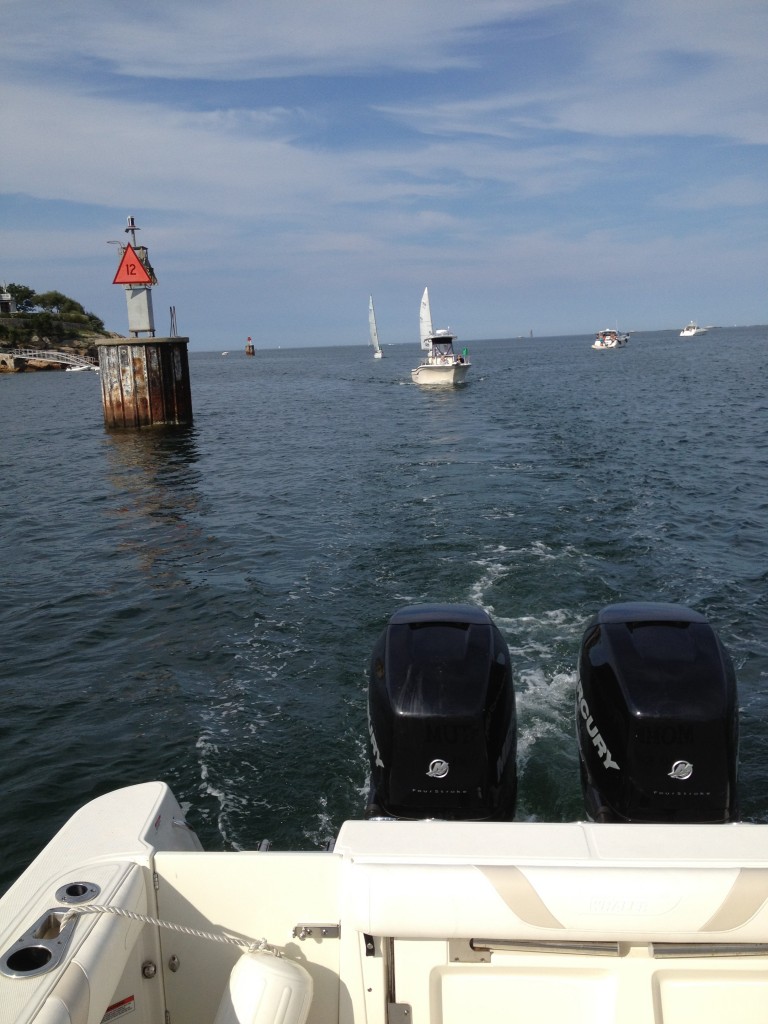 A panoramic view of a summer weekend day at Bassings Beach:

A GPS Chart view of Bassings Beach, which appears and dissappears with the tide. Note my position, which was enough at low tide for the boat to still have 2″ of draft.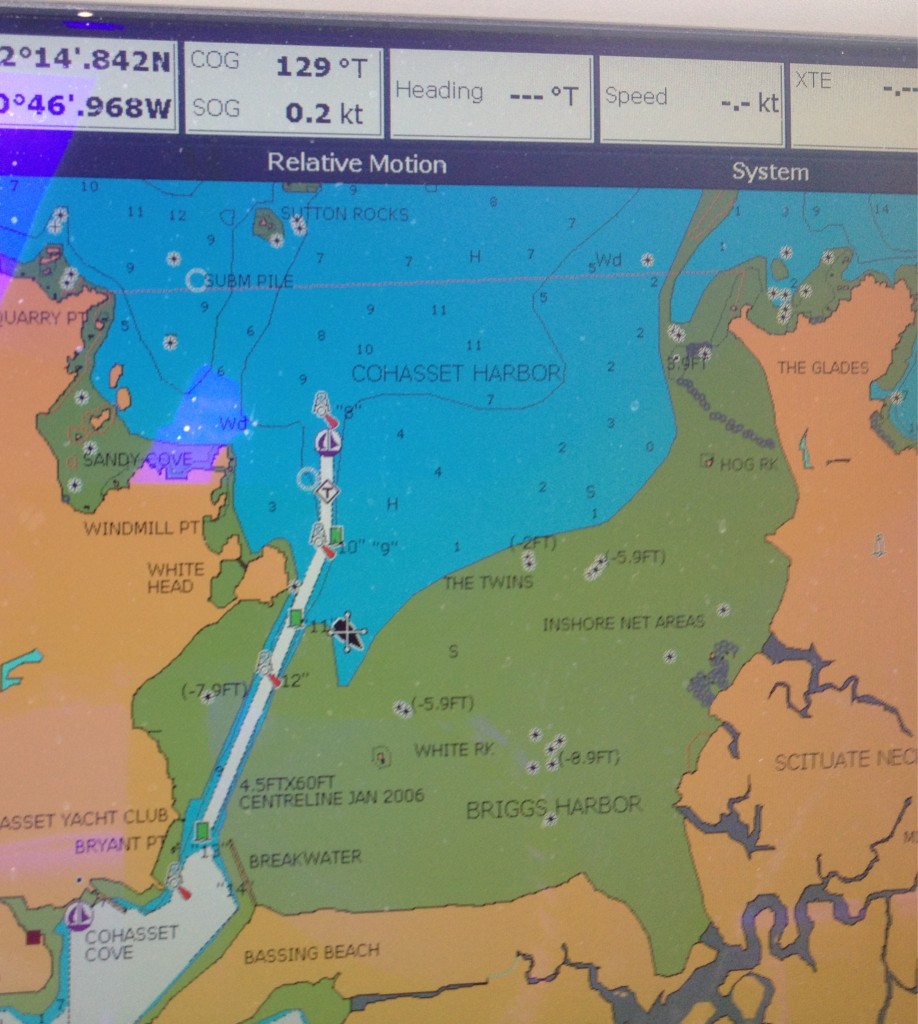 Cohasset Inner Harbor: