Nix's Mate: The conical black and white beacon marking this dangerous rocky shoal in the middle of Boston outer harbor:
Here is one place that as a boater, you want to stay far, far away from (unless you are talking about the new namesake restaurant in downtown Boston, which I heard is great).
The Island of Nix's Mate is a very dangerous rock outcrop between Long Island and Gallops Island. Rumor has it that this place was used to publicly hang pirates in the 17th century- a particularly good location given its visibility upon leaving the Harbor. Nix's Mate was once used to graze livestock, but most of the land and soil was transported to downtown Boston and used at landfill. What remains is a large area of barely submerged rock that is potentially very hazardous to passing boaters if they get too close. However, it is well marked.
As we know, there have been a number of unfortunate incidents at this location, resulting from mistakes made by even highly seasoned and trained mariners. You can read about the most recent incident here.
Chart of Nix's Mate: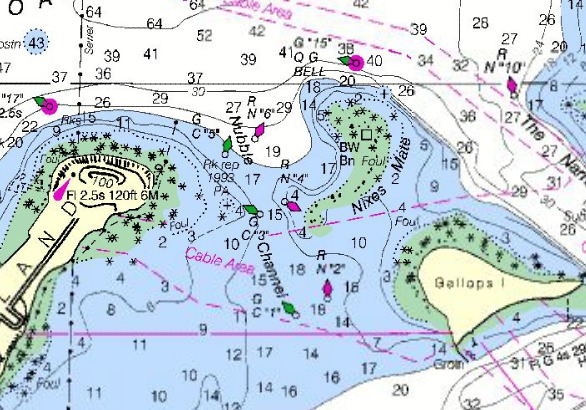 As for the namesake restaurant in downtown Boston, which is located at the Hilton Hotel on Broad Street…I will have to check it out. I haven't been yet, but have heard good things about it, and I think its great they chose to name the place after a local landmark. We will have to make a visit soon.