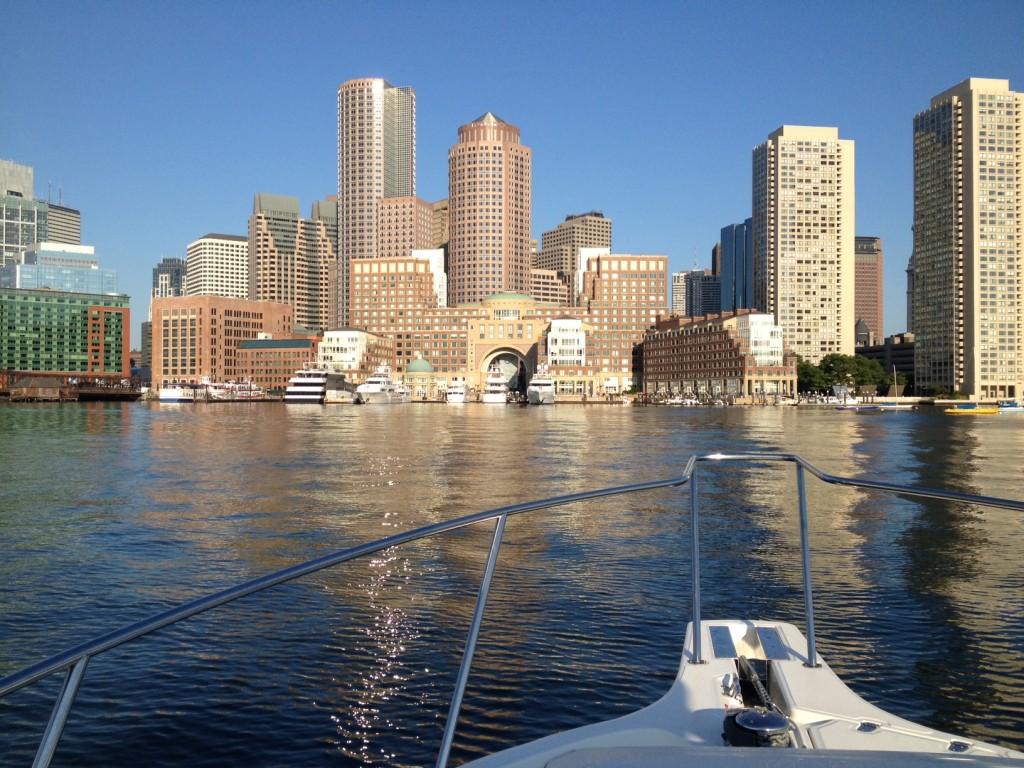 Are you looking for a place to dock up and have lunch or dinner? Below is a list (although incomplete) of Boston waterfront restaurants which have the option to tie up at the restaurant or nearby:
Downtown- Liberty Wharf Marina:
This is the new hot place on the South Boston Waterfront. Slips 4-12 are for public use.  $20 per hour with a 6-hour limit. Access to 4 restaurants on the waterfront, plus the Bank of America pavilion and other South Boston waterfront restaurants. For reservations (recommended), call the dock master  at (617) 999-5996.  Open 10:30am-11pm (no docking after 10pm). Marina Frequency channel 9.0. See the Liberty Wharf website for more details.  Restaurants include:
Downtown- Long Wharf:
Long Wharf is right in the center of the action and contain multiple Boston waterfront restaurants including, Joe's Bar and Grill, Chart House, Tia's,  Legal Seafoods, Access to Boston's North End, which is full of good restaurants and culture. Here is a nearby maria which is convenient to tie up at:
Downtown- Rowes Wharf and Atlantic Wharf:
This is a great location near the Boston Harbor Hotel. They have direct Boston Waterfront Restaurants several restaurants in the hotel, in addition to a few good places nearby at Atlantic Wharf. Atlantic Wharf  is inside the Northern Ave Bridge, so boaters may not have full access at and near high tide. Atlantic Wharf Restaurants include Smith & Wollensky and Trade. Across the Channel is The Barking Crab, which has its own dock. Also see the Boston Harbor Hotel website for details.
Charlestown:
Head up to the Northern part of the Harbor, near the USS Constitution, and there are several great Boston Waterfront Restaurants to tie up at and have a nice lunch, dinner, or drinks. While the Tavern on the Water is now closed, a new restaurant, Pier 6 is scheduled to open in its old location soon.
Quincy – Marina Bay:
Marina bay has several Boston waterfront restaurants with good views of the city skyline. There are 25 transient slips available.  $3.50/foot a night. Reservations (recommended) can be made by calling (617)847-1800 or on-line reservation application.  Dock master at VHF Channel 10.  Restaurants include:
Quincy – Town River:
I have not been in the Town River recently, but several of my dock mates like to go there to fuel up and get a bite to eat at Bay Pointe. Here is their website:
Hingham Shipyard:
This is a convenient tie up, just 8 miles Southeast of Boston. Although it is a little fancy, there is something for everyone. Directions:Fill out on-line form for reservations. Dock master available at VHF 9. There are now eight restaurants open at the shipyard. A full directory can be seen here. Some of the restaurants I have visted include:
Hull:
This peninsula on the Southeast side of the harbor is full of good restaurants and bars, but the most accessible one that I know about is the Sea Dog Brewery, which is near Sunset Marine, about half way up Hull's West side. In my few brief encounters, I have found that the people who run Sunset are very cool. This is likely a more relaxing environment that Boston waterfront restaurants.
Just a reminder from Boston Harbor Beacon that you should always have  a designated captain, and never operate a boat under the influence of alcohol!