You can see it! Last Saturday, I noticed the structure off the Northeast while I was out in the bay East of Boston Harbor. The new wind turbine in Gloucester is very clearly visible to boaters from outside Boston Harbor, and as it turns out, is even visible from as far away as the South Shore: Specifically, Turkey Hill in Hingham and the cliffs over Jerusalem Road in Cohasset. As such, this adds a great location point for boaters to help them determine there position and direction while far out on the wide open sea. The Gloucester turbine will be a good visible marker along with the Pilgrim Monument in Provincetown, The Salem Power Station, the Lawson Tower and Driftway Wind Turbine in Scituate, and Thacher Island in Rockport.
Note these pictures aren't the clearest, but this is because they are taken of something 22 miles away….A clear, pretty picture isn't what I'm trying to do here…this is all about the perspective and distance.
Here is a long distance shot of Gloucester Harbor from Turkey Hill in Hingham, with the wind turbine visible. The elevation gives some advantage: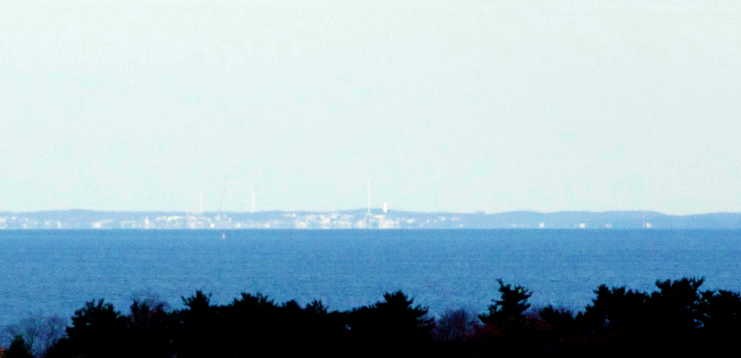 Update: A newer photo, on a clearer day in late December '12. The furthest right turbine is even more visible now that its fan seems to have been attached: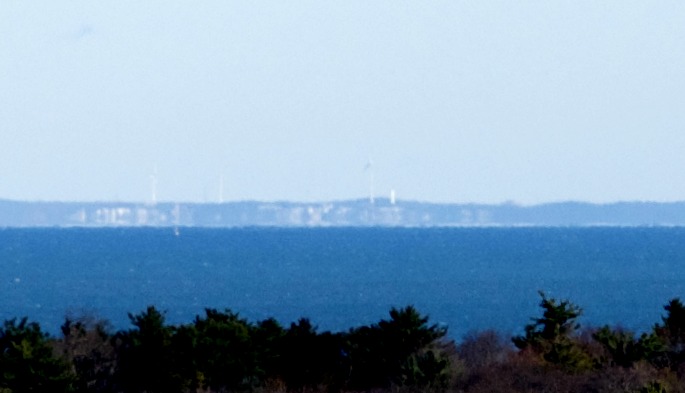 For some more panoramic shots from Turkey Hill, click here.
Here is a photo (highly zoomed in with my Nikon) of the wind turbine, as taken from the shore in Cohasset. Note it is in the distance right in front of the blue tanker, which is anchored at the offshore gas terminals: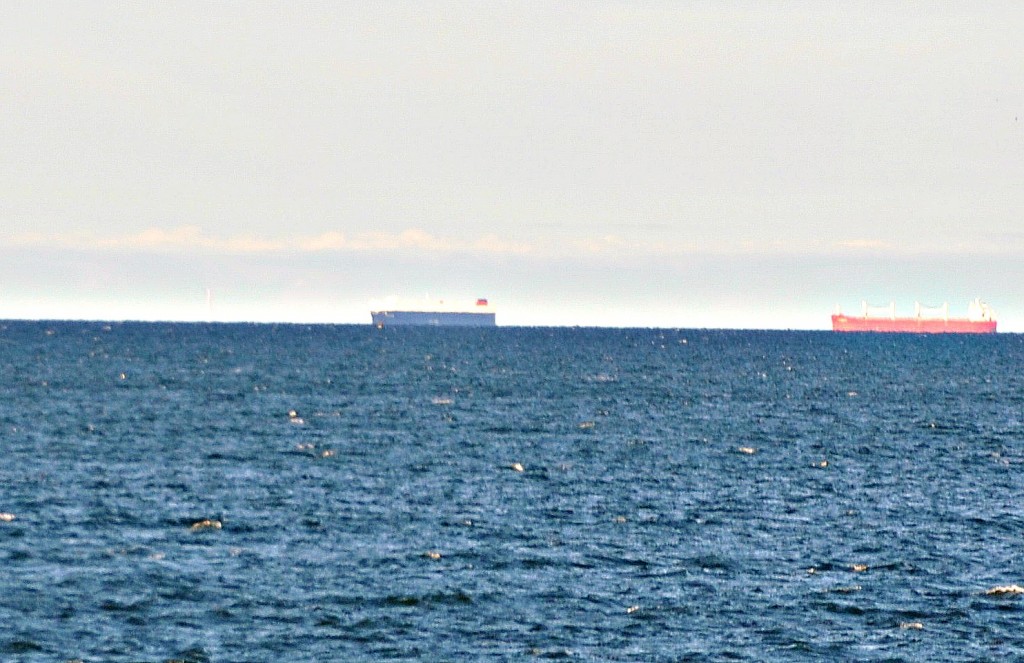 Looking out across Massachusetts bay from the South Shore to the North gives one some perspective on the size of this vast area. I have been able to see the lighthouse at Eastern Point in Gloucester from the high points of Jerusalem Road. Likewise, I have also seen Minot Light from the Dogbar breakwater in Gloucester. Here is a panoramic shot of the North Shore taken from Turkey Hill on the Hingham/Cohasset line (you may have to click to zoom in on this one):