Baker's Island in Salem Sound, and its lighthouse. There is only one light house today, but up until the late 1920s there were actually two…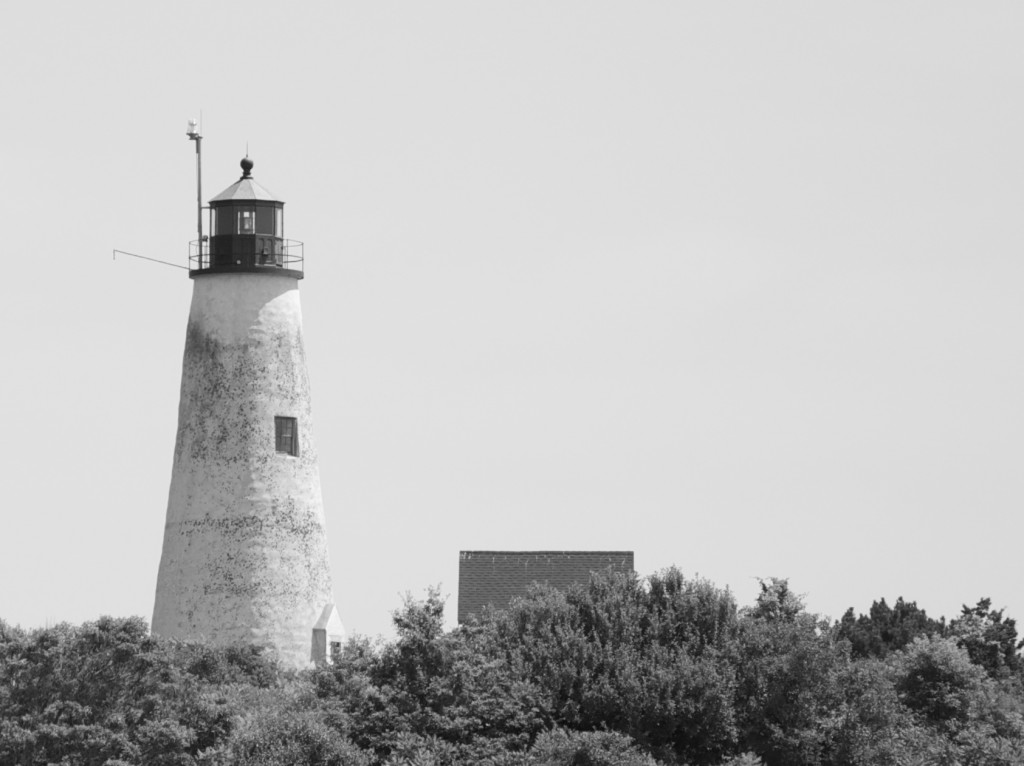 The twin lights of Baker's Island: 
After making a boat trip to the
islands of Salem Sound
this summer, I found myself doing some research on the nautical history of the sound and surrounding harbor. Of particular interest is that Baker's Island, the sight of a large and highly visible lighthouse today, once had twin lighthouses. I am lucky enough to own a 1869 Coast Guard survey chart of Salem Sound that belonged to my grandfather. The sound is labeled on this chart almost exactly as it is today, dimensions and all. However, the chart indicates that there were once two lighthouses on the island. A little further
research
confirms this.
A broad view of Baker's Island today, as seen when approaching Salem Sound from the North Channel: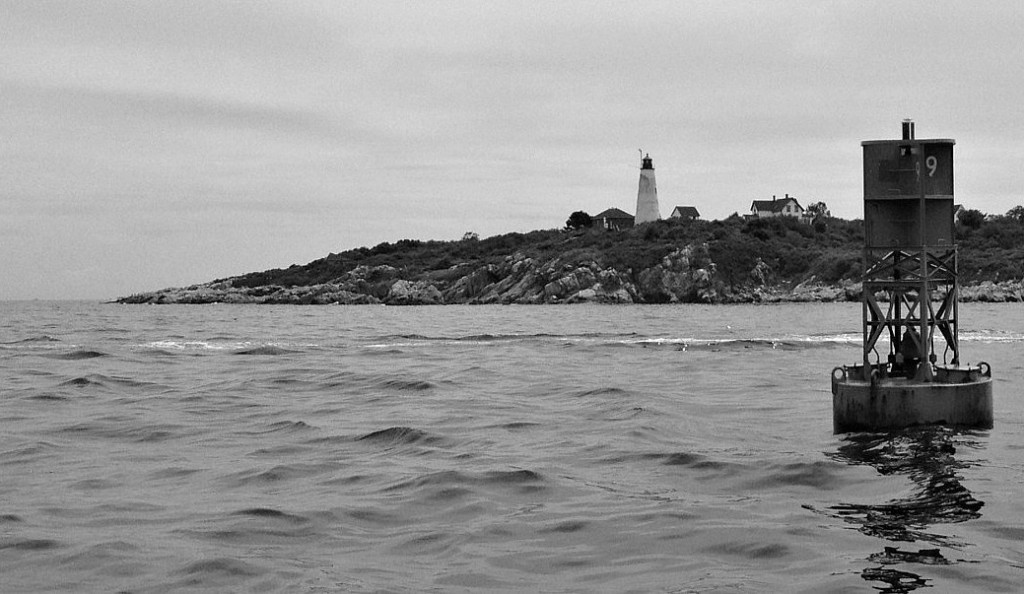 Below is the depiction of the view of Baker's Island twin lights on the 1869 chart: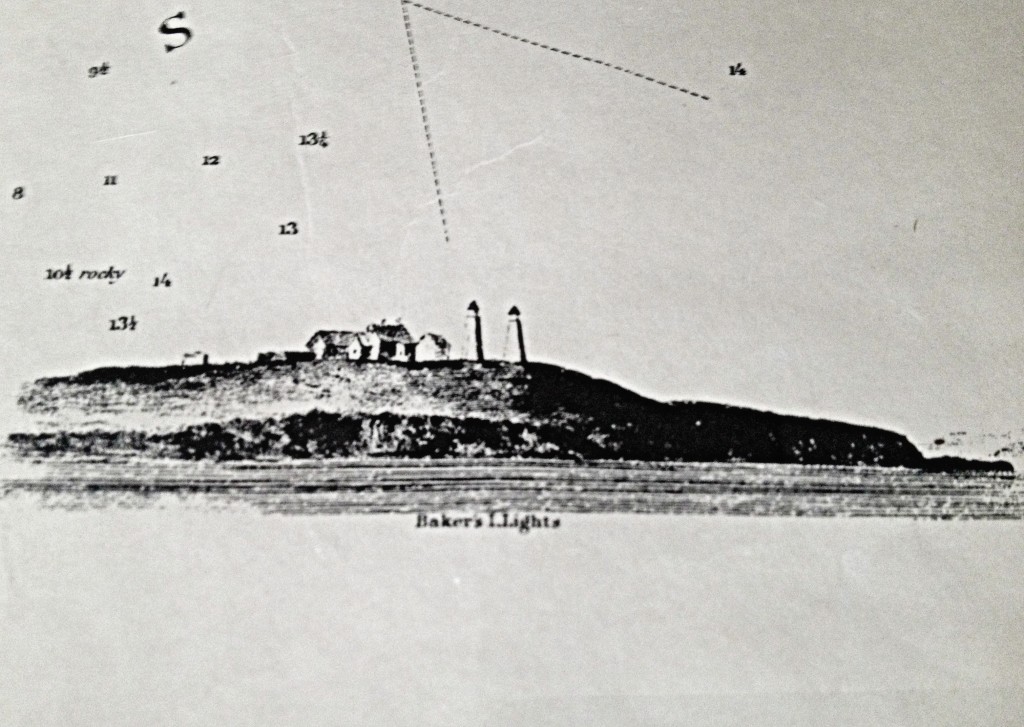 It turns out that the second lighthouse was taken down in the late 192os as it was viewed as an unnecessary expense. A broader view of Salem Sound, with Misery Island and Baker's Island as shown on the 1869 nautical chart: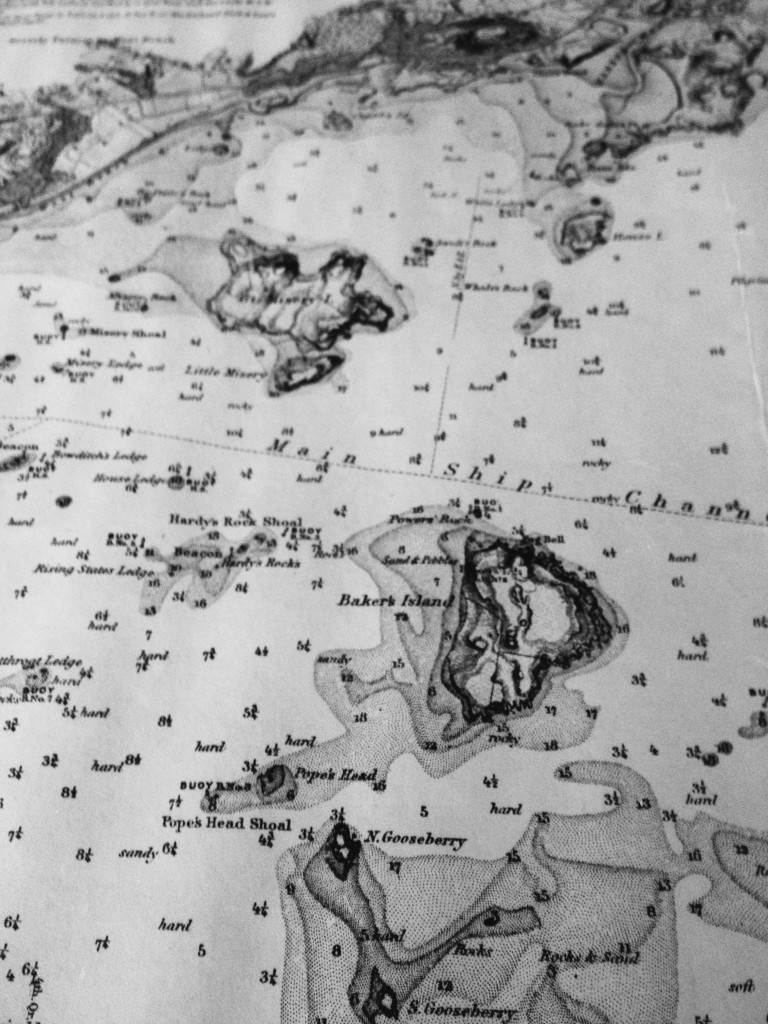 These lighthouses were designed to warn of the great dangers of Salem Sound- mainly its many rock outcrops and shoals which lie around the vicinity of Baker's Island. Despite the prominence of these guiding lights, there were still mishaps. One particularly strange event happened in August 1901*, when a cargo ship called Ethelwold ran abound off Baker's Island in a dense fog. The ship was a fruit carrier, on its way from Puerto Plata to drop off its cargo of Bananas at Boston's Long Wharf. All were reported to be ok, and the ship sustained only minor damage. However, the crew's method of becoming dislodged from the rocks was to lighten the ship's load was to throw bananas overboard. Some 3,000 bunches of bananas floated across Salem Sound that August afternoon, and fisherman promptly left their traps and lines to go catch some tropical fruit!
Not much has changed: A similar view of the area as seen on GPS display in 2012: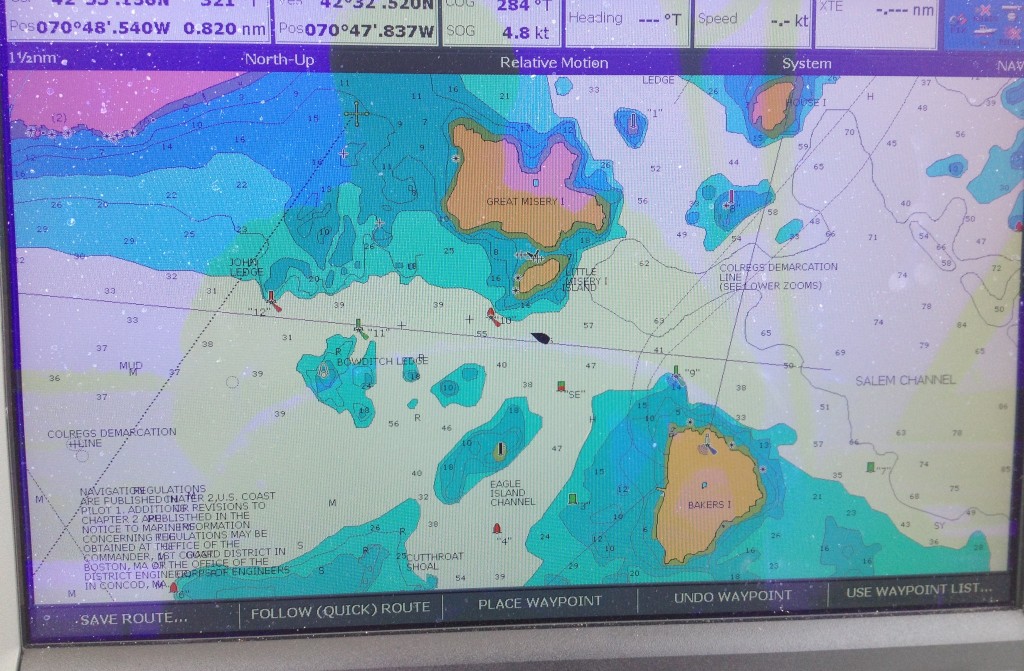 Salem sound makes one of the best day trips from Boston Harbor given its natural beauty and many secluded places to drop an anchor. It is a large protected area, almost the size of Boston Harbor itself. It is also full of rock outcrops, shoals and other navigational hazards, making it a true challenge for boaters who are up for it.
*Source: "In a Dense Fog. Ethelwold Ran on the Rocks off Baker's Island". The Boston Daily Globe, August 16th, 1901.