A key safety tip for boating in Boston Harbor is being aware of both natural and man-made structures underneath the water surface. Cable areas, in particular are a less frequently observed obstruction, yet Boston Harbor is full of them.
Connecting power to regions across the harbor, submerged cables are everywhere and should be carefully avoided by boaters. Boaters run the most risk of encountering a cable area when anchoring or bottom fishing. A snagged fishing lure or worse- an anchor caught on a cable- will result in a sticky situation! (and likely the loss of your anchor).
Avoiding Cable Areas: Fortunately, these cable areas are very well marked on nautical charts, like the ones in purple text below: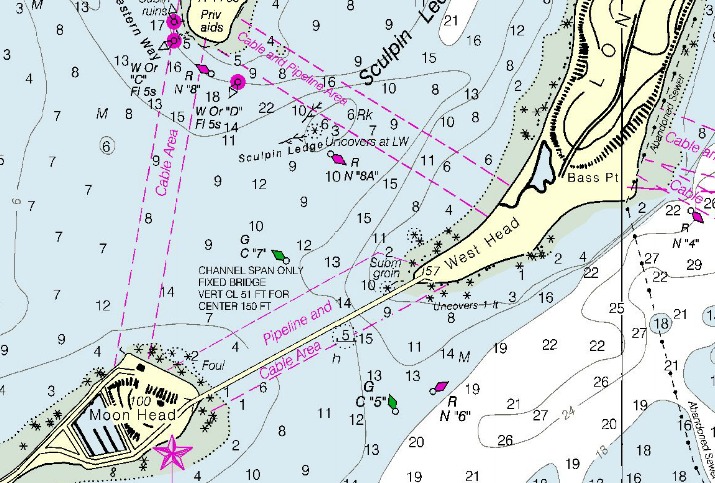 NOAA Nautical Chart. Not for official navigation. See disclaimer at NOAA.gov.
Note the cable area shows up as the purple dotted line with accompanying text. These obstructions can be found all over Boston Harbor. An example is shown above of the area between Long Island and Spectacle Island- a frequently visited fishing location. When choosing a place to anchor or fish, boaters should refer to charts and GPS to be sure that they are not interfering with a cable area.
For more Boston Harbor boating safety tips, check out our posts about the most dangerous places in the harbor, and navigating under bridges.