When out on Boston Harbor, there are a great variety of interesting boats which one may see. In addition to the large number of private recreational boats and fishing vessels out there, here is a list of some of the unique and frequently seen boats out on the harbor ranging from ferries to fire & police boats to cruse ships. Should you want to take a ride on any of these boats, a few links are available below.
Ferries:
The Salacia. This is the largest and fastest of the ferries on Boston Harbor. It is used for the Hingham/Boston commute in the winter, and runs from Long Wharf to Provincetown in the summer months.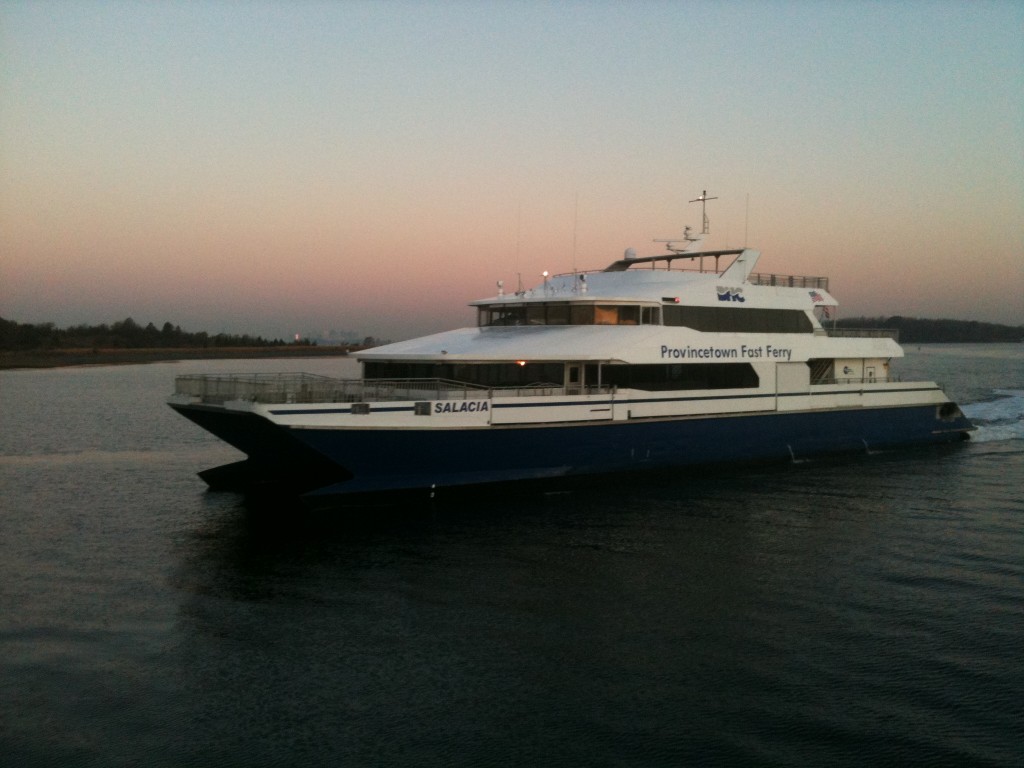 The Aurora and Asteria: These two nearly identical fast ferries are catamaran hulls like the Salacia, but are smaller. They are used for the Hingham commute as well as whale watches in the summer months.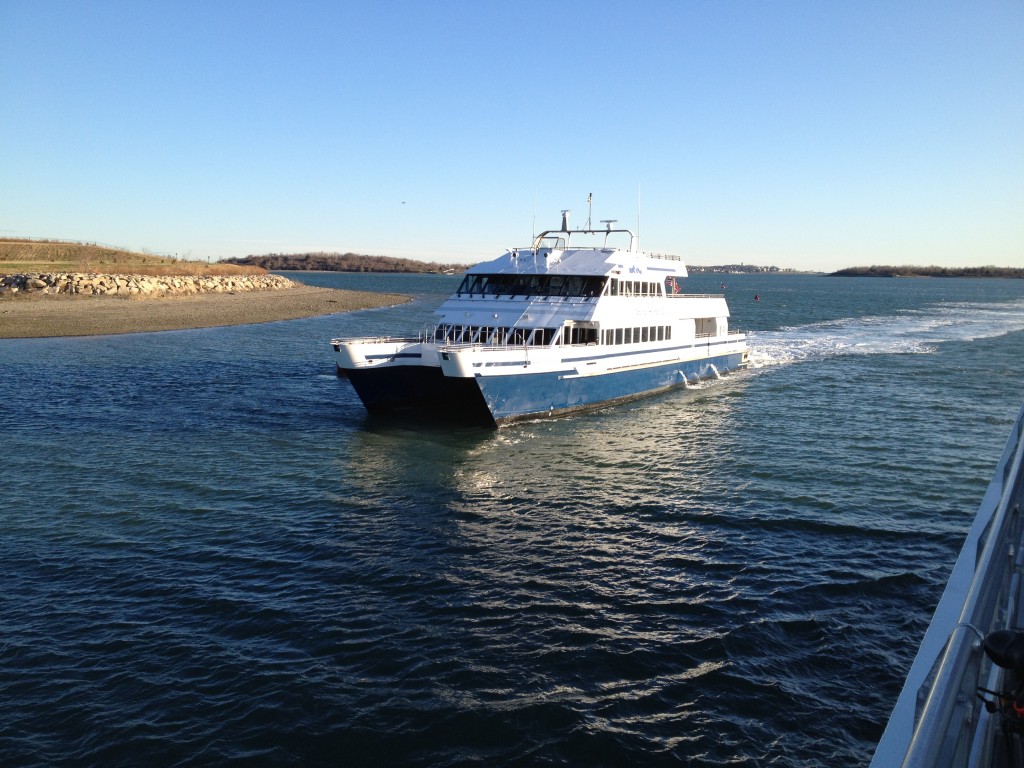 The Voyager: A whale watch vessel that also does the Quincy Ferry run. It is smaller than the Aurora and Asteria, but faster. It is also designed specifically for whale watching.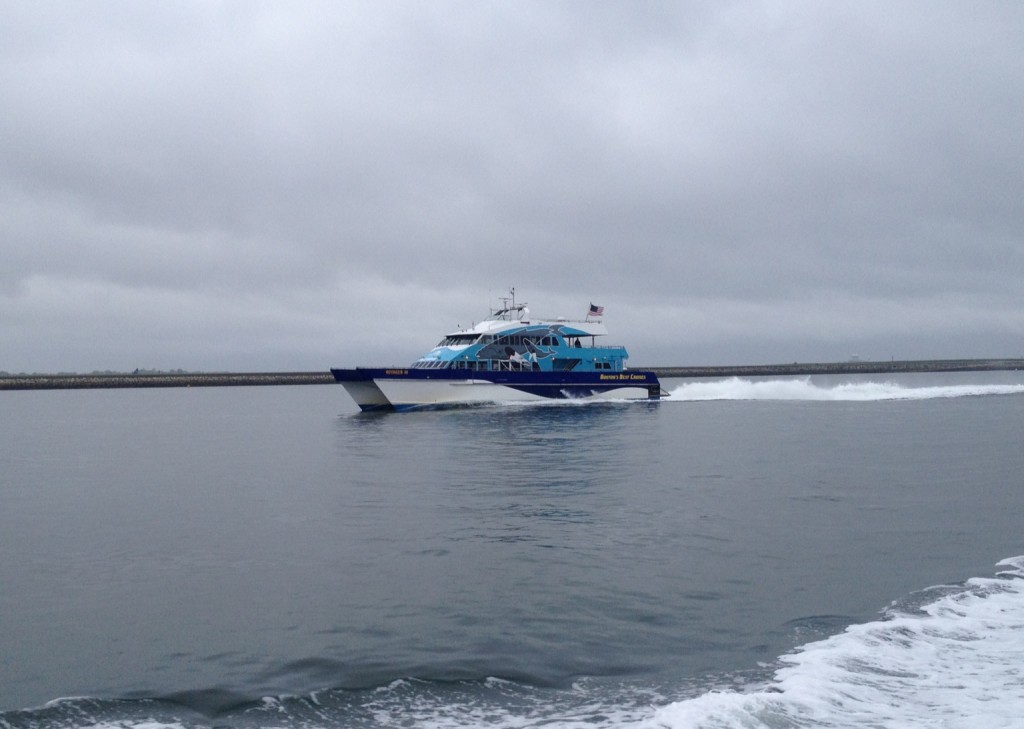 Ruth E. Hughes: This is one of the older passenger ferries serving the Hingham commuter run to Rowes wharf. She throws off a hell of a big wake, so watch out if you are passing her!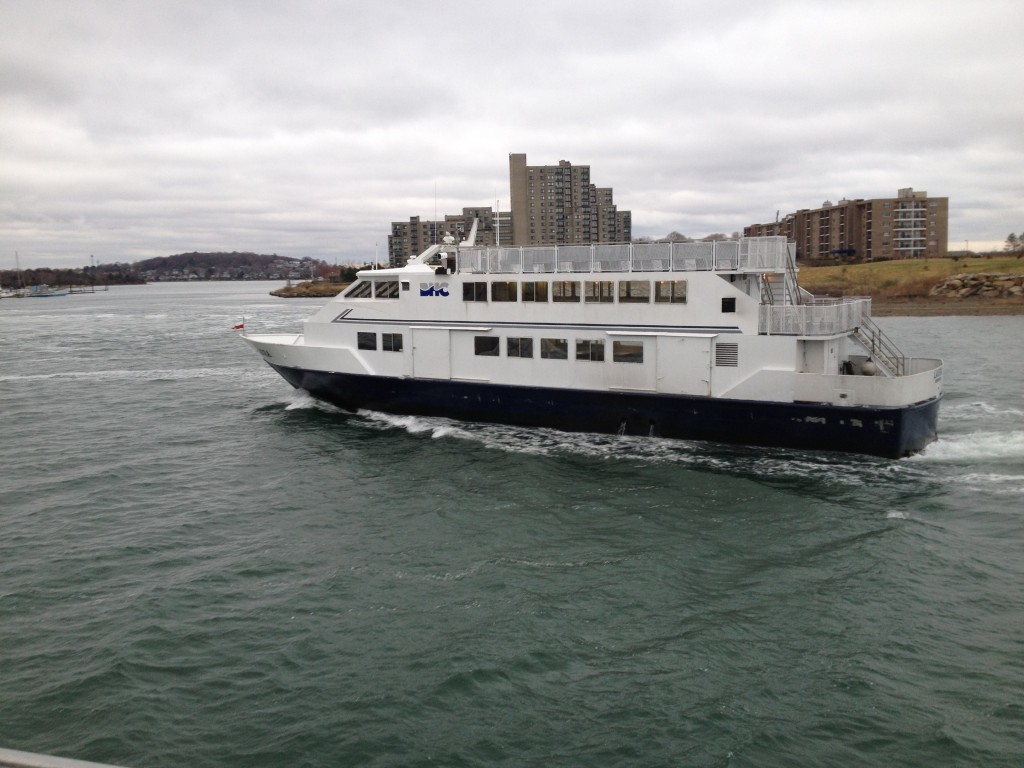 Massachusetts: Also performing the Hingham Run, the Massachusetts can be seen doing tours of Boston Harbor in the summer months. It is known for its friendly crew.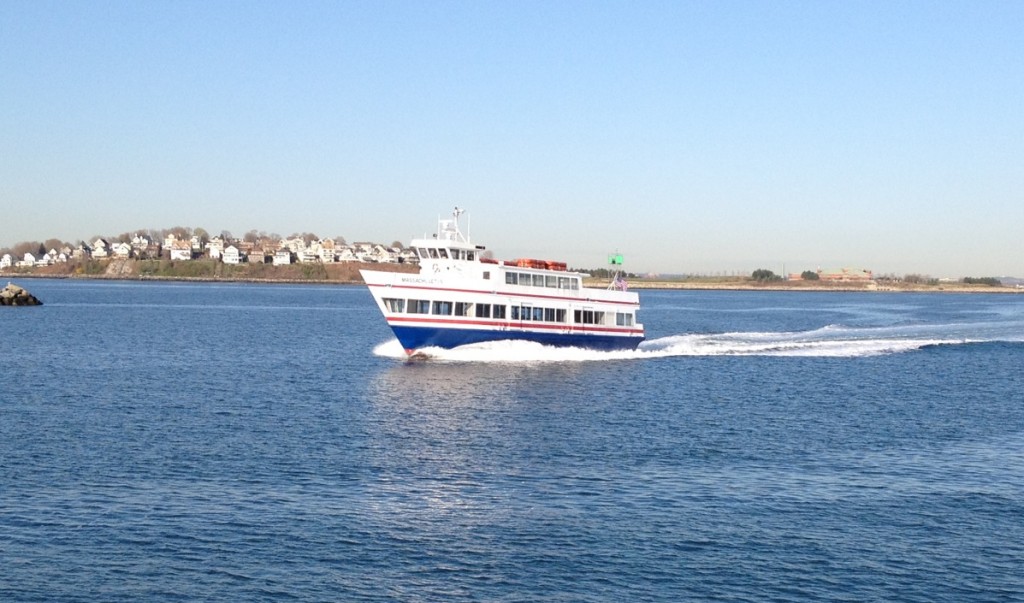 Regency: Ocassionally used as a Hingham Ferry, this vessel is mainly a party boat, as it is equipped with a full bar and dance floor. She makes up for lack of speed with fun.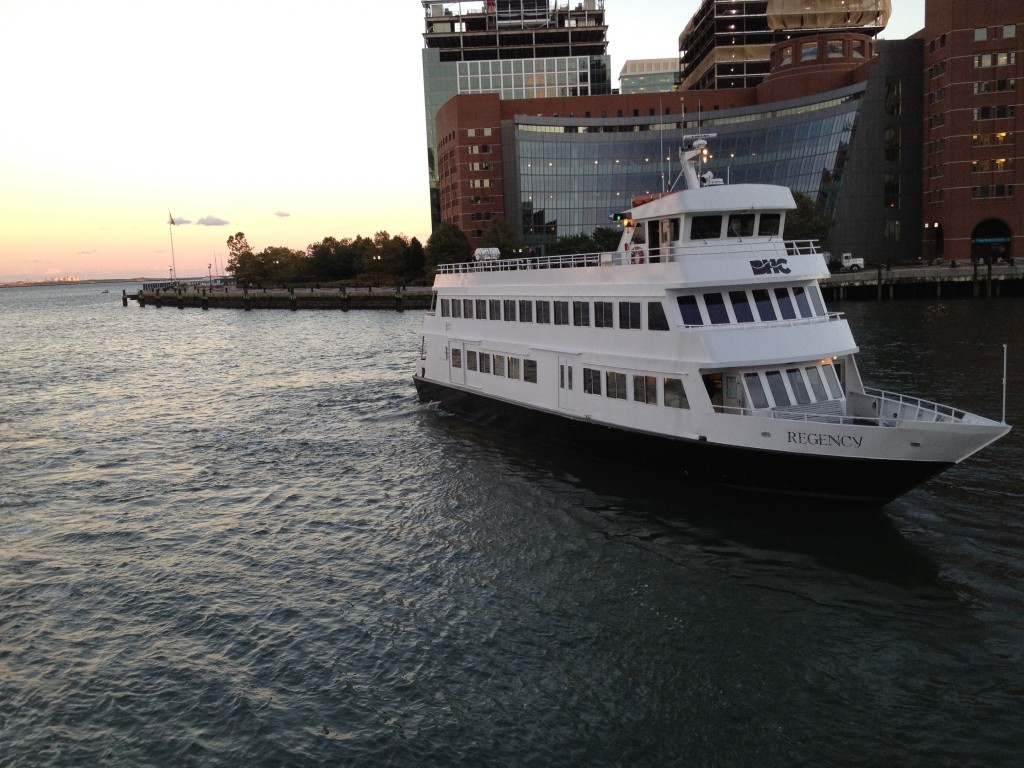 Lightning and Flying Cloud: These two little catamaran fast ferries are basically identical and serve the Quincy/Hull/Logan Airport ferry route.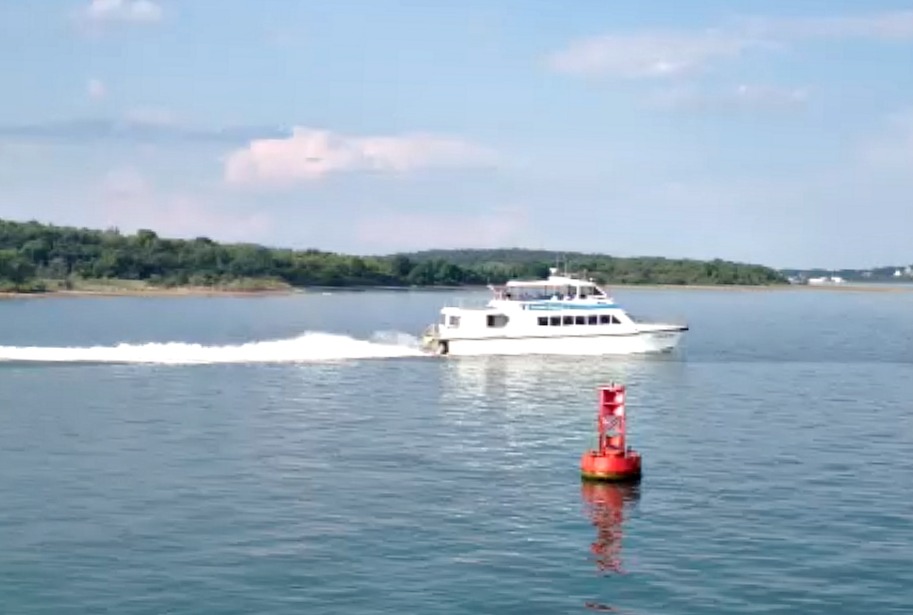 Party Boats:
The Spirit of Boston: For about two decades this ship has served as an evening harbor cruise and party boat. It departs from the Seaport beside Pier 4.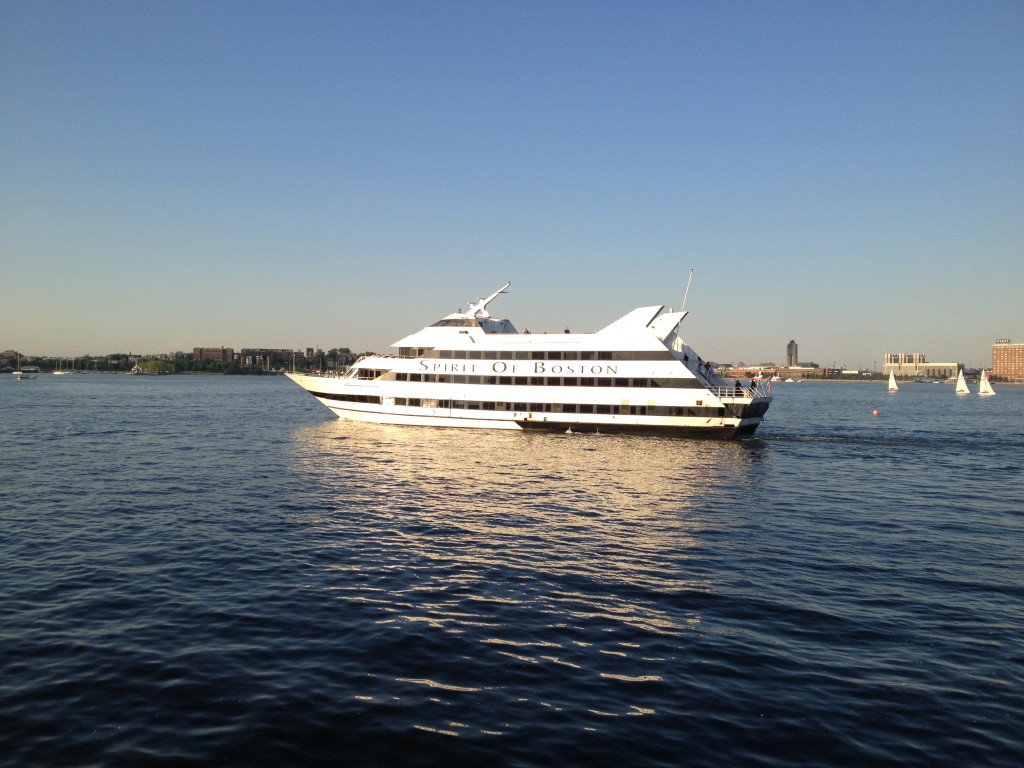 Odyssey: This is an elegant party cruise boat which departs from Rowes Wharf nightly.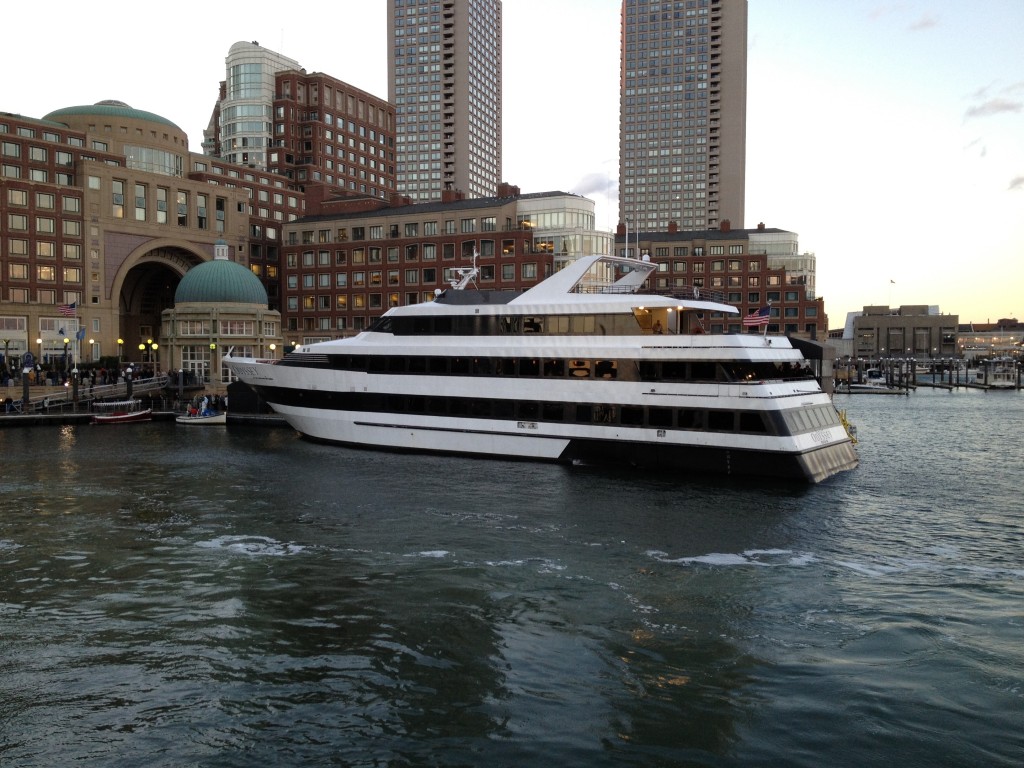 Island Discovery: This is the boat that you can catch at Long Wharf to head out to Spectacle Island or Georges Island. Both are highly recommended trips and a link for the service can be found here. Here is the discovery as she pulls up to Spectacle Island: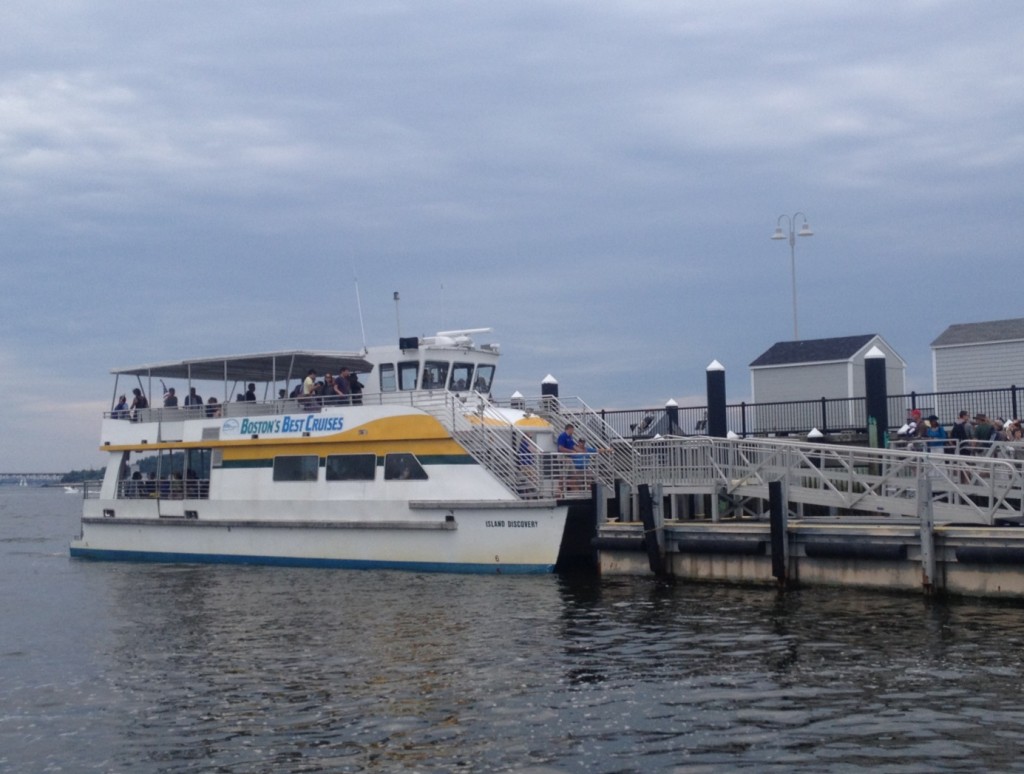 Codzilla: One can't forget Codzilla, and ultra high speed cruise and wake jumping event in the outer harbor. One can catch a ride on this cruise from Long Wharf.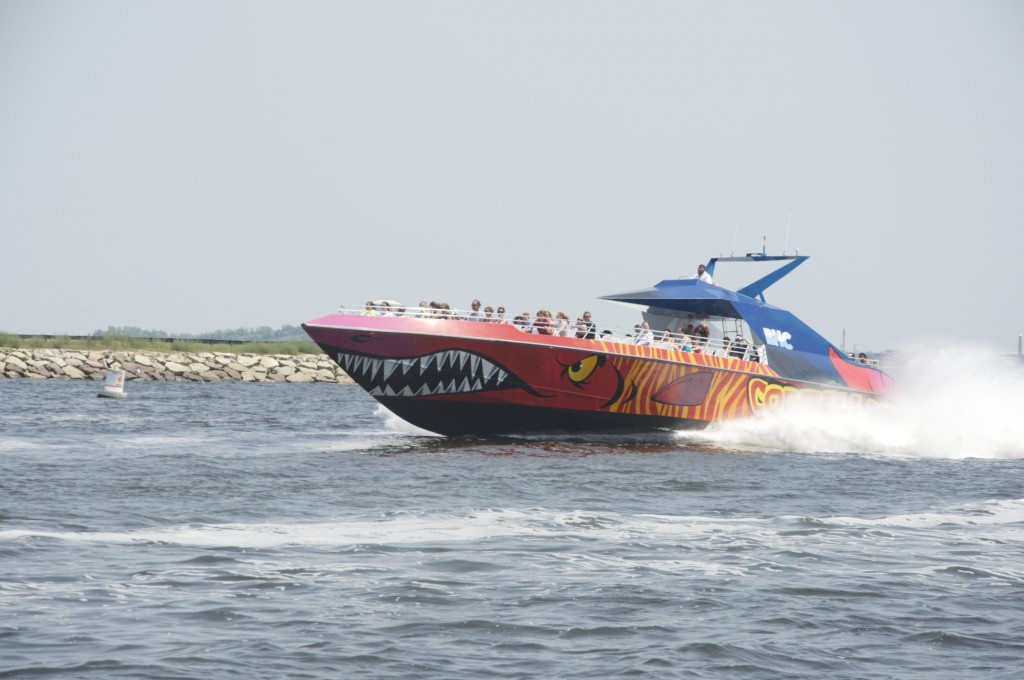 Fredrick L. Nolan: A Boston tour and cruise boat departing from Long Wharf.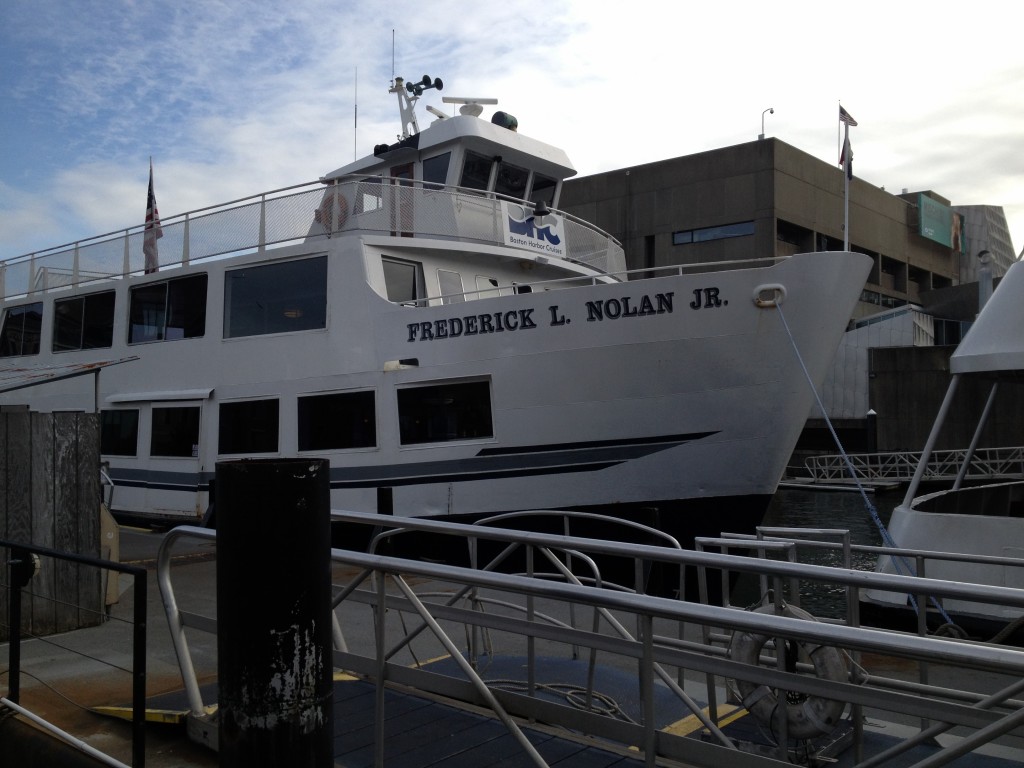 Fort Independence: Another tour and cruise boat departing from Long Wharf.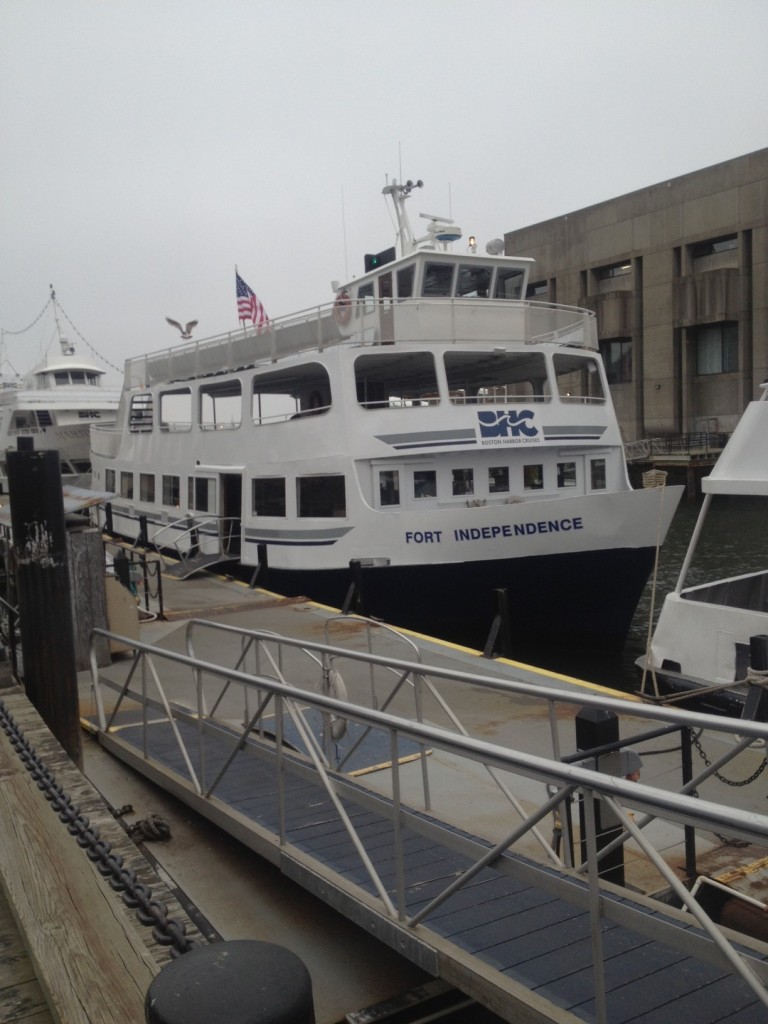 Freedom: A harbor cruise vessel departing from Rowes Wharf.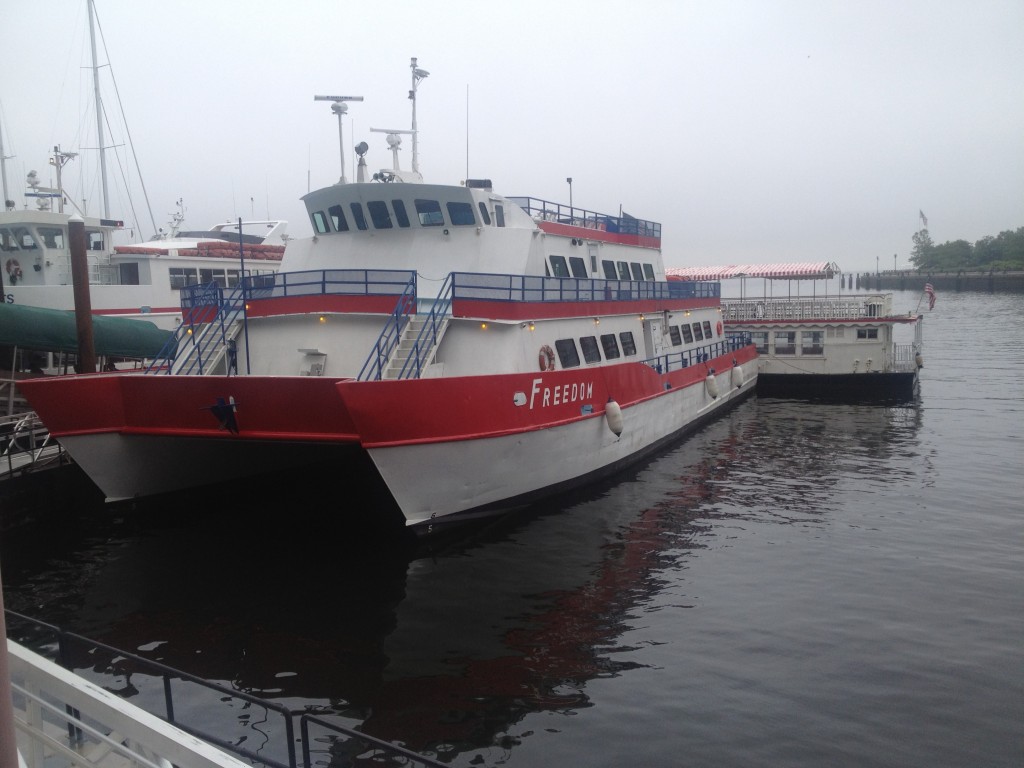 Provincetown II: In addition to occasionally serving as a party boat, this vessel makes the run down to Provincetown from the Seaport in 2.5 hours.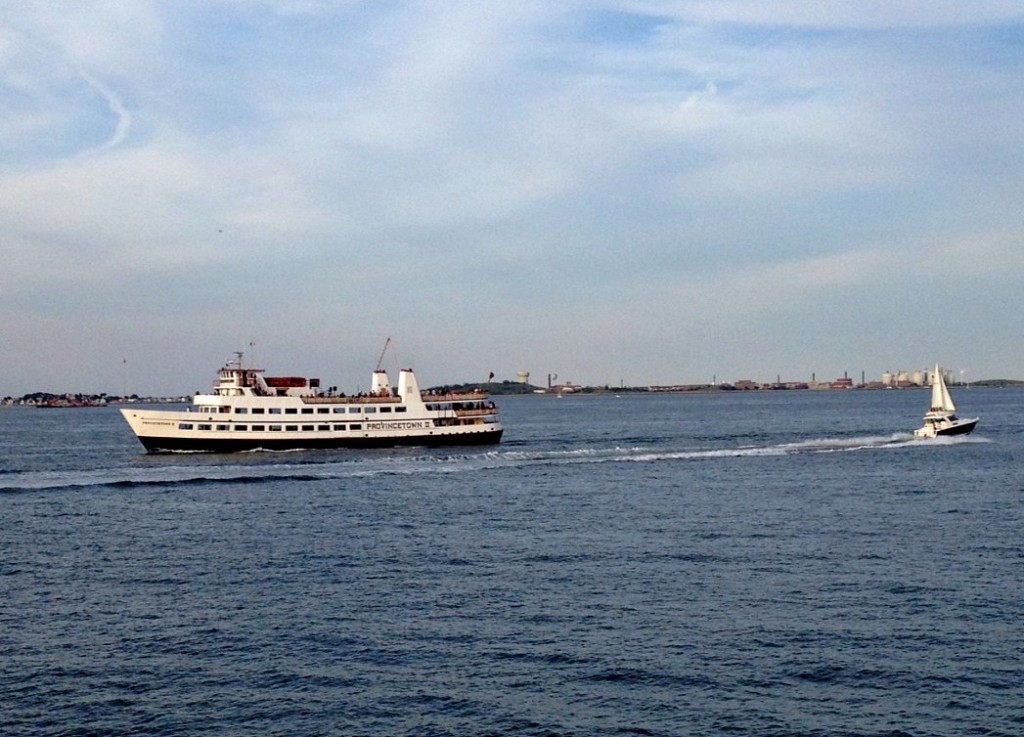 The Provincetown III: A fast ferry making the trip to Provincetown in 1.5 hours from the Seaport. Here it is docked next to the Provincetown II and the Seaport Elite.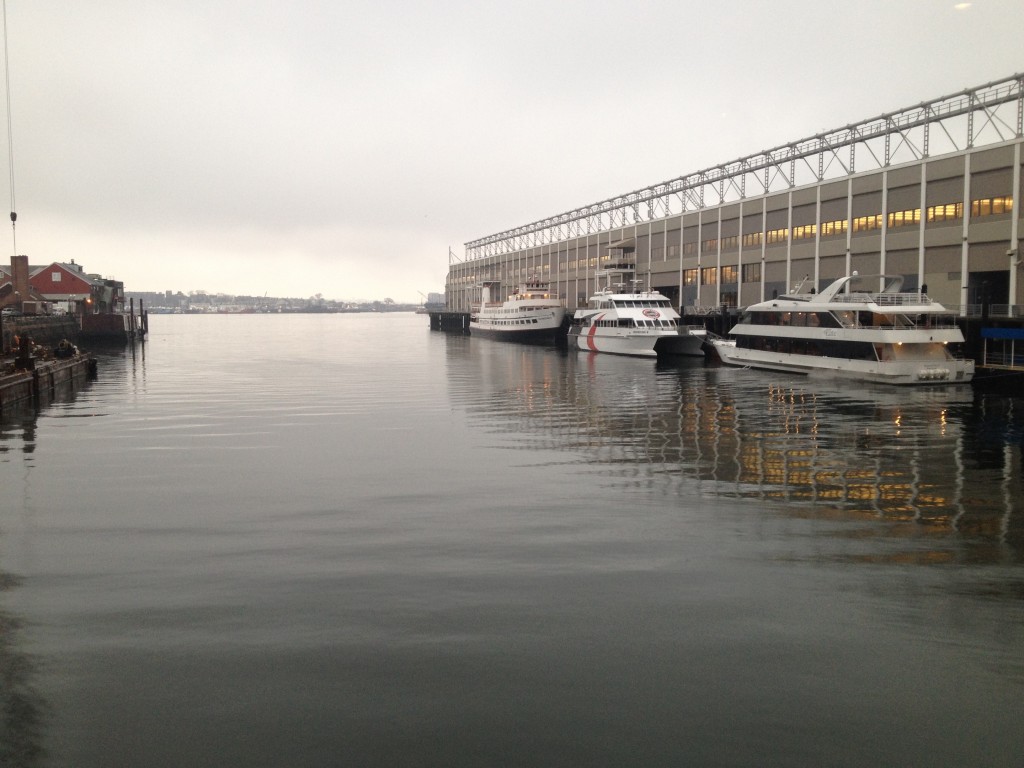 The New Boston: A party boat leaving Rowes Wharf for fun cruises, sometimes with a live band onboard.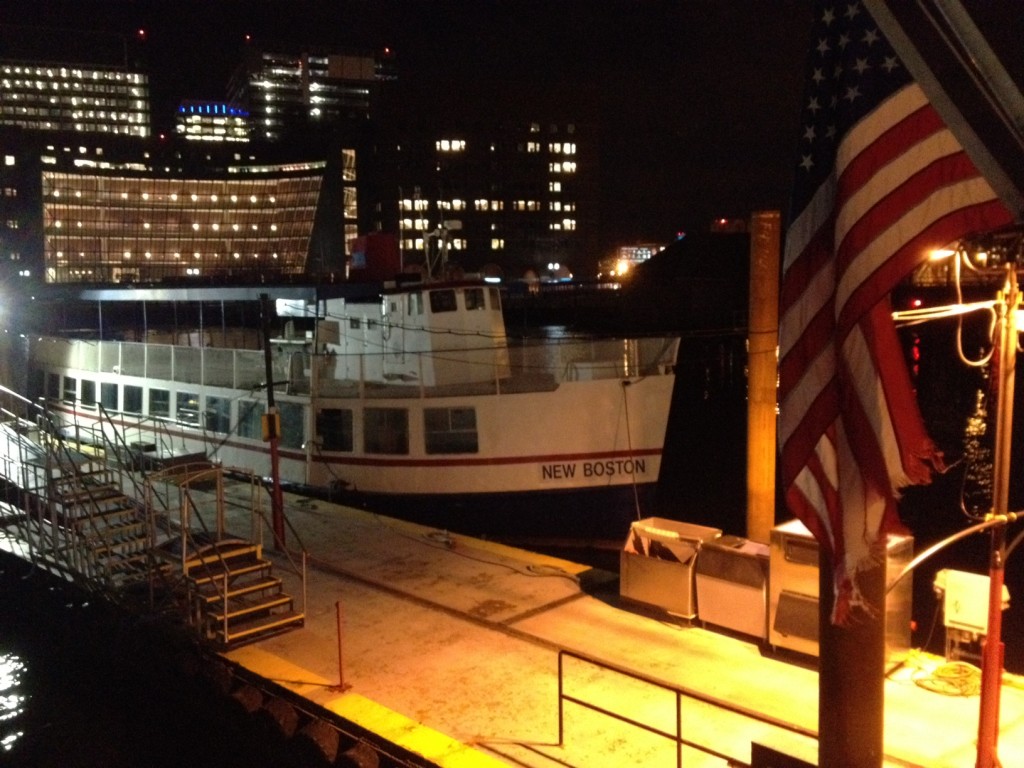 Majesty: A large cruise boat out of Long Wharf that is available for private parties and Weddings. Here is the link to reserve her.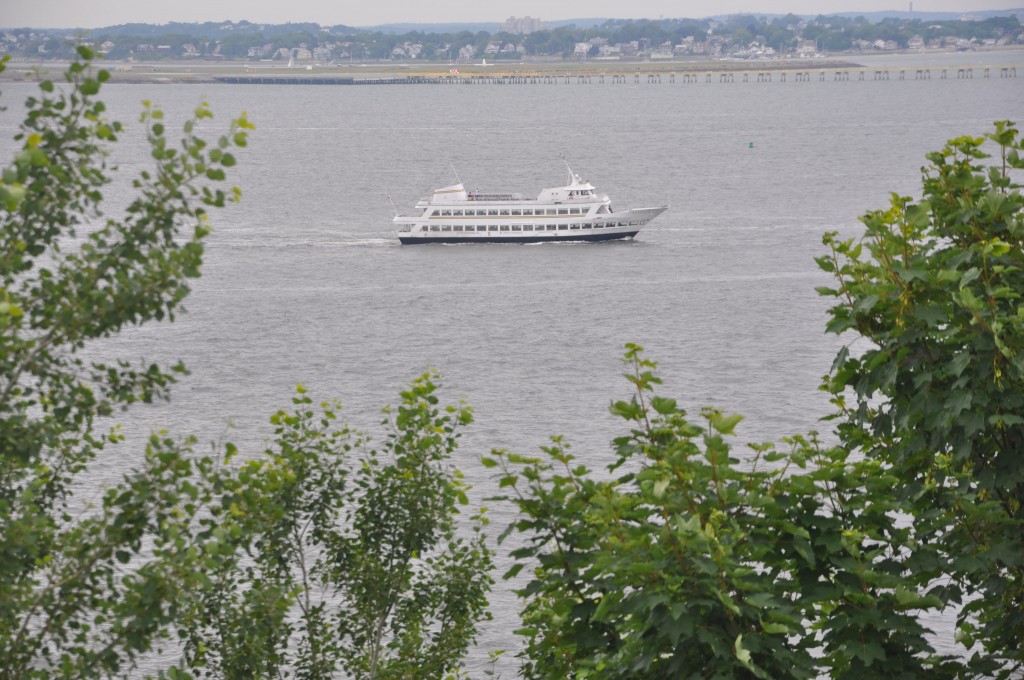 Rita: A small cruise boat out of Long Wharf.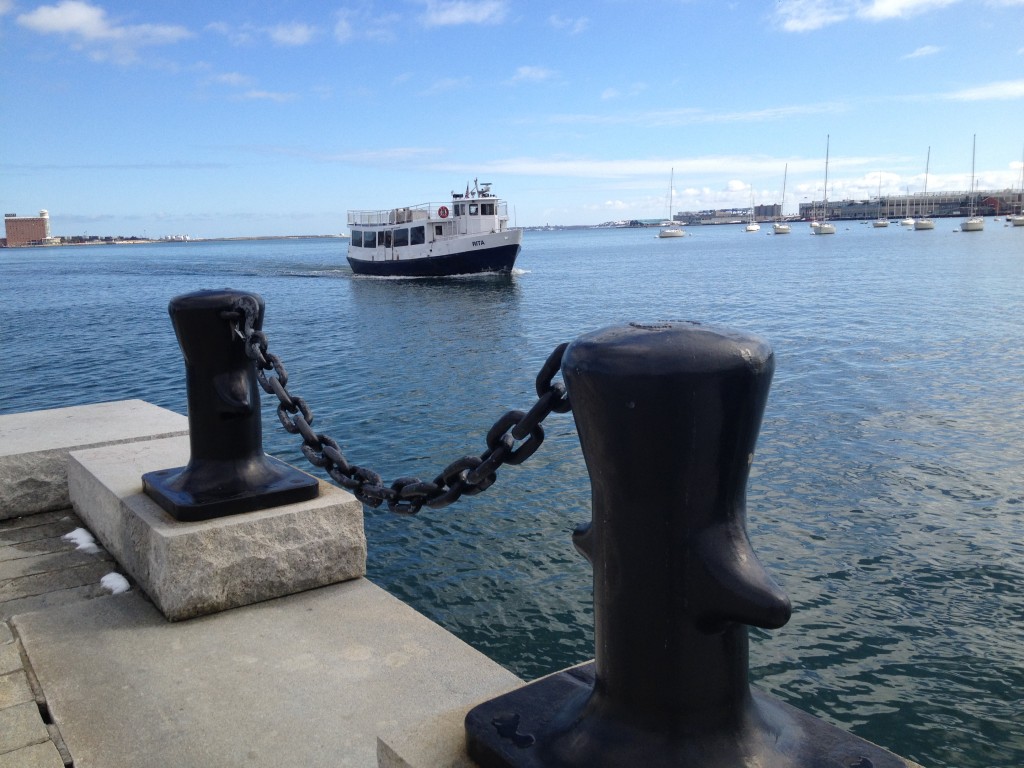 Nathaniel Bowditch: The Salem Ferry, with its new paint job, sitting at Long Wharf with the rest of the massive BHC fleet: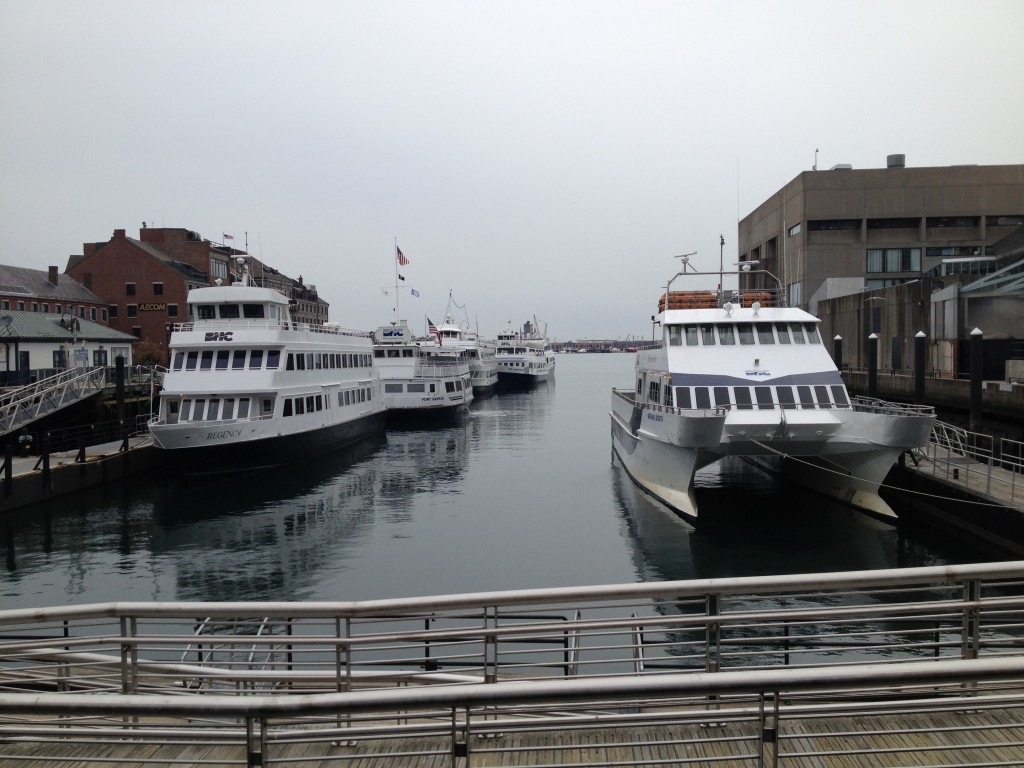 Thompson Island Ferry: This boat leaves the Reserve Channel in South Boston to bring people out to Thompson Island.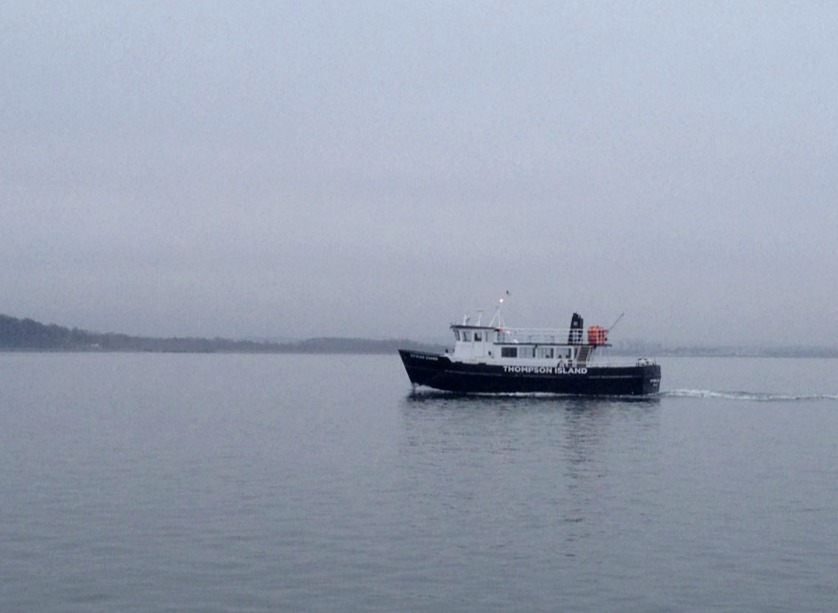 Samuel Clemens: A Riverboat style party cruiser used throughout the summer: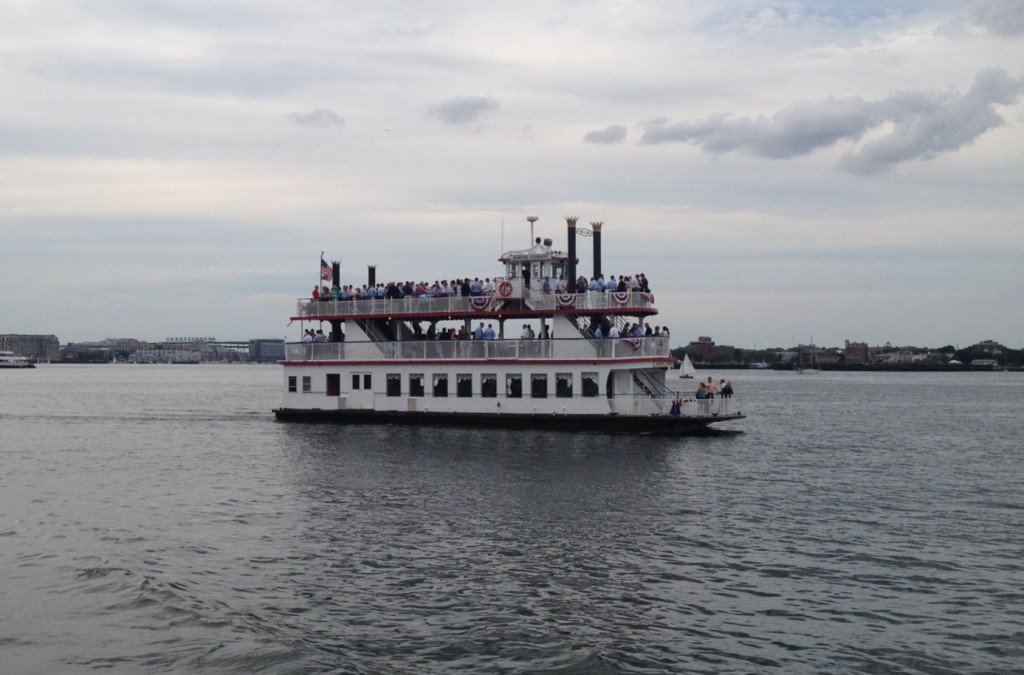 Boston Belle: A smaller riverboat style vessel used for tours and parties: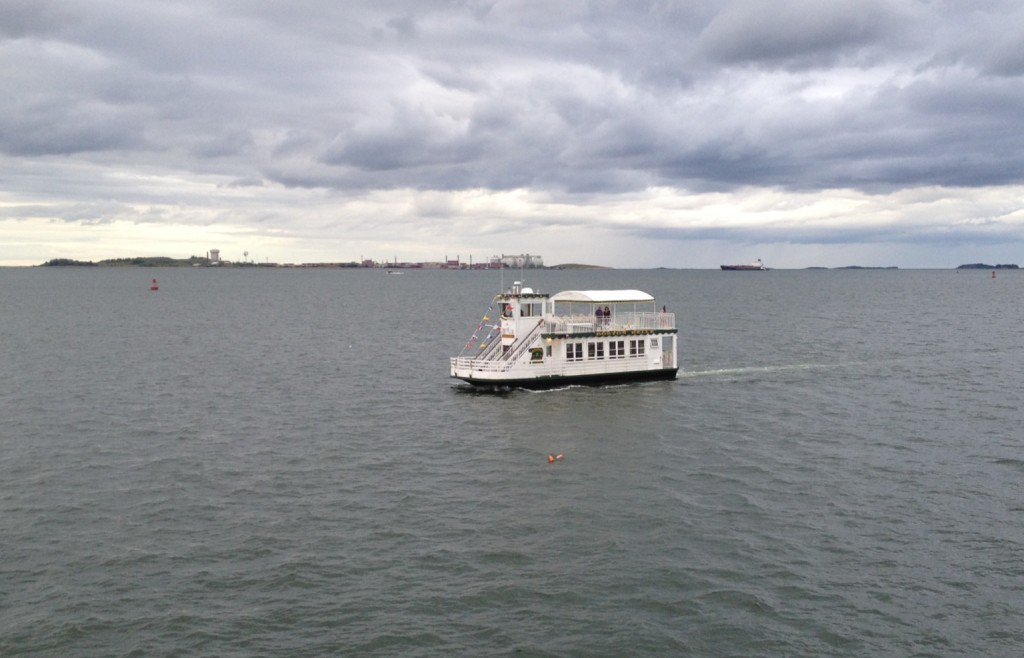 Historical Ships and Tall Ships:
Roseway: A schooner which can be chartered for an evening sail. When not in Boston for the summer, this ship is often spotted cruising the Caribbean.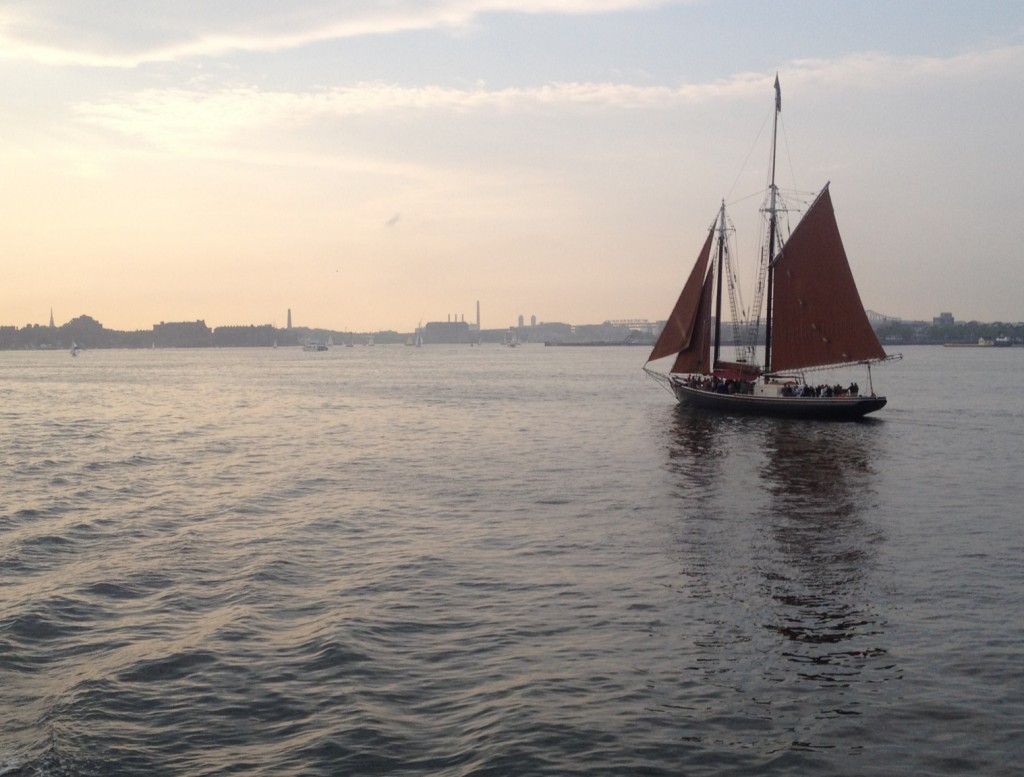 Liberty: Below is the Liberty Star, a smaller version of the Liberty Clipper which frequently sails through Boston. Here is their site.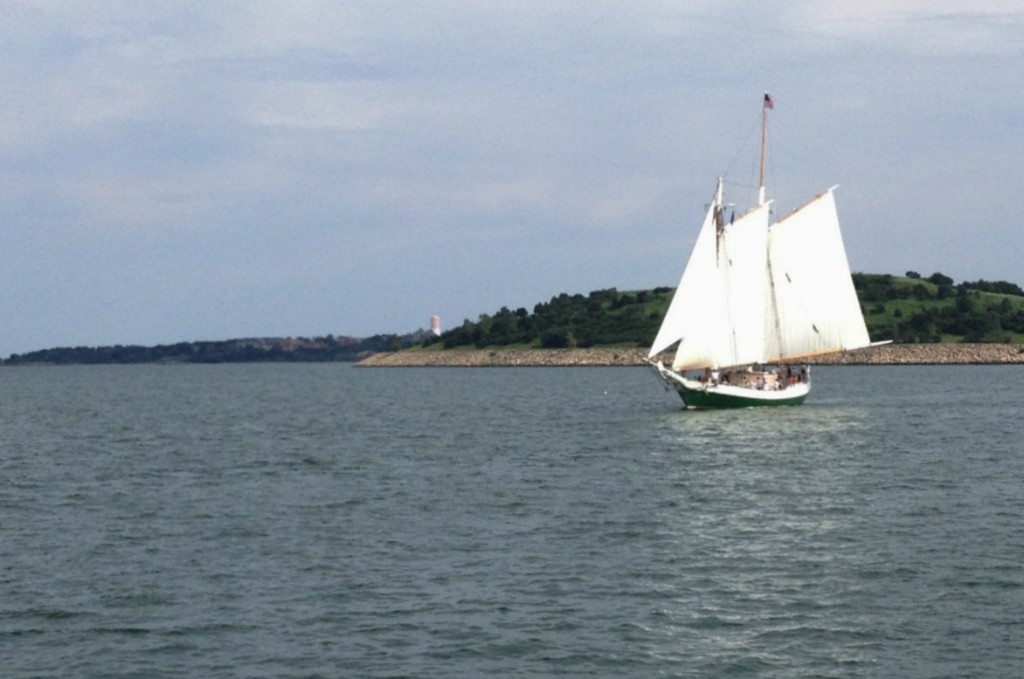 USS Constitution. Docked in Carlestown Navy Yard, this most famous Boston vessel needs no introduction. She occasionally makes it out for a tour around the harbor, where one can snap a picture as I did here. More information can be seen here.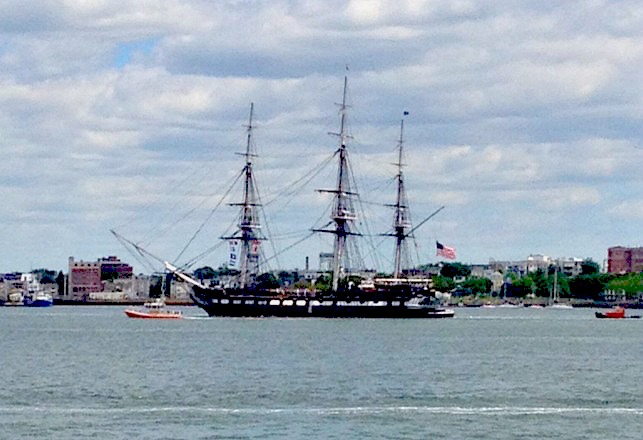 Nantucket Light Ship: Ship LV/112 is docked in East Boston and serves as a museum, commemorating historical nantucket light ships which played an important role in 19th and 20th century navigation before becoming obsolete at the hands of  marine electronics. Light ships were like portable lighthouses, often stationed of dangerous shoals and areas where transatlantic marine traffic was likely to encounter danger.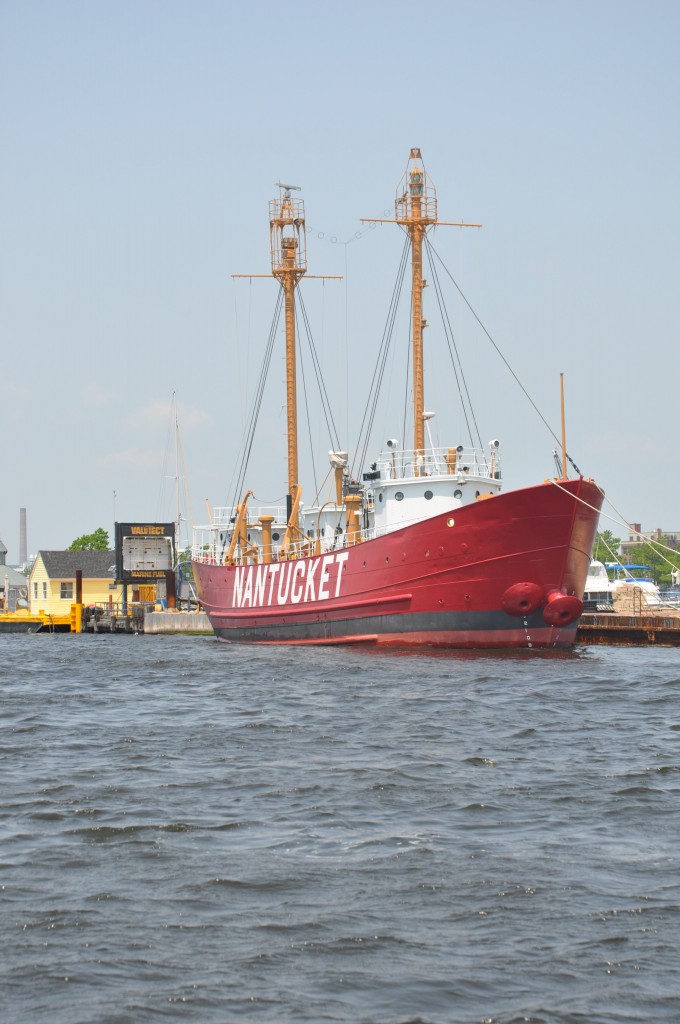 Police, Fire and Rescue:
Fire engine boat: This boat is probably designed to put out marine fires, but is more frequently seen using its high powered hoses as fountains in celebratory events, such as bringing the USS Constitution out.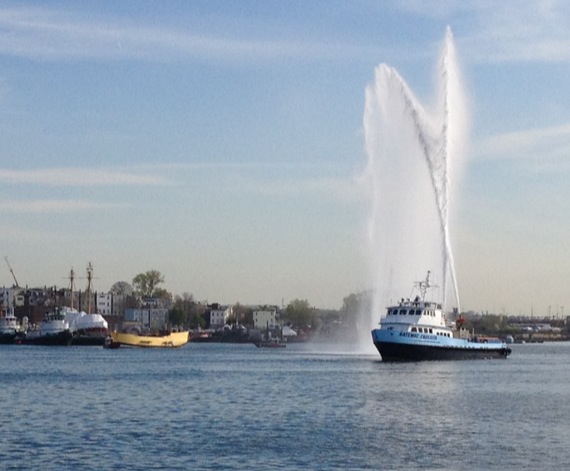 Fire Boat: This is one of Hingham's new Fire Boats cruising the harbor: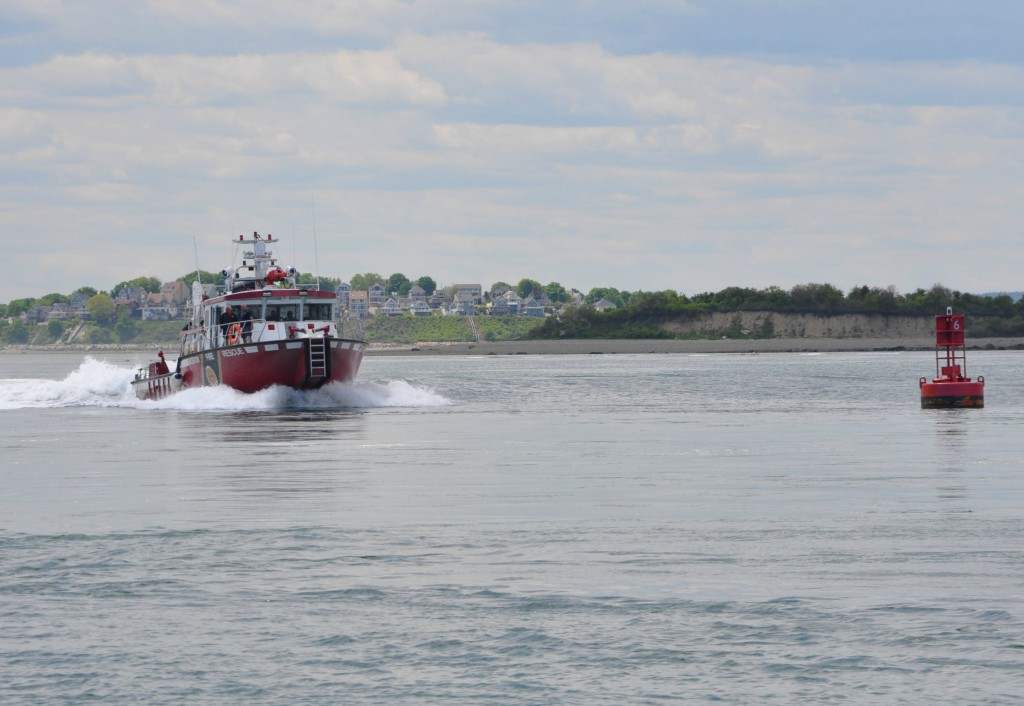 Sea Tow: Based in East Boston, these guys come to the rescue of members who are having trouble out on the water: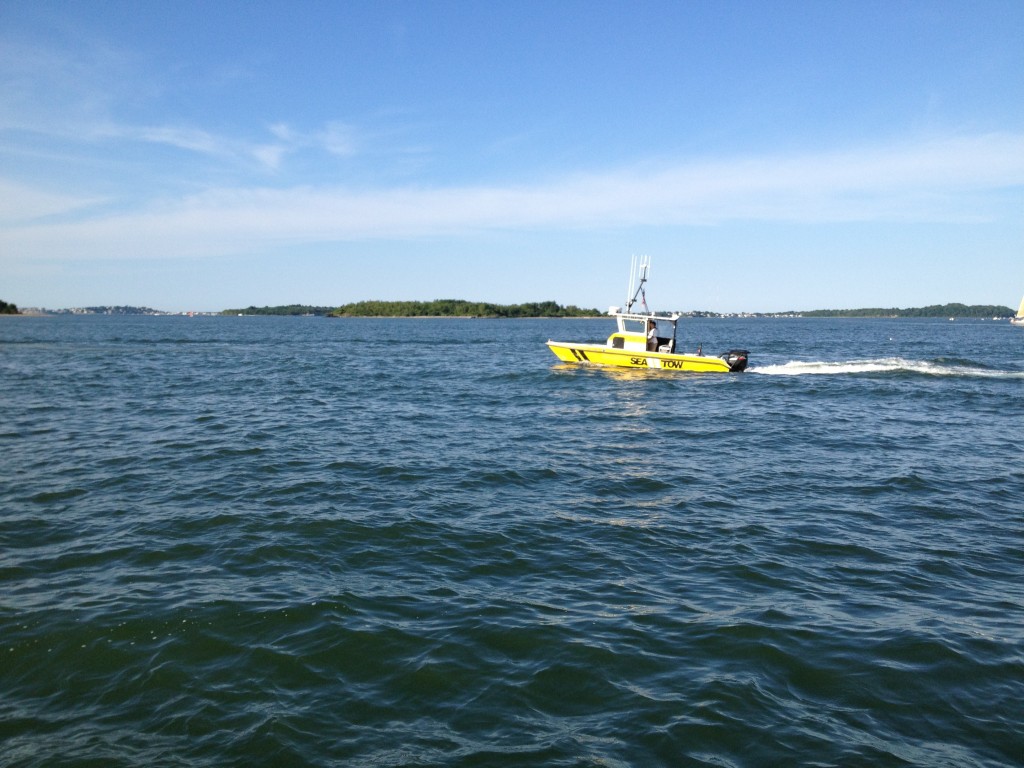 Boston Police Boat: These boats are used for patrolling, assisting large or high profile vessels, and large events like the Tall Ships Exhibit: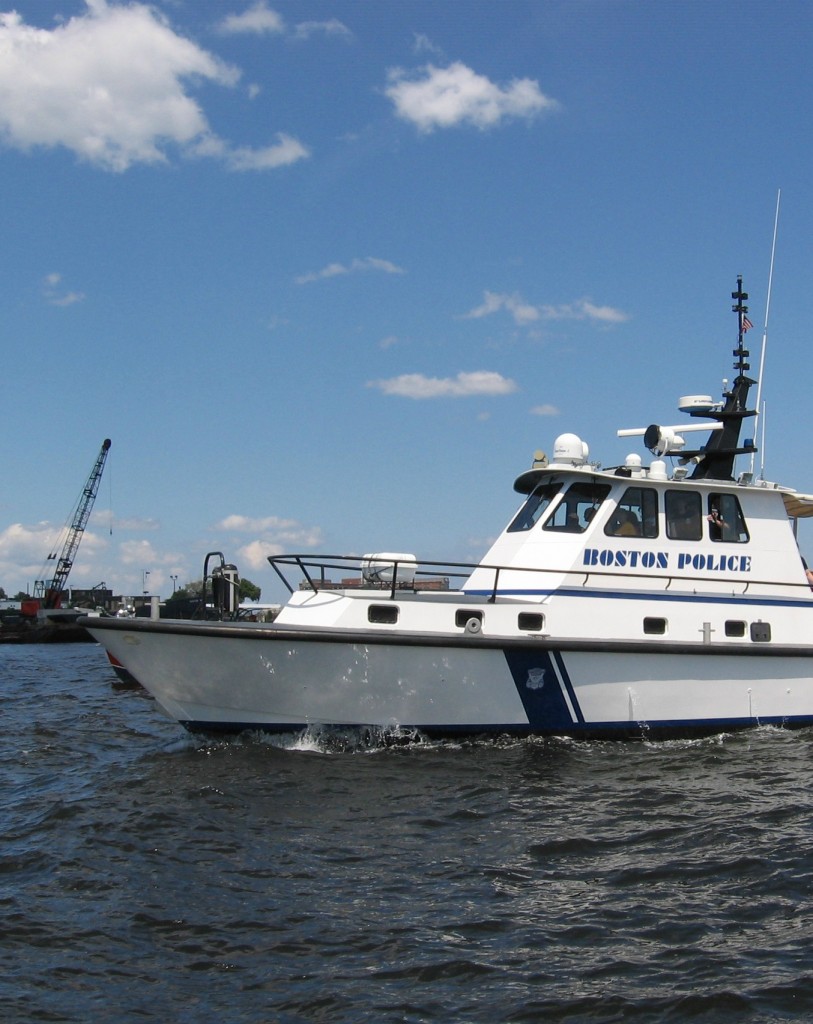 Coast Guard Cutter: There are usually a few of these docked up at the Coast Guard Station in the North End.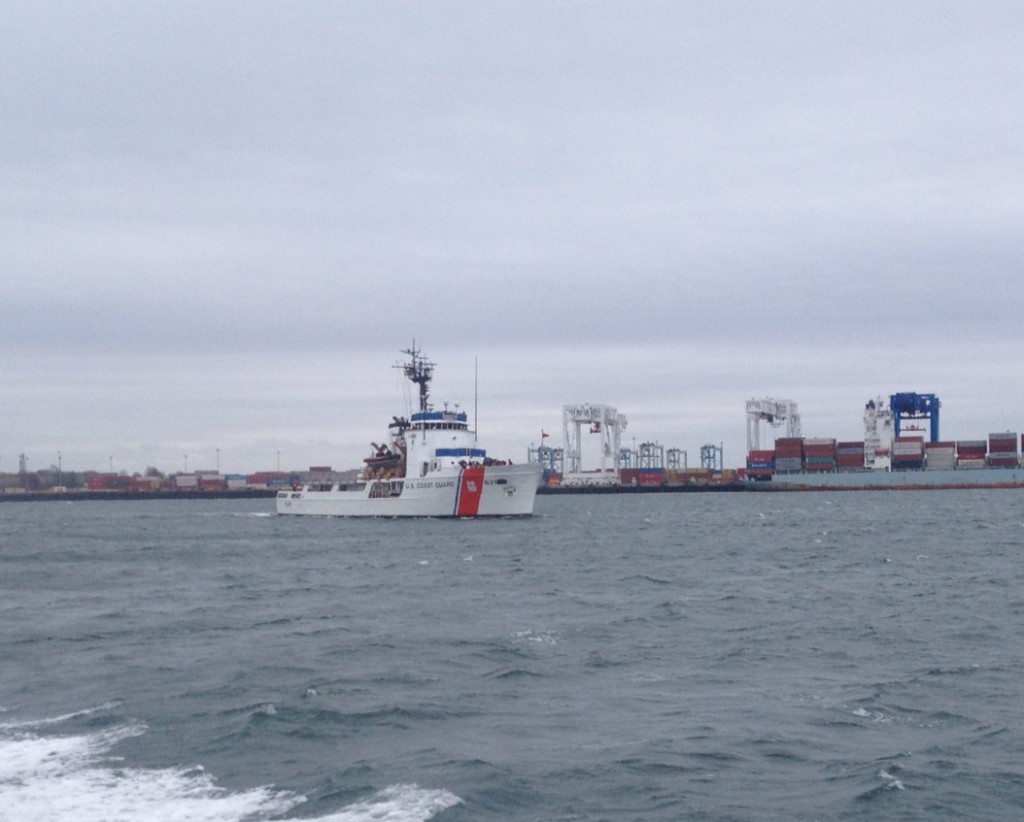 Pilot Boat: These guys guide large vessels like tankers and cruise ships in and out of Boston Harbor.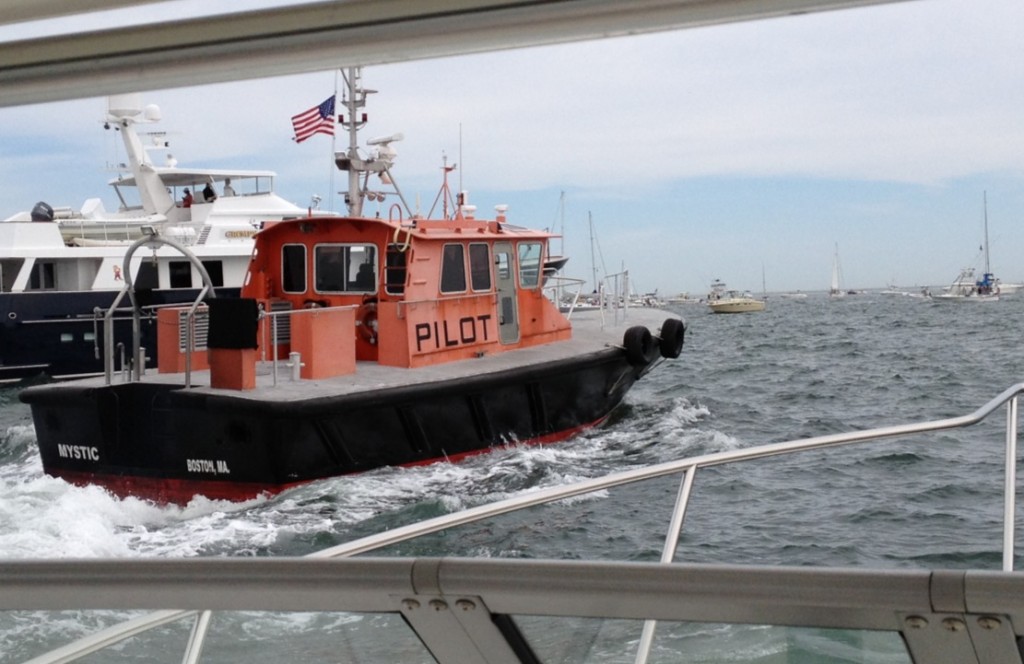 Attack Boat: These are used for law enforcement activities and assisting large vessels. They are operated by multiple agencies including the coast guard (like the one below) in addition to state and local town police departments, as well as the Environmental Police.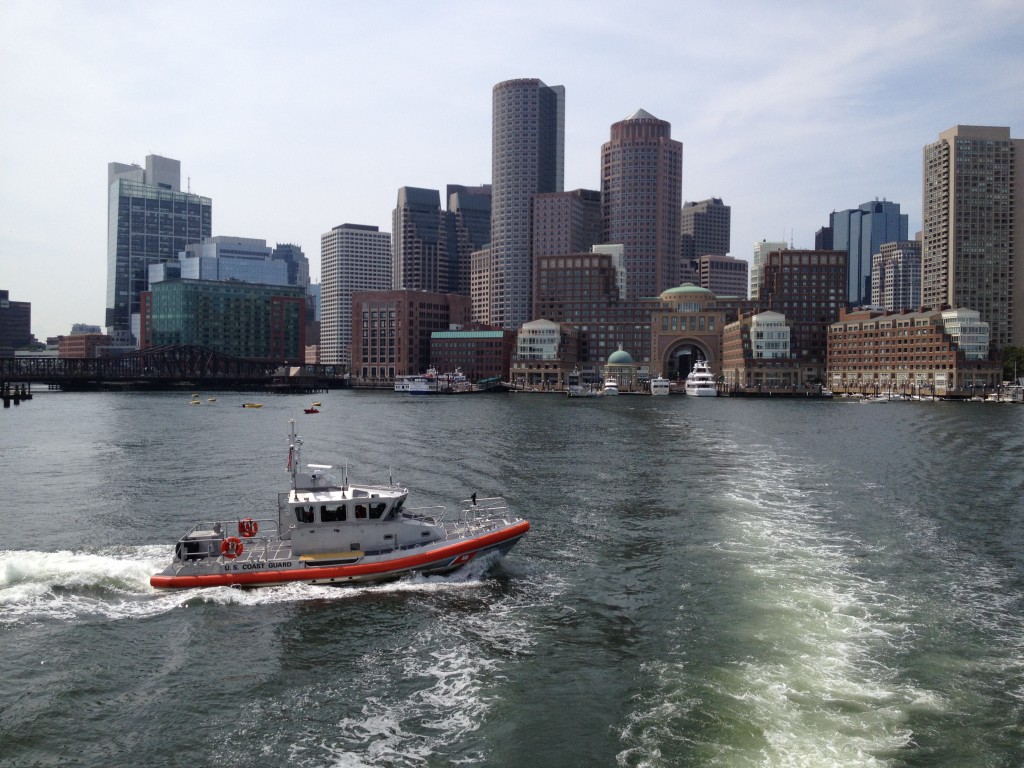 Tug Boat: There are a huge fleet of Tug Boats than push and pull tankers and cruise ships in and out of Boston Harbor. Most of them are docked on the East Boston waterfront. Many of them are operated by Boston Towing & Transportation, outfitted in the red and orange color scheme.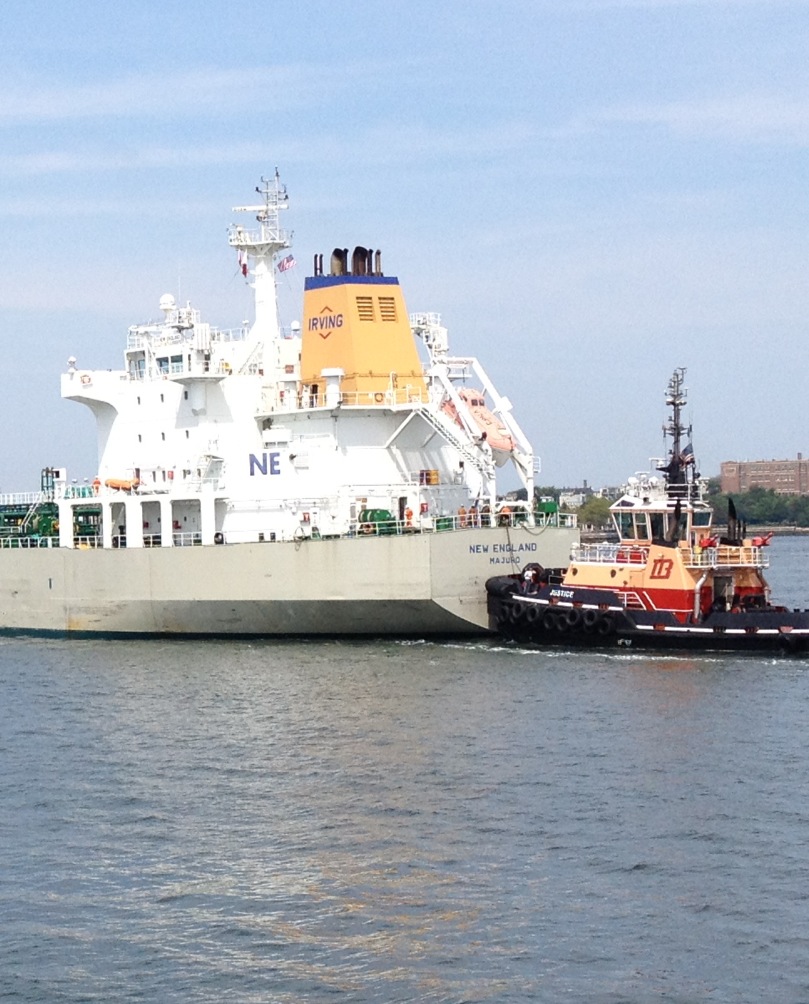 USS Cassin Young: This destroyer saw some action in WWII, and has been docked in Charlestown Navy Yard normally. She is currently in East Boston after under going some repairs. Here official website can be seen here.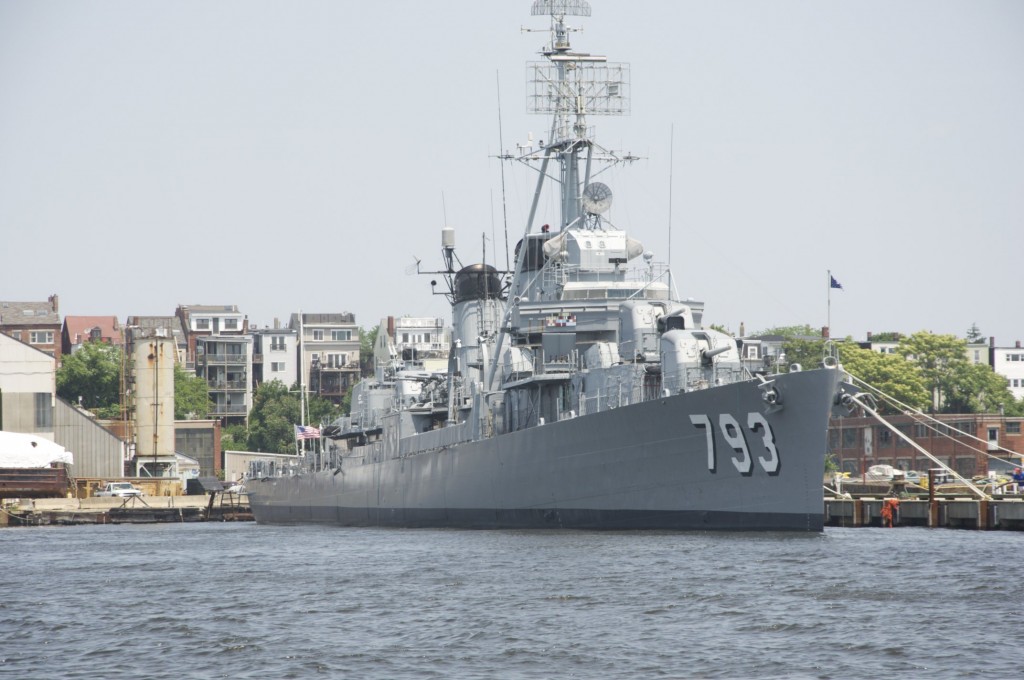 Large Vessels:
Car Carrier. These huge and strange looking boats bring imported automobiles into the docks in Chelsea and Everett.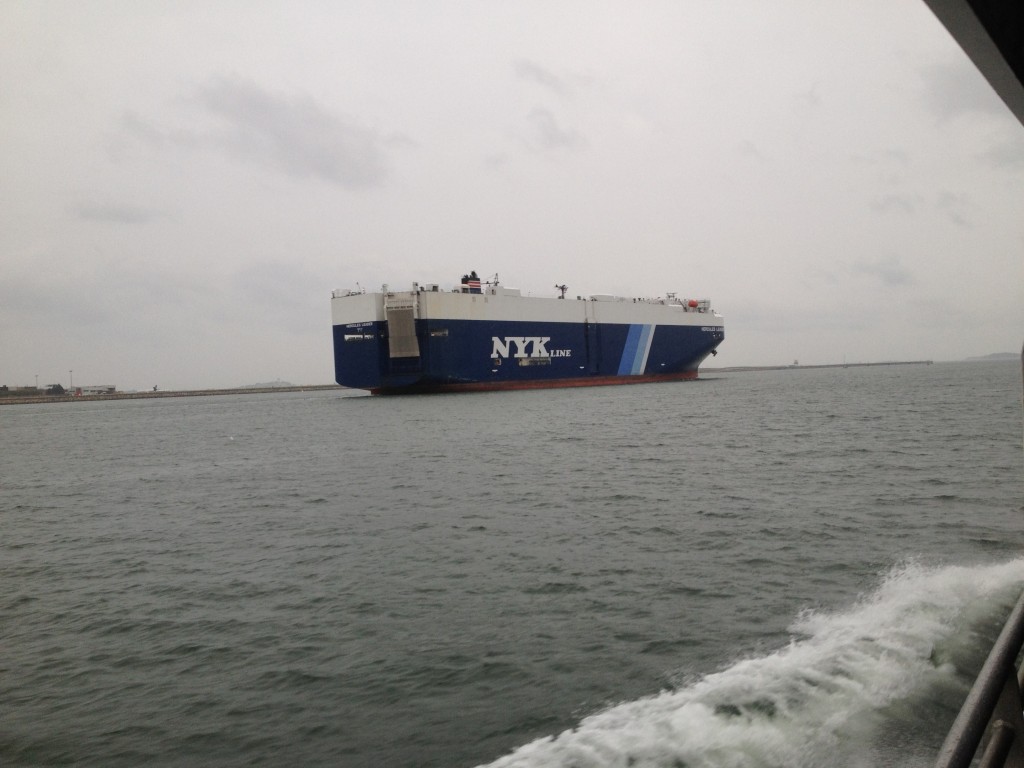 Cruise Ship: A variety of cruise lines operate out of Boston Harbor for trips to the Caribbean, Bermuda, or up to Acadia National Park in Maine.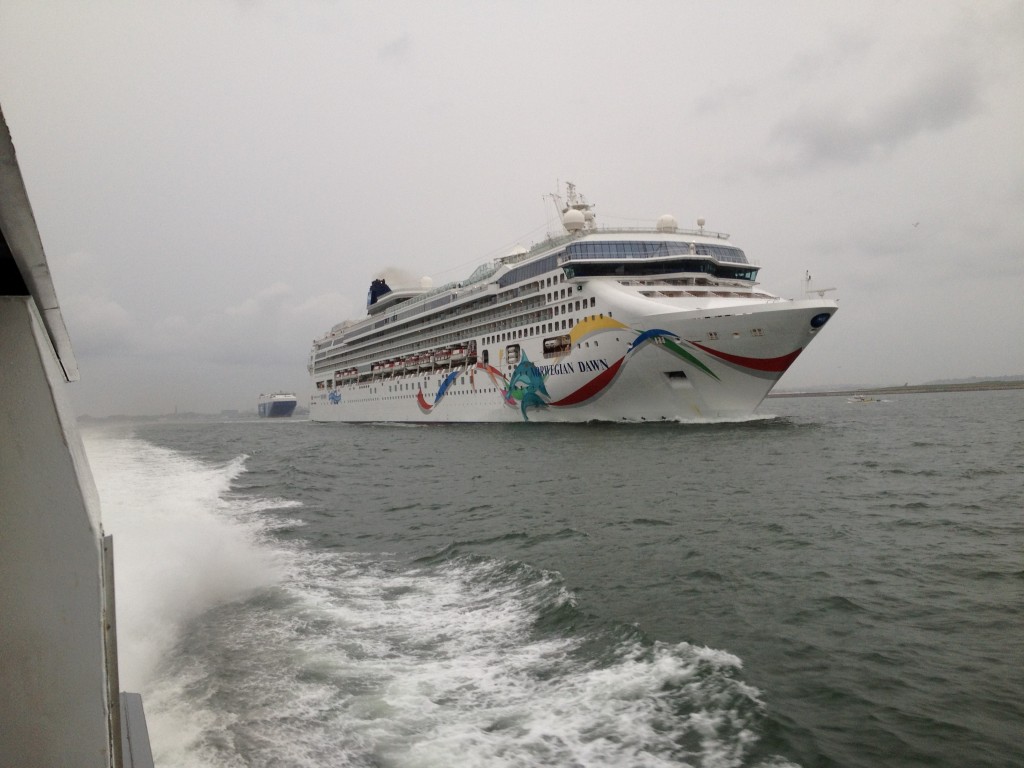 Ocean Liner: Like a cruise ship only built with a bigger hull for transoceanic travel, big ocean liners like the Queen Mary 2 seen below come into Boston occasionally when making their way around the world.