Graves Light up close: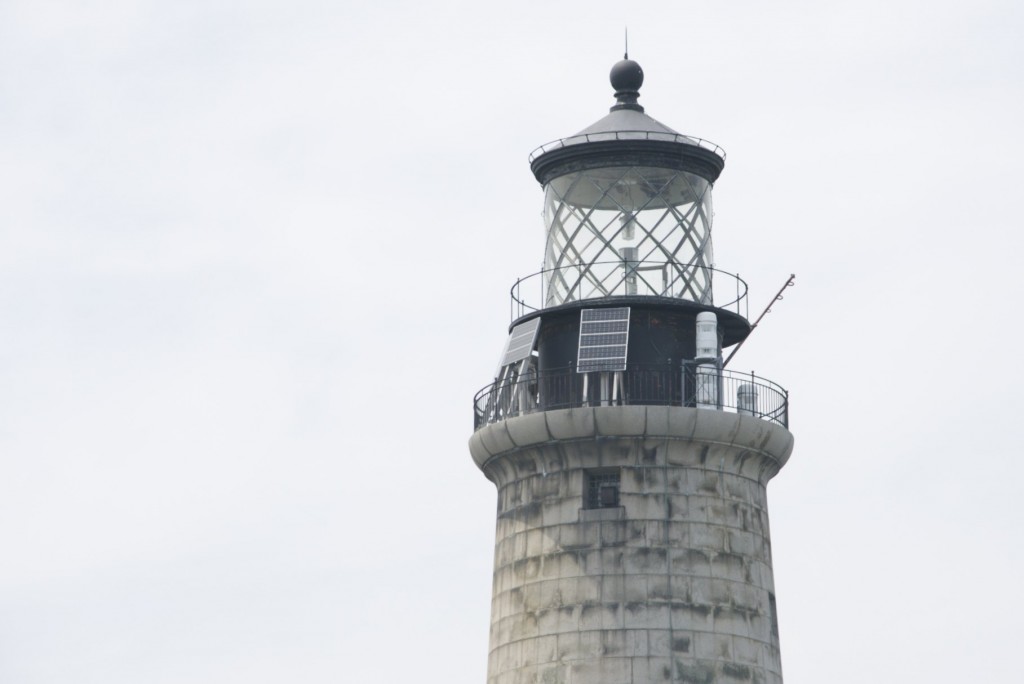 The big event in Boston Harbor news last week was the announcement that the Government had reached an agreement to sell Graves Light for $934,000- something it had been trying to do for years. It is uncertain what if any commercial use the lighthouse and ledges can be put to: Lying low to the waterline and then extending out below it for several hundred yards to the northeast, Graves Ledge is jagged and highly exposed to open seas. Building any other permanent structure is likely not feasible. However, it surely is a place of great beauty and historic significance. It is also certainly is a useful beacon, warning ships to steer clear of the ledge and all of the obstructions just inshore of it, including the roaring bulls, Devil's Back and the Aldrich Ledge. We wish the new owners the best of luck.
As the very outermost point of Boston Harbor (and really in open ocean) the Graves have always fascinated me. We have featured the lighthouse many times before, such as at sunset, one of my favorite times to be out there.
Of course, the name "Graves" is a matter of dispute, as to whether the ledges got their name from being the grave of so many ships throughout the centuries, or for being named after Admiral Thomas Graves, who initially avoided the ledge. Even if the latter is the official name, I'm sure the former has been the explanation relied on by sailors for hundreds of years. One of our readers made an excellent assessment of the possibilities, which I quote below:
"Very nice site indeed. There has been controversy over the name of Graves Ledge for eons, but I would take exception to the more-popular theory that it is named for the 'graves' of all the ships that were wrecked here over the last 400 years — including a rowboat in the 1980s when a grappling hook was lost and, despite major efforts to find it, was never recovered. Far more likely, the name is derived from Rear-Adm Thomas Graves [1605-1653], who made his first transatlantic crossing as early as 1628. He was mate of the Talbot, then the Arbella, John Winthrop's flagship, and rising to skipper made innumerable crossings which brought the 10,000 Puritans to New England. He was master of the first American-built ship, the Tryall, on her 2nd voyage in June of 1643, and master of the James in 1635. Graves shoals They were 'his' because he was the first to avoid them, as would be pointed out to immigrants as they neared Boston. Commissioned in the Royal Navy by Oliver Cromwell, Graves was captain of the battleship White in the North Sea fighting the Dutch in 1653 when his ship caught fire, and he burnt to death on its deck; 630 men were lost. His family had settled in that part of Charlestown known today as Billerica — and many of his descendants are alive in New England today. Every year, some descendants light a fire to commemorate his death. His wife was from Harwich (Har-rich, thus our town of Harwich (Hah-wich). In any event, the ledge and light are far more likely to commemorate the Admiral than any ships that didn't sink here because they were marked in Graves' Ledge (possessive) from the very founding of Massachusetts (at Charlestown) in 1629, due largely to his oceanic efforts. Everyone wishes the new owners good luck … digging that tunnel to the mainland. (Might I recommend instead a boatswain's tram with a man-sized wicker basket and a bottle of Madeira …?)"
A photo of the East side of Graves, which I took on a calm autumn evening as the sun set (sometime back in 2007):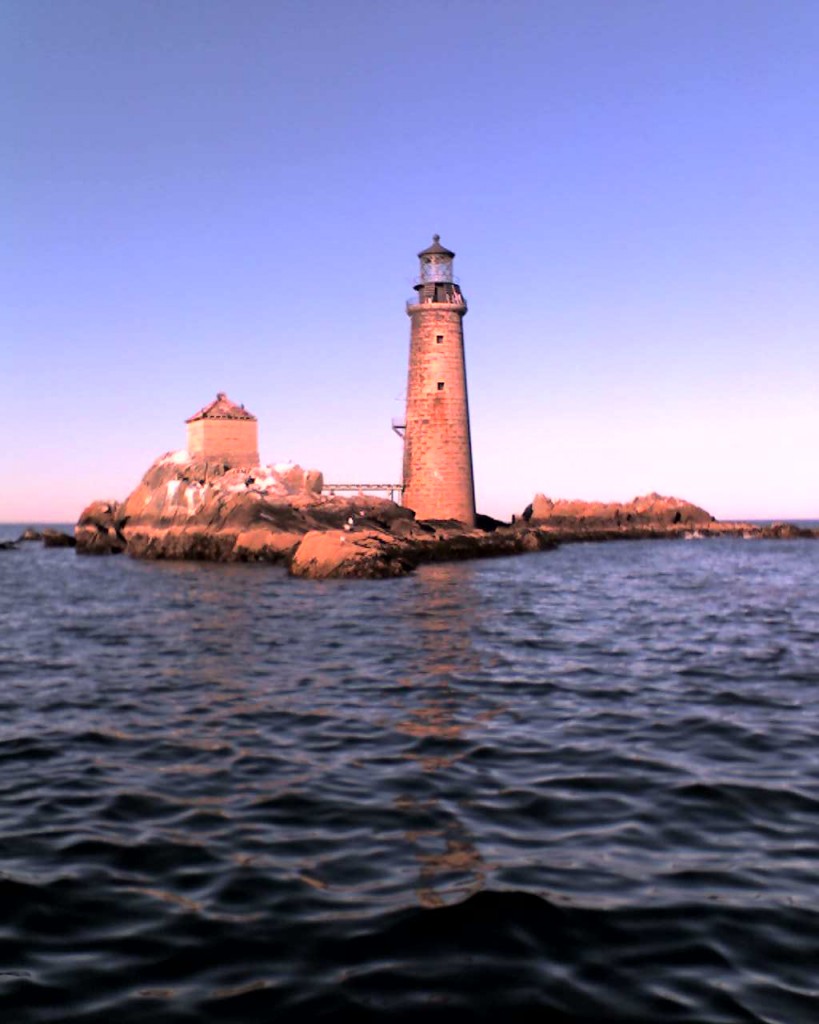 A long view of the Graves, taken from its Northeast side, with the City of Boston skyline in the background :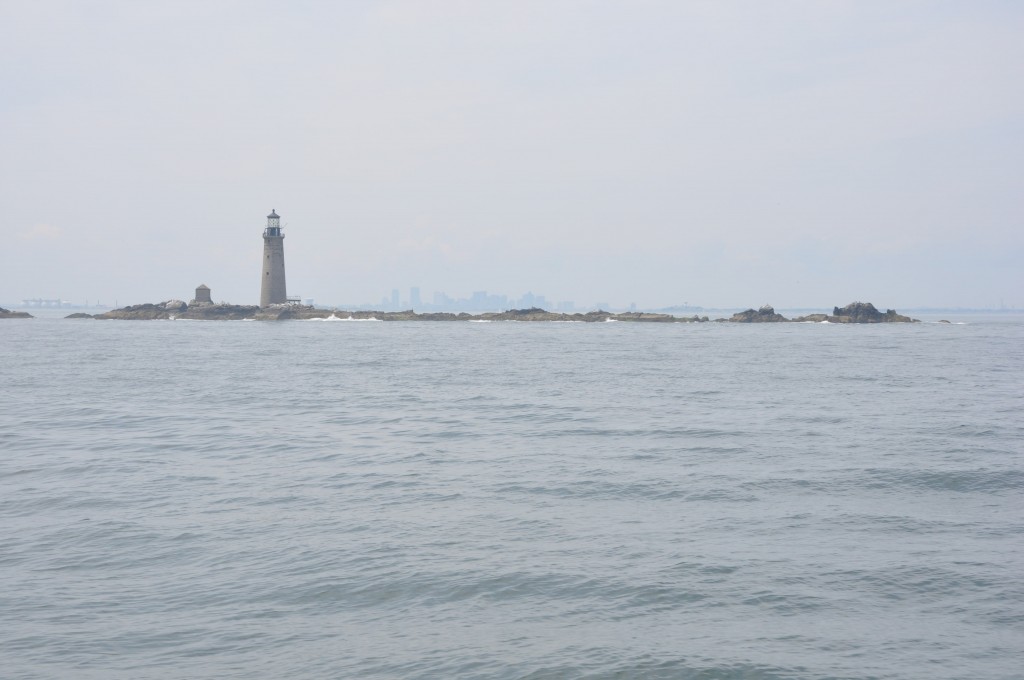 Graves Ledges up close, again with the city in the distance: