The perspective is one that highlights boston's unique landscape: A spectacular Civil War-era fort with the silhouette of  a major modern city behind.
One of our city's major historical treasures, George's Island, benefits from being highly accessible via ferry from Boston and therefore very easy to visit. Along with Spectacle Island, Georges Island is the most tourist-friendly of the Boston Harbor Islands, with a restaurant, visitor center and facilities available as well. The fall is a particularly nice time for locals to visit, as the throngs of tourists clear out, and the colors of autumn foliage begin to emerge.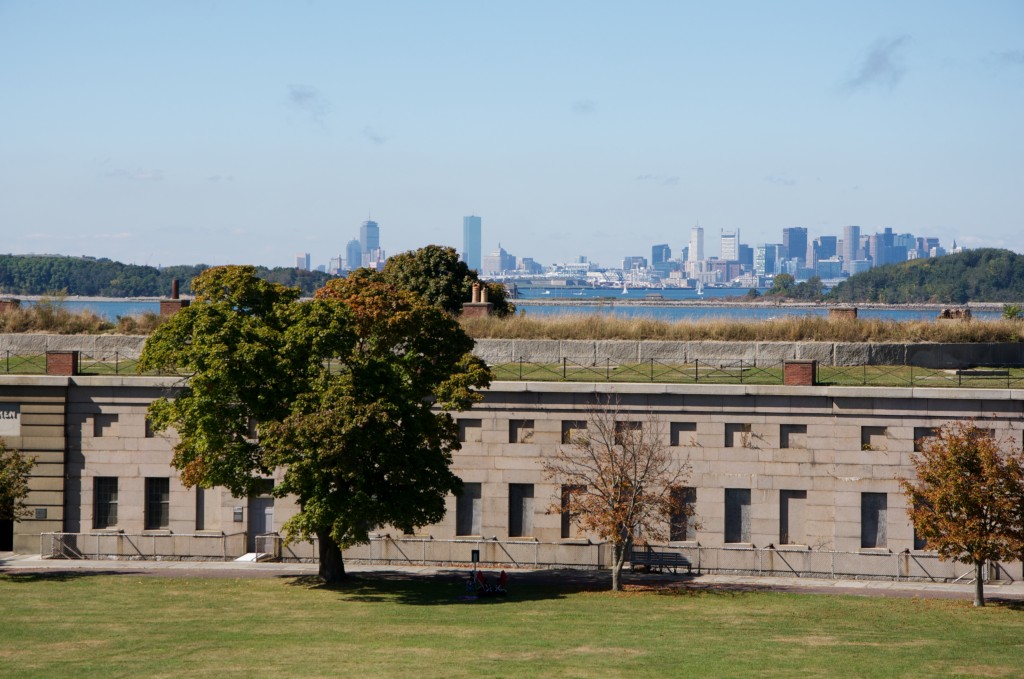 Georges Island is known for its massive civil war-era military structure, Fort Warren. Aside from the striking landscape, the fort's history is full of stories of war and escape on the high seas. Although the fort never saw battle, many southern soldiers were imprisoned here during the Civil War. Perhaps most famous of these war stories is that of the Lady in Black, a ghost who allegedly still haunts the island to this day. I won't recite all of these stories on this page, but you can read more about all of them here. Fort Warren was known for its humane treatment of war prisoners during the Civil war, and of over one thousand held here during that time, only thirteen died. Those names are pictured on the memorial below, and include Samuel Lanier, the subject of the story of the tale of The Lady in Black.
I first noticed Georges Island many years ago, but from the air, not the sea: While flying into Logan Airport on approach, I noticed the strikingly large fort structure below. At first mistaking Fort Warren for Castle Island's Fort Independence, I realized quickly that this place was much larger and further from the mainland.
Georges Island is perhaps the most frequently visited and least obscure of the harbor islands: one can visit this island and learn much about the history of Boston and the harbor island. I would also be remiss to not mention the works of Edward Rowe Snow, who taught us much of what we know today about the history of George's Island.
The interior of the fort, as seen from atop the walls of its Northwest corner. It was near this place where executions were once held: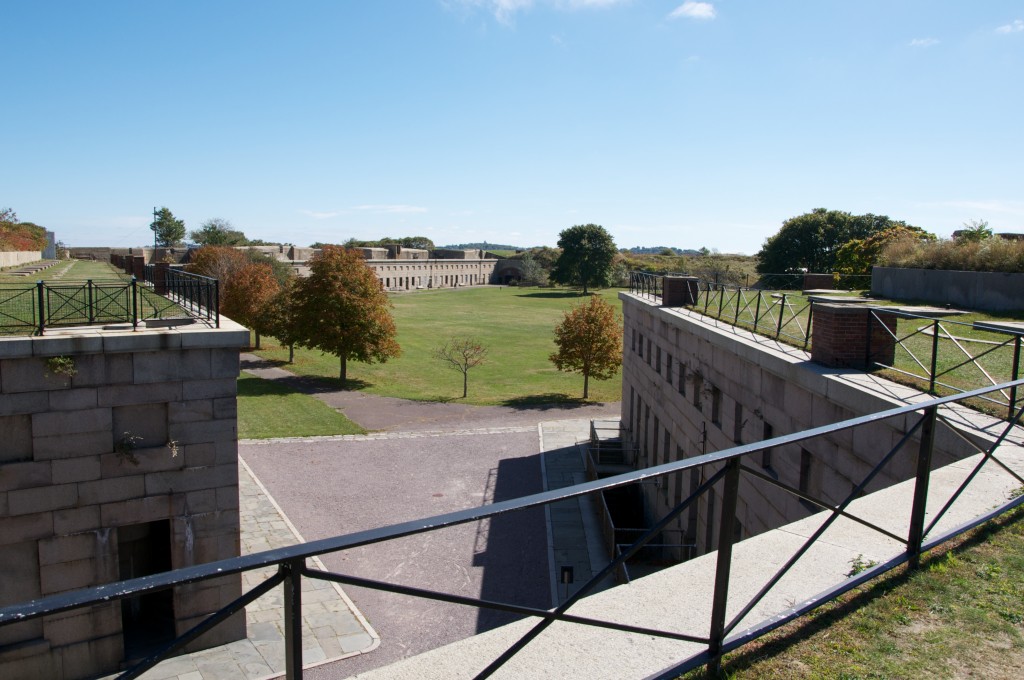 A view from deep inside the interior of the fort's trenches: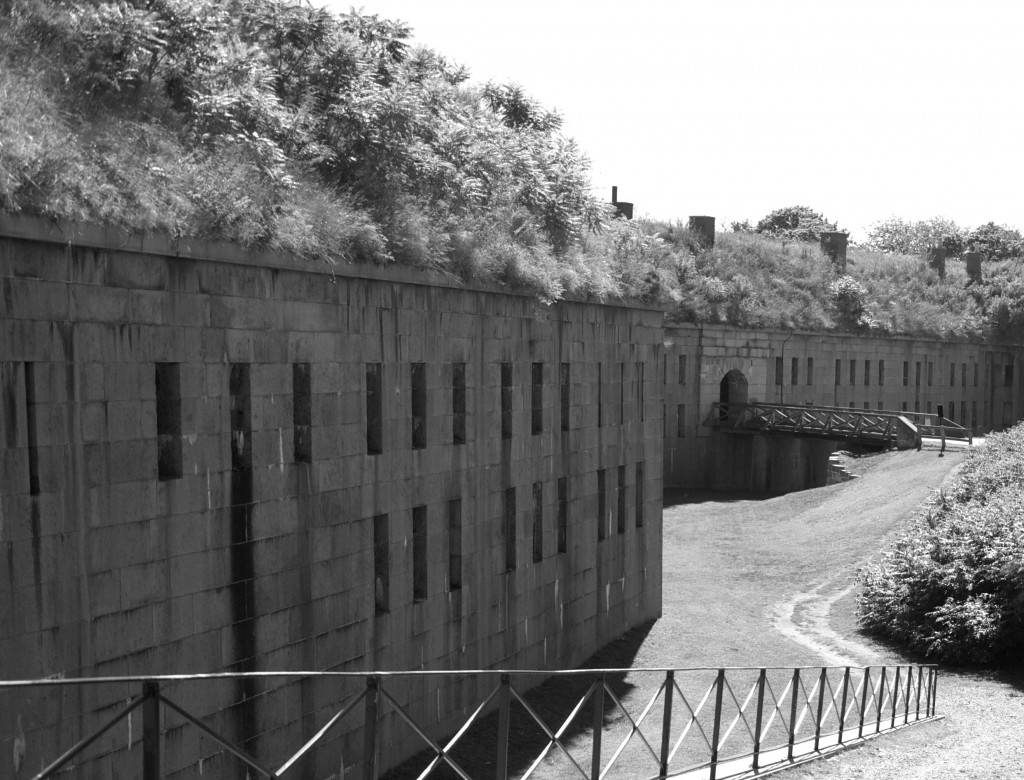 The great walls or the fort, largely in tact, as seen from the Northwest side of the island. A large seawall is necessary given the open exposure of George's East side. At the center of the photo below is a stairway that was designed to lead out to a searchlight: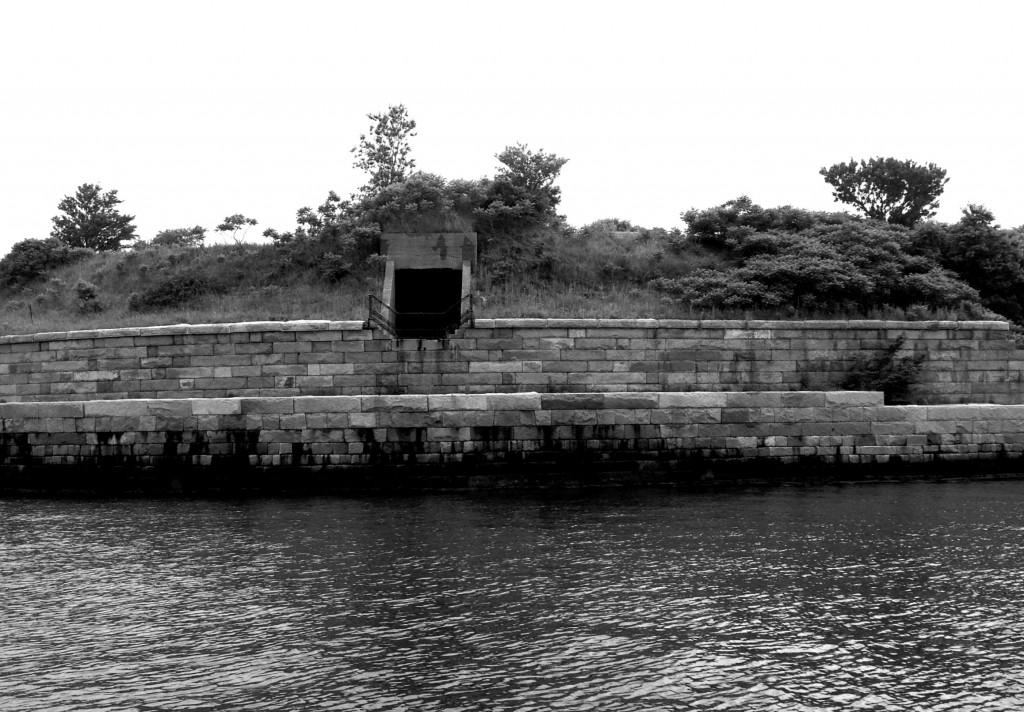 Georges Island is full of lush green lawns like this one on the southern side of the Island. A military structure, including several gun batteries which are more modern than the fort, can be seen in the foreground, while Point Allerton in Hull is visible in the distance: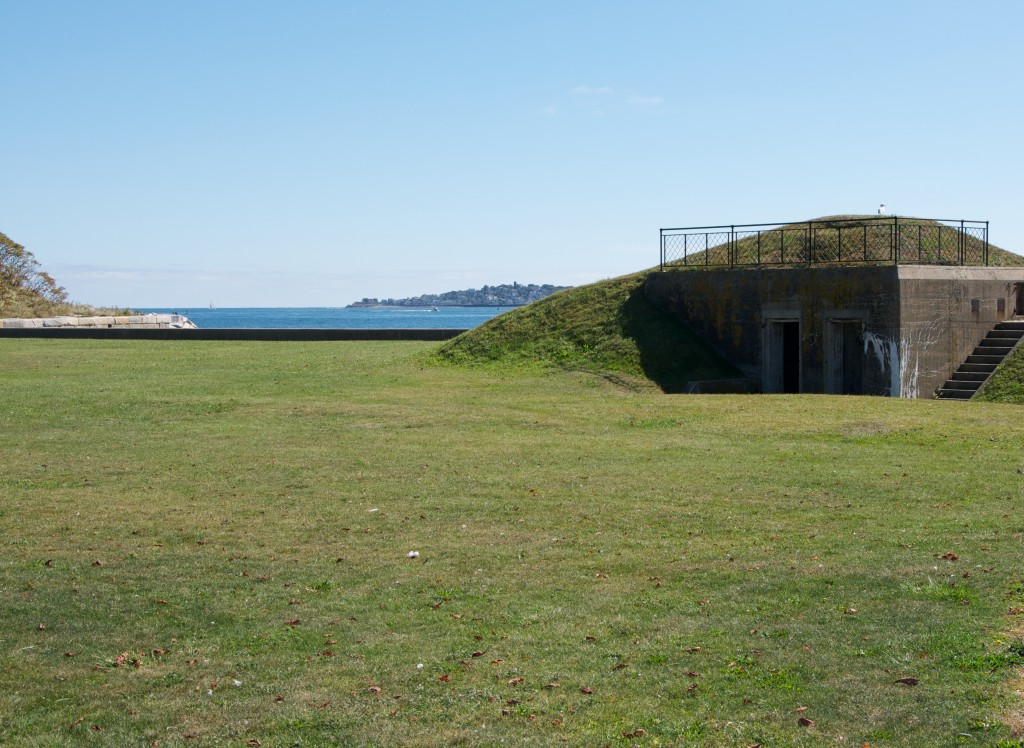 The fall season is evident in the look of the apple trees, which are plentiful on the island: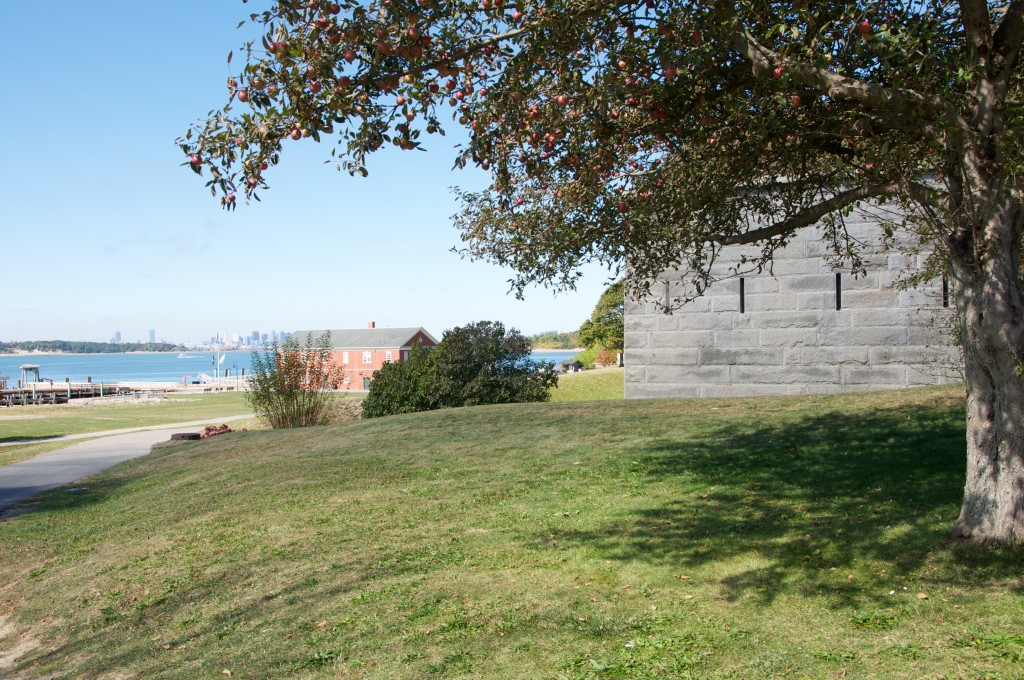 The walls of some of the creepy tunnels and rooms inside the fort, which any brave soul can explore during a visit when the fort is open: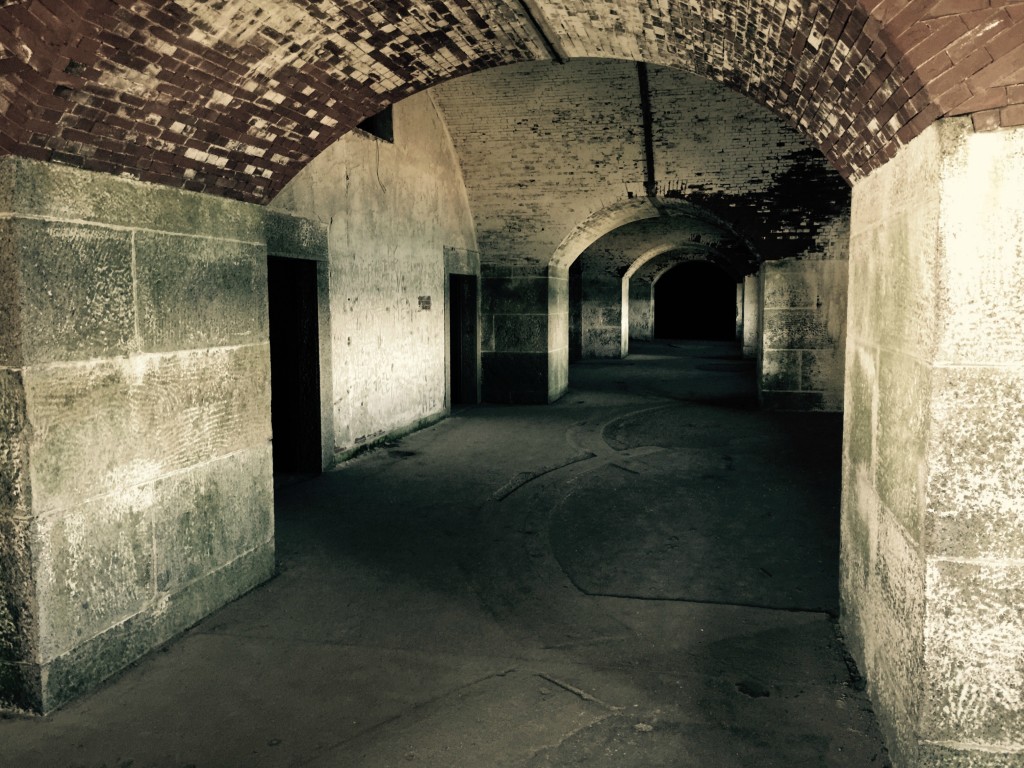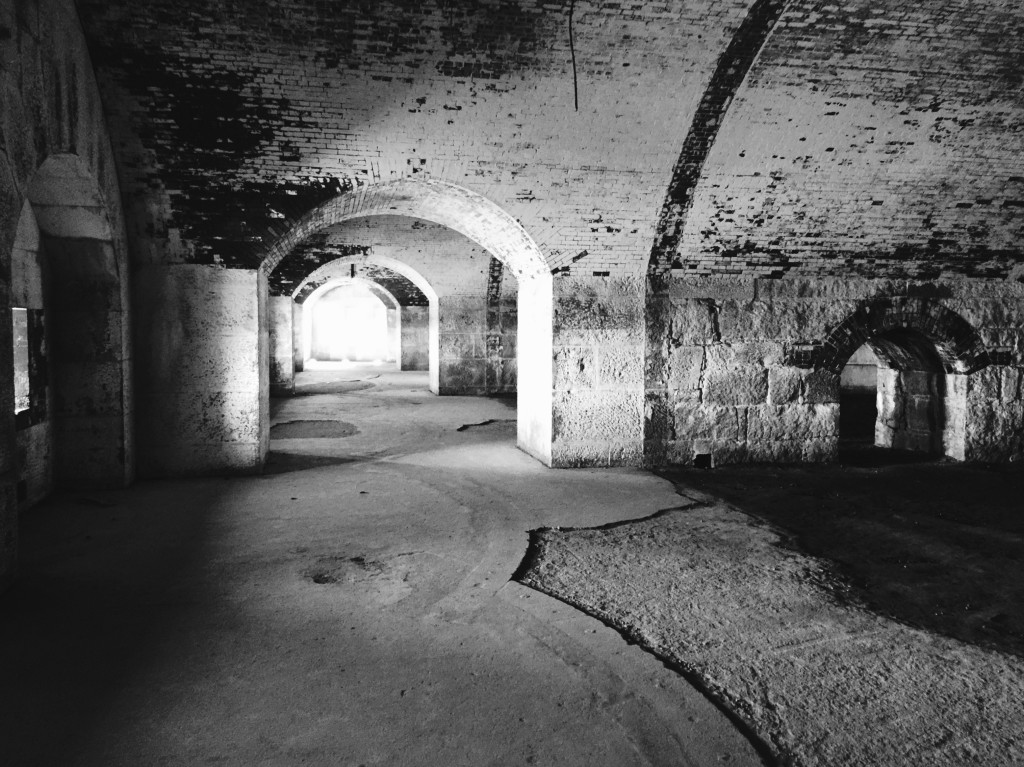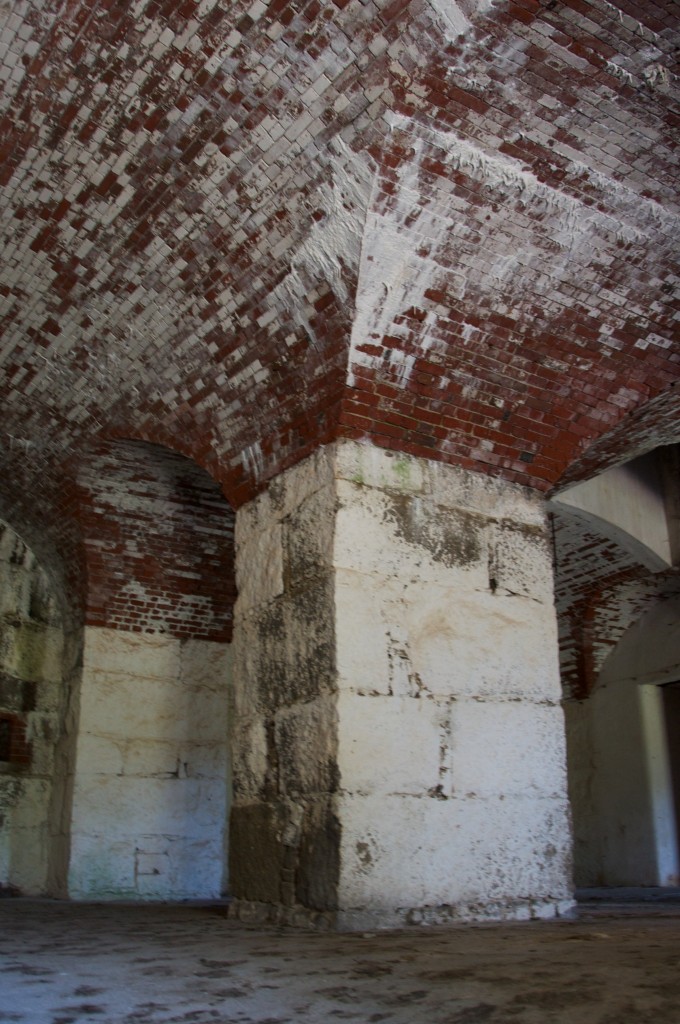 On the North side of the island lies some dunes, visible here just West of where the seawall ends. This type of geology is similar to the other harbor island. The city skyline and Gallops Island are visible in the distance: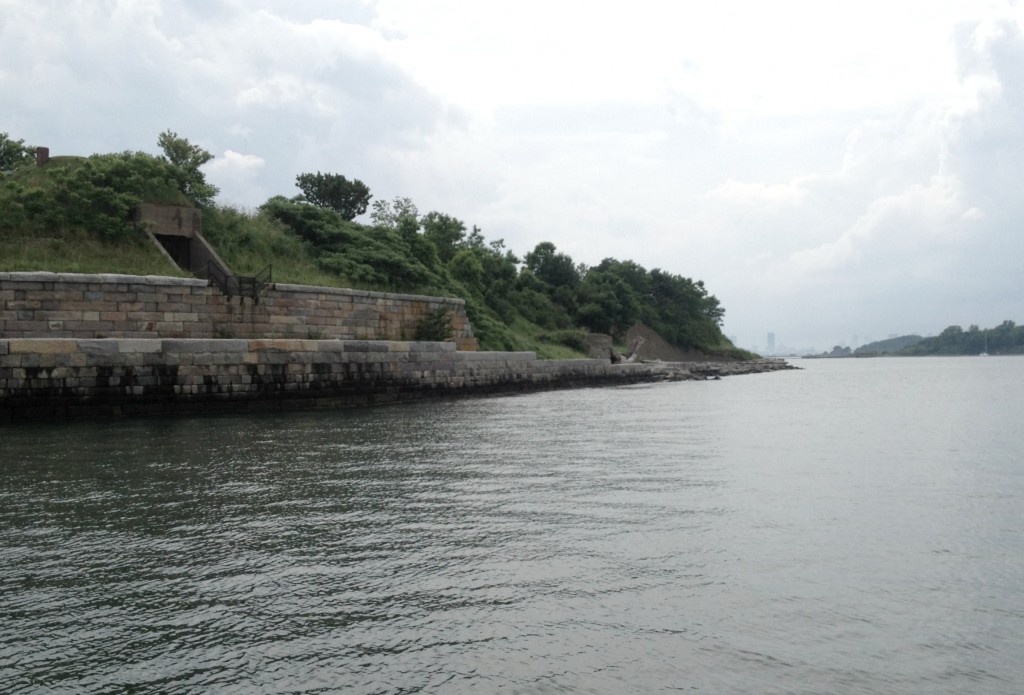 A view to the East, with Calf Island and Graves Light visible in the distance. The Southern Point of Lovells Island and the red buoys marking Black Rock Channel are visible as well: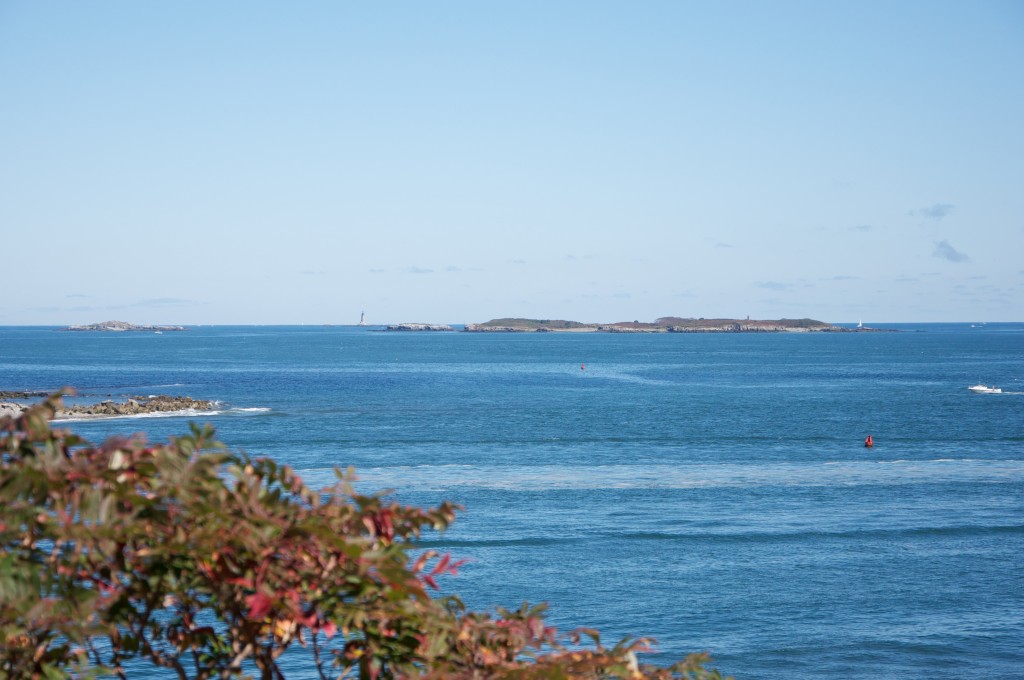 A grand view from the top of Fort Warren's Western Wall. From here, looking over the vast expanse of Quincy Bay, one can clearly see Long Island, and the city skyline. My vessel, tied up on a mooring ball, is visible in the foreground: