Just a short ferry ride away from downtown Boston, this accessible and tourist friendly island offers spectacular views of the City of Boston and virtually all of the Boston Harbor Islands from its high drumlins.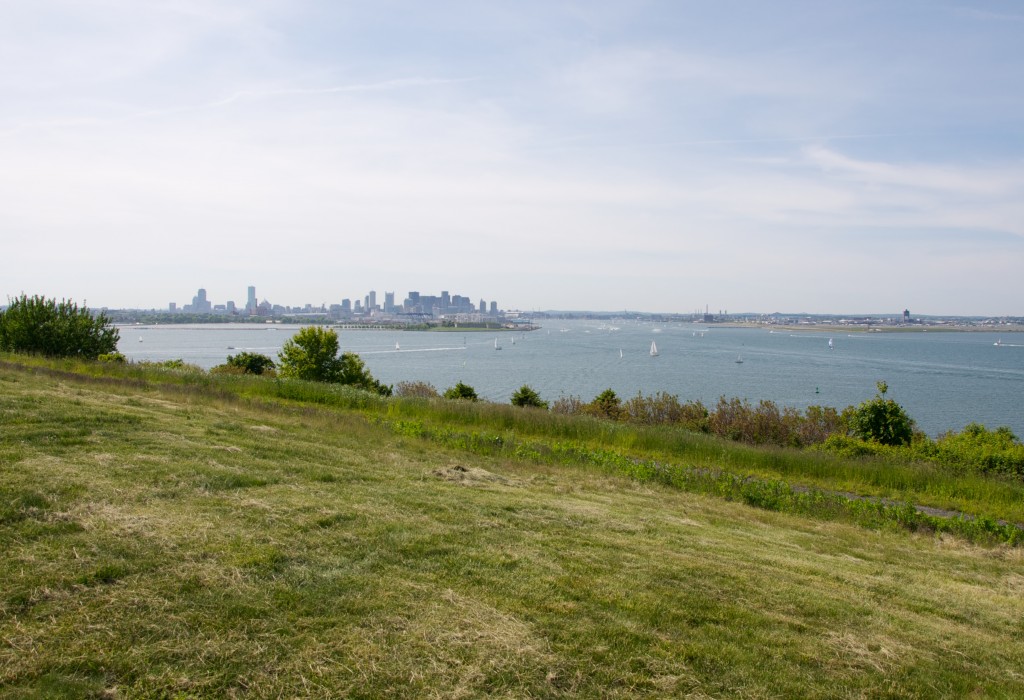 Spectacle is an island named for its original shape: It appeared like pair of spectacles- two drumlins separated by a tidal pool, which was later filled in. Today, Spectacle Island's towering drumlins are the tallest point in the harbor islands. However, they were man made- (Great Brewster's slightly shorter bluffs are the highest natural point in the harbor). From atop Spectacle Island's North drumlin, perception may be somewhat distorted by the flat harbor waters that surround below- one feels much higher than 120 feet. A view of the lighthouse on Long Island Head in the foreground, with Calf Island in the distance: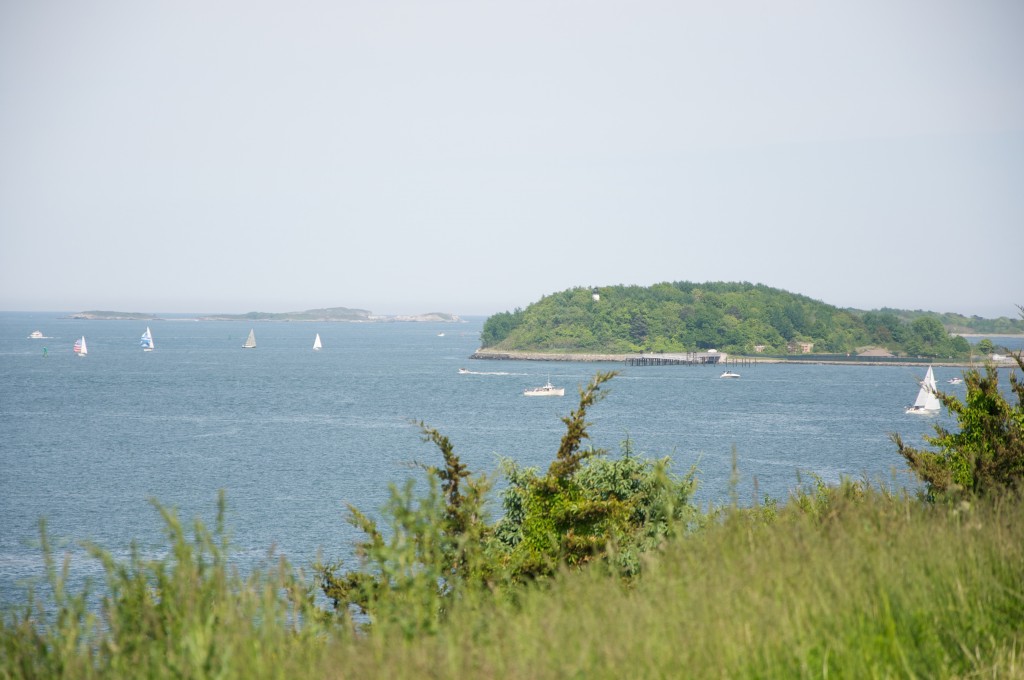 While there is no lighthouse on the island today, two beacons once sat on the Northern end of the island. As ships approached Boston Harbor in the President Roads channel, the lights would line up. The last of the two lights was closed in the early 1950s. The Boston Public Library has a phenomenal Photo of Spectacle Island, taken from Long Island in 1937. Visible are both range lights at the North side of the island as well as the rendering plant in the center of the island. In the distance, the South Boston Power Plant and the Customs House Tower are visible.
Throughout the late 19th and early 20th centuries, Spectacle Island was a source of ire for inhabitants of South Boston right across the bay due to the foul odors emanating from the garbage disposal and rendering plants island located on the island. It was in this factory that dead horses would ground up dead horses to make tallow for soaps, oils and packaging materials. The remains of the pier which served the plant still stand today on the island's west side. The original rendering plant was expanded in 1912 to be a full garbage disposal facility. The facility was referred to as a "menace to humanity" by nearby residents who would undoubtedly smell the odors any time the wind blew from the East.  Today, waterfront residents of South Boston look across the bay at the green, rolling hills and trails of a national park. A close up view of the South Boston waterfront and Castle Island as seen from Spectacle Island: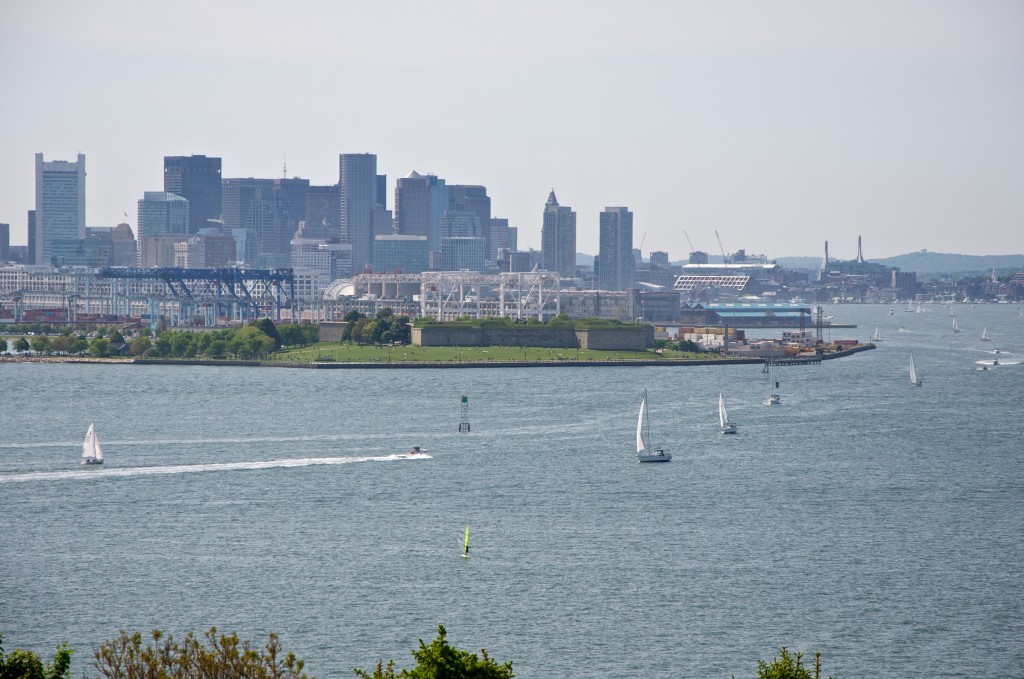 One of the most interesting features of Spectacle is that virtually all of the other Boston Harbor Island are visible from its high North Drumlin. In this photo, Long Island's facilities and water tower are visible in the foreground, with Hull's Telegraph Hill visible in the rear right: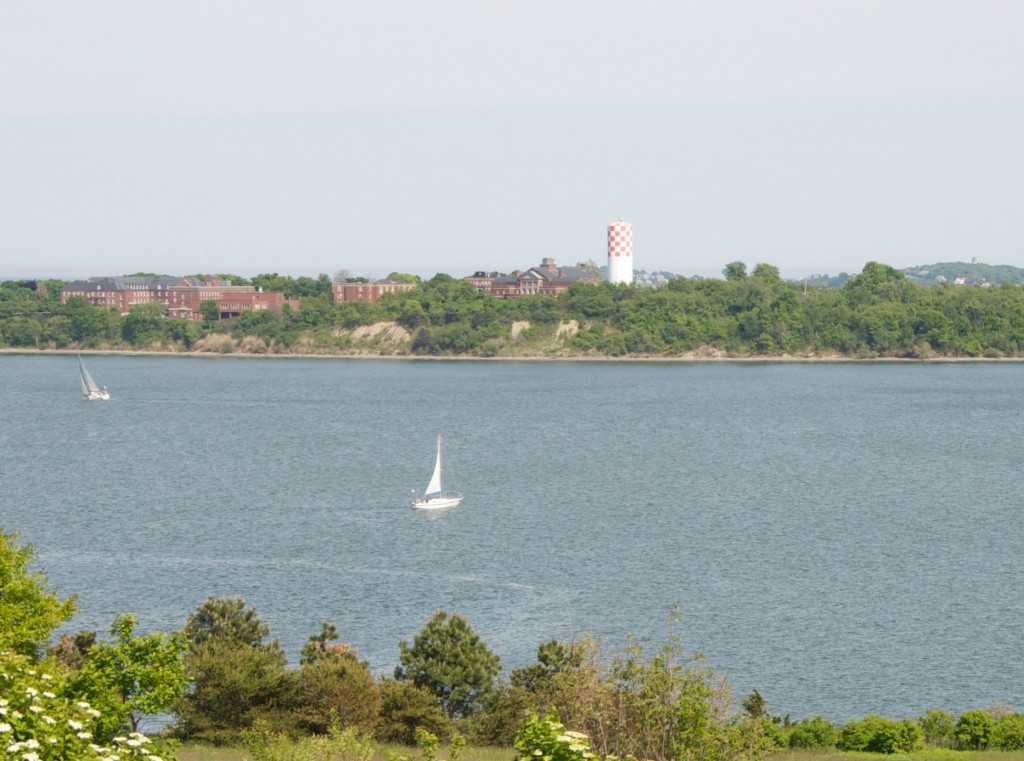 Dawn breaks over Spectacle Island in the dead of winter: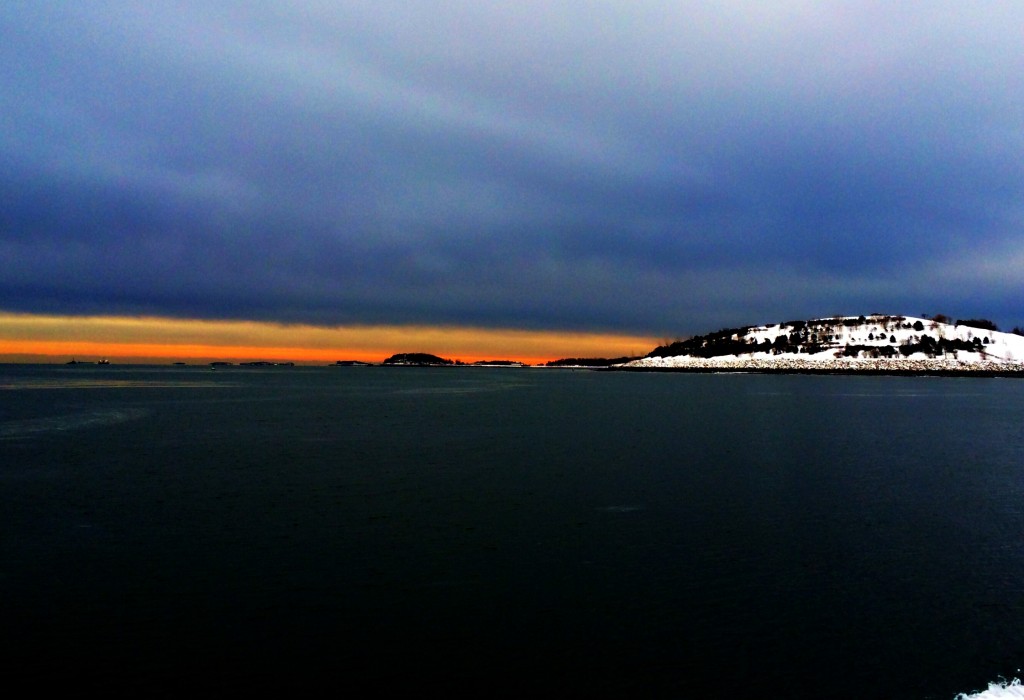 A large container ship leaving Boston Harbor, as seen from the top of Spectacle's North Drumlin (looking Northeast). In the background, across the Governor's Island Flats lies Deer Island on the right and the town of Winthrop on the left: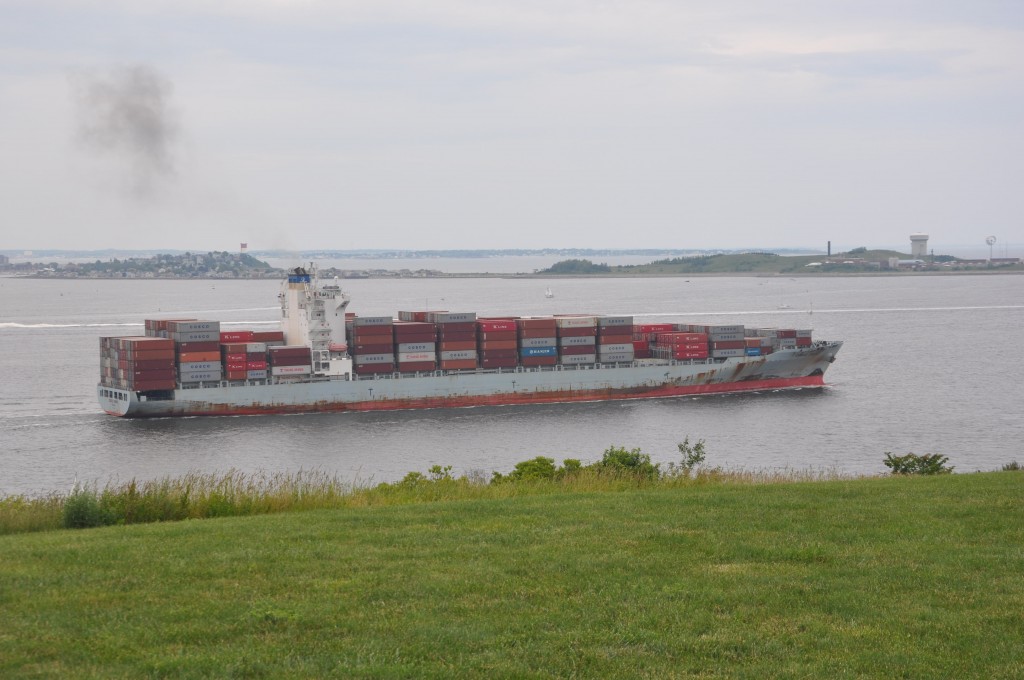 A view of the city skyline behind Spectacle's rolling hills: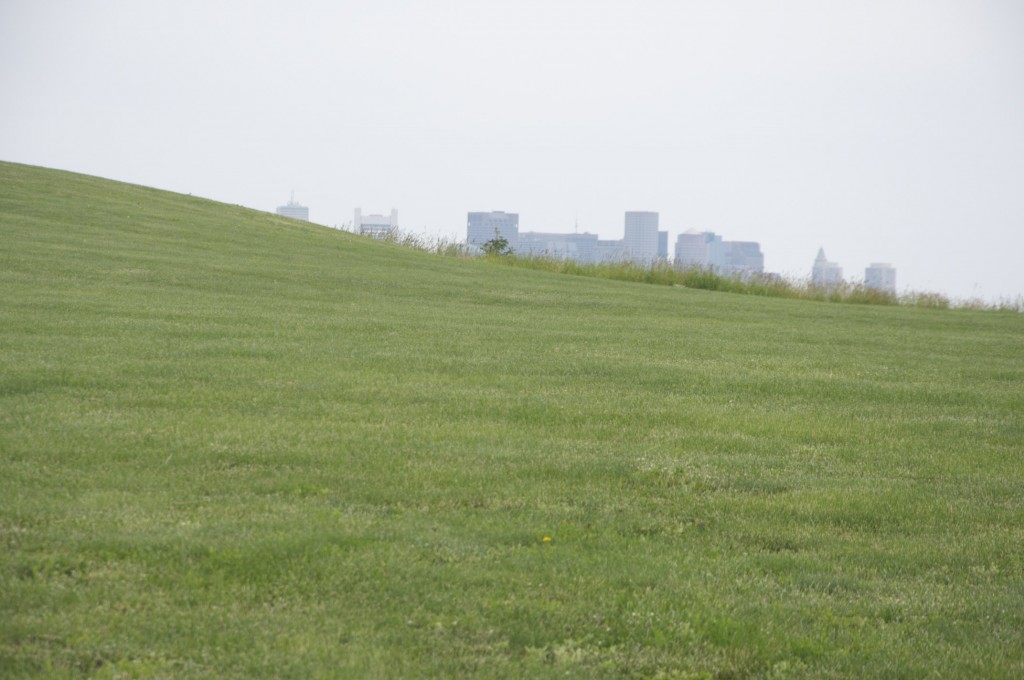 Looking toward the city from Spectacle Island's dock: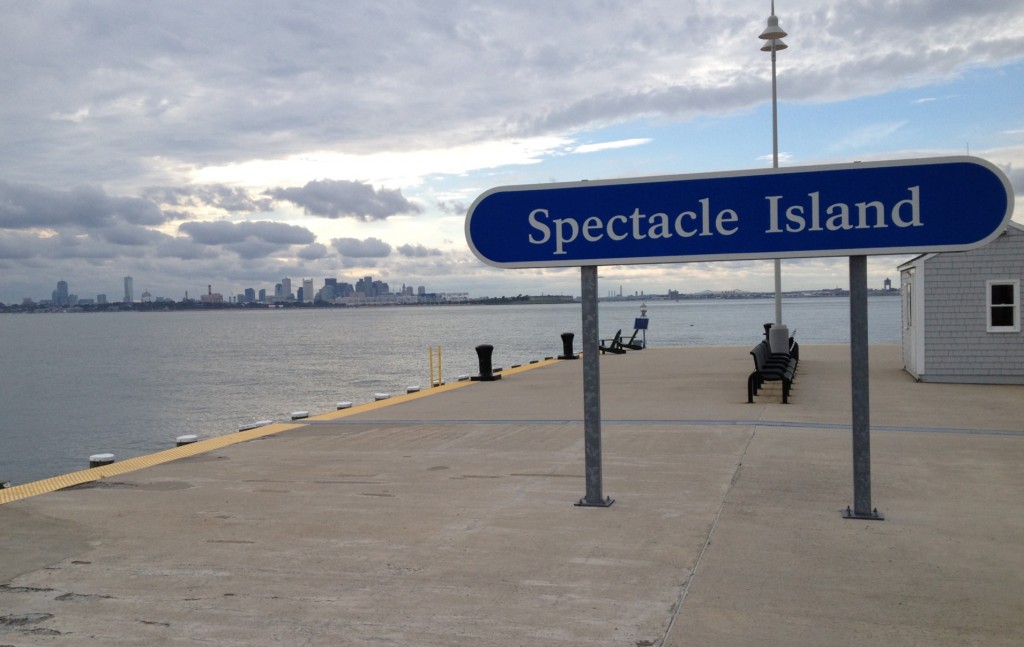 * "South Boston  Spectacle Island Odors" Boston Daily Globe, August 1, 1923