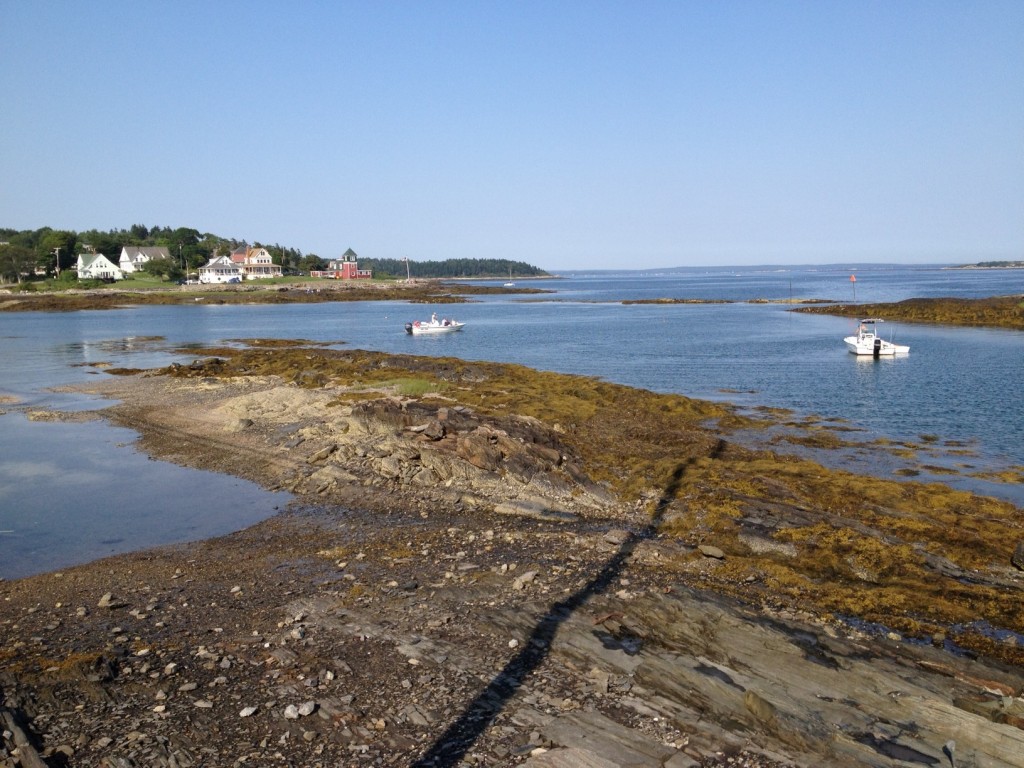 Just to the east of Portland, Maine is a great, bright, blue and calm body of protected water, that is lined with the most jagged outcrops of rocks and islands. The coastline here is quite a contrast to a long smooth breaking beaches of Southern New England, as here the surf breaks so unevenly against these scattered rock ledges. Great fluctuating seas leave exposed long stretches of the ocean's kelp-lined floor and a reveal a pleasant salty sea aroma at low tide. This would be no other than the Casco bay, which I had the pleasure of visiting this past weekend.
Here are a few of the gorgeous places I visited while on Casco Bay, while being the guest captain of an 18 foot Holland launch boat (pictured below). It was little change from my 28 foot, twin-screwed, 500HP beast of a Boston Whaler, but it was quite nice.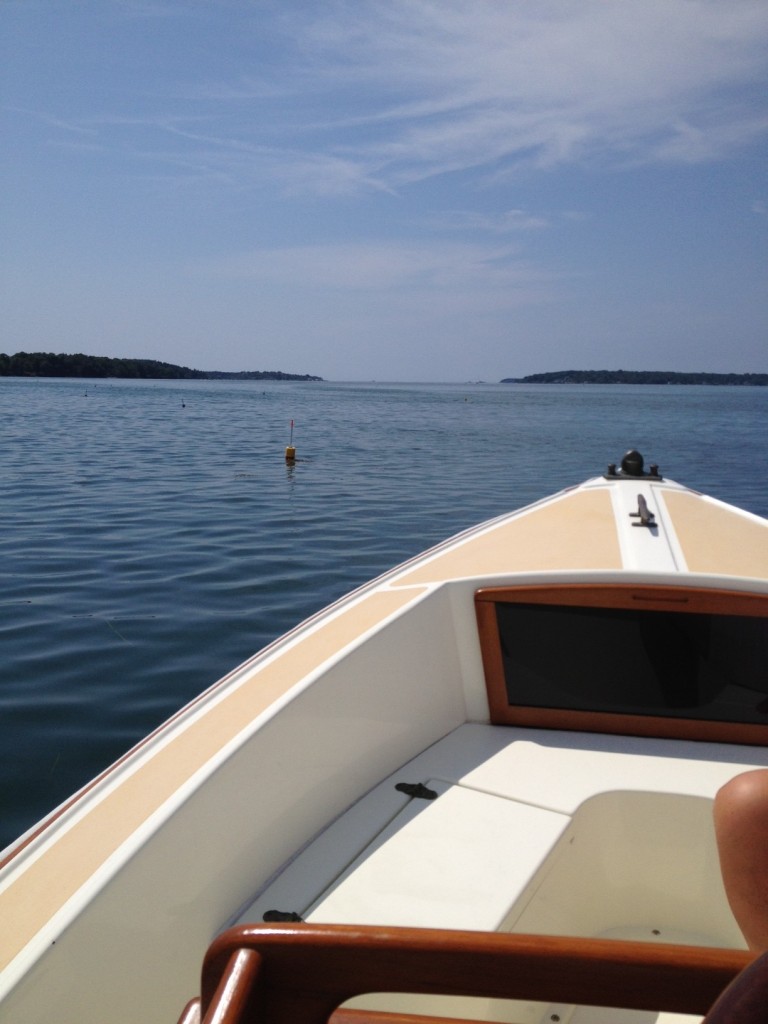 -The monument at Little Mark Island, at the entrance to Merriconeag sound, looking south toward Yarmouth and Portland: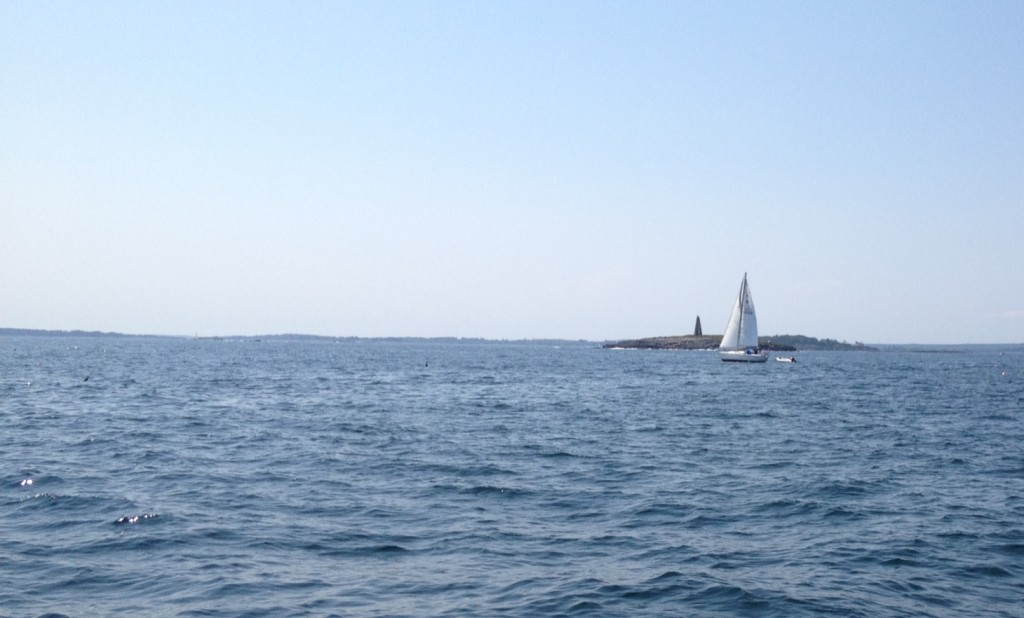 -A rock outcrop off the desolate Eastern edge of Casco Bay looking East toward open ocean: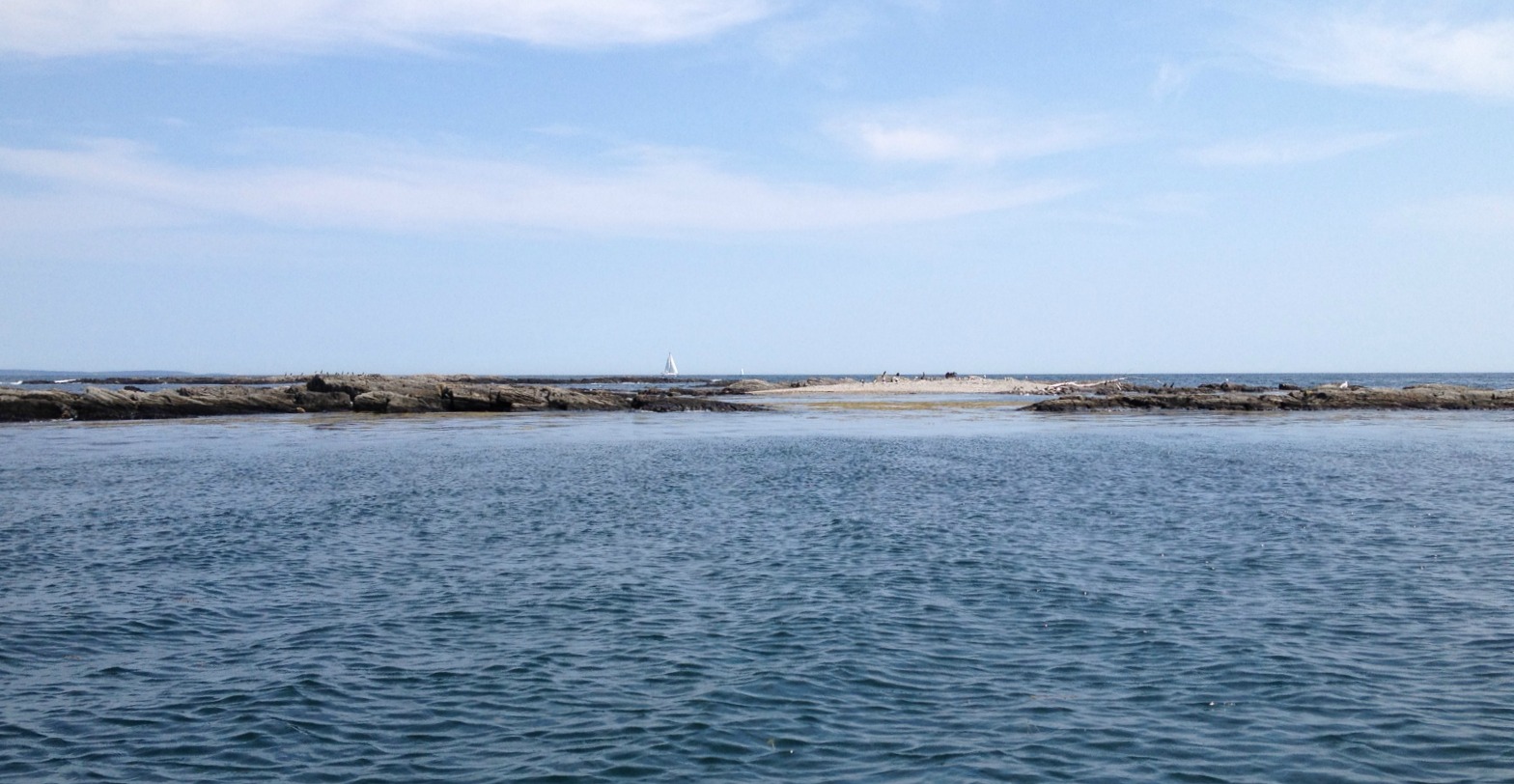 -The granite causeway linking Bailey Island to Orr's Island on the North side of the bay: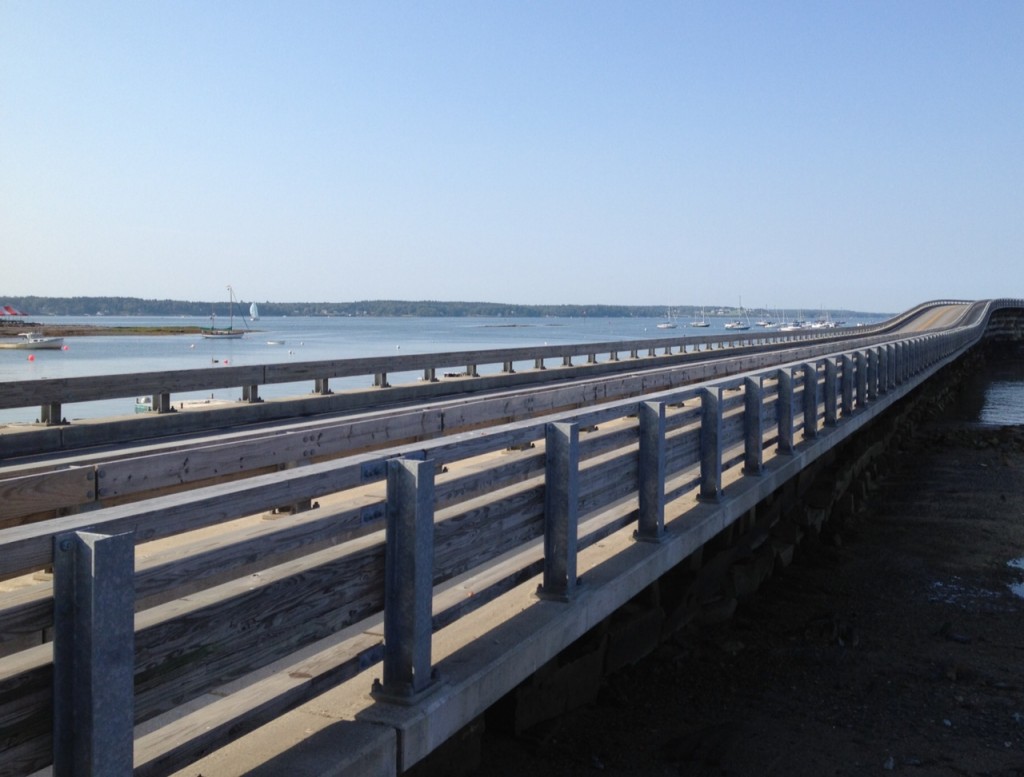 -The WWII-era sub spotting towers on the southern tip of Bailey Island…just goes to show how paranoid we were in the 1940s….they are everywhere along the coast!!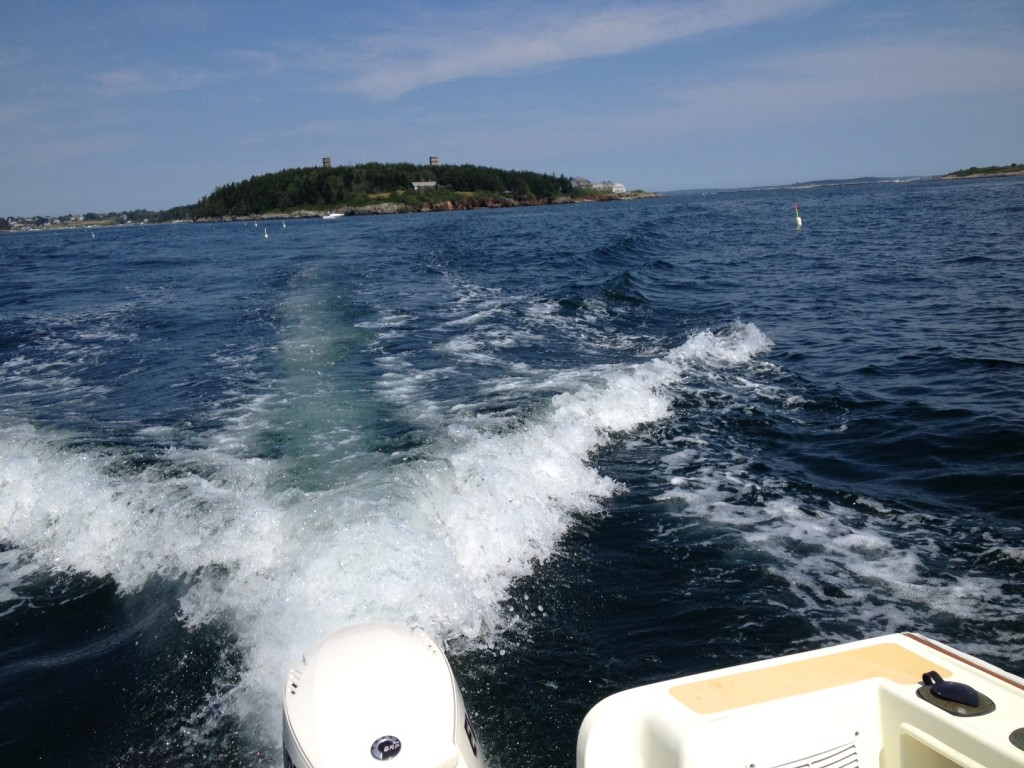 Casco bay is probably the best saltwater boating on the East Coast. This time, I travelled by car to get here from Boston, but every minute being here made me think about taking the 4+ hour boat trip north to Casco Bay from Boston Habor. It can be done!  Recall we did the trip to Nantucket Sound along the Eastern route– a similar distance at 115 miles- so this hold be achievable!
Making the trip: I will likely try this on Labor Day weekend and report back to BHB my findings. The furthest North I have taken my 28 foot Boston Whaler from my Boston Harbor home port is Thatcher Island East of Rockport. This is about an hour trip from Graves Light at the outer harbor entrance. From here, I would think about an hour to the Isles of Shoals off Portsmouth. I have navigated this area before out of Kennebunkport, so I think it would be about another half hour to Boon Island Ledge off York. From this Ledge, its another hour to the lighthouse at Halfway Rock- The Southeastern Entrance to Casco Bay. A half hour from here, I would be safely at dock in Harpswell Sound, on the North side of Casco Bay.
See labeled chart below: 1) Downtown Portland, 2) The Southern edge of Bailey Island, where WWII sub lookout towers are located, 3) Halfway Rock lighthouse, 4) The granite causeway between Bailey Island and Orr's, and 5) The monument at Little Mark Island.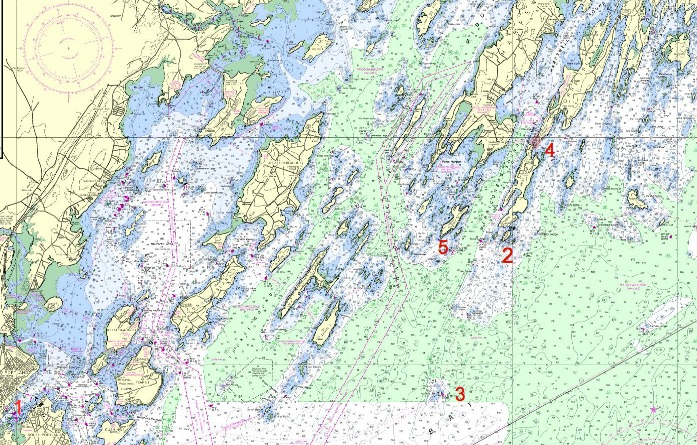 With much greater fluctuations in tides that Boston Harbor, a much rockier coast, and the potential for fog to roll in quickly, boaters need to be very cautious in Casco Bay. Sometimes it it tough to get out all together. For example, the first morning, the low tide got us by surprise, while the second morning, the fog was extremely thick.
The think fog can get you….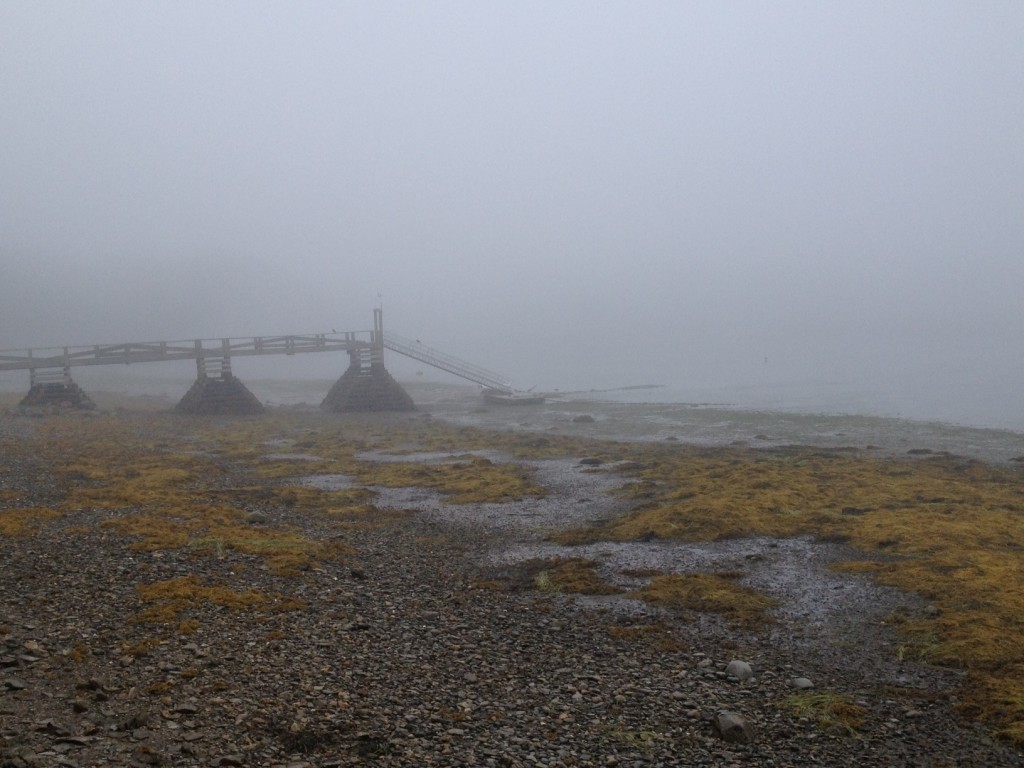 …and you have to time the tides right up here, or else no boating!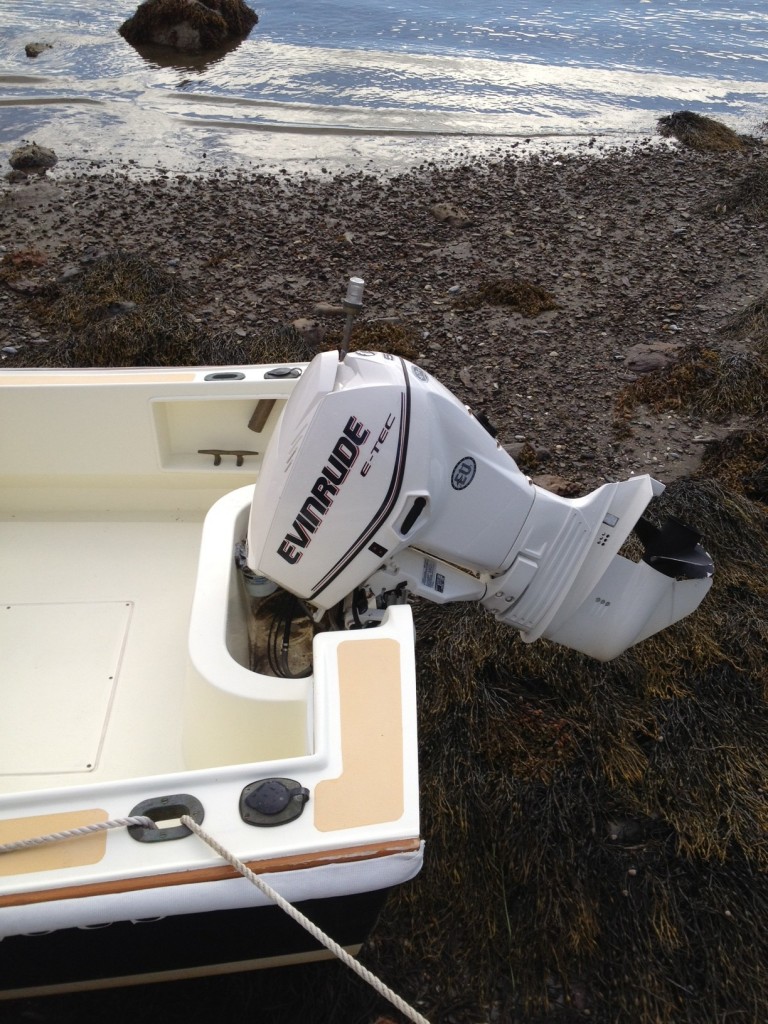 We will post more on the Boston Harbor to Casco Bay run in the next several weeks!