2013 may be dubbed the year of the storm for coastal residents of Massachusetts. As I write this, another strong storm is on its way to inflict a lashing on our coastline! Here is a photo of something I found amazing: A 2,000 lb buoy which was ripped off its anchor and washed up on the Hanscom Air Force Base property on the shore of Scituate, MA during the "Nemo" storm: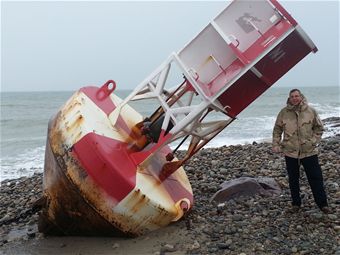 Photo courtesy of Hanscom Air Force Base, USAF. There is a link to the full story here. 
Hanscom Air Force Base, which is actually located on the Bedford/Concord line Northwest of here, operates a summer retreat for its staff on the North side of the Humarock spit, Scituate- right at the North River's entrance. They were able to get this great photo when the buoy washed up on their beach! This location is the site of a WW-II era submarine lookout tower, which we have written about in the past.
As for the Buoy, this is the "NI" which was located about a mile offshore of the North River's entrance. Not to be confused with a red, port side channel marker, this is a red and white buoy known as a "safety" or all clear buoy, signaling that it is safe to pass on either side. This type is similar to the "B" buoy which I have written about in the past. Here, highlighted in red, is the former location of "NI" before the storm got the best of it: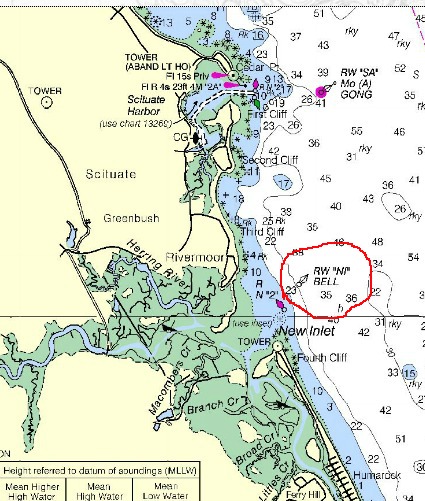 NOAA Nautical Chart. See Noaa.gov for disclaimer.