The Fore River Shipyard's "Goliath" Crane, which once towered over the South Shore. It was deconstructed and shipped abroad during the summer of 2008: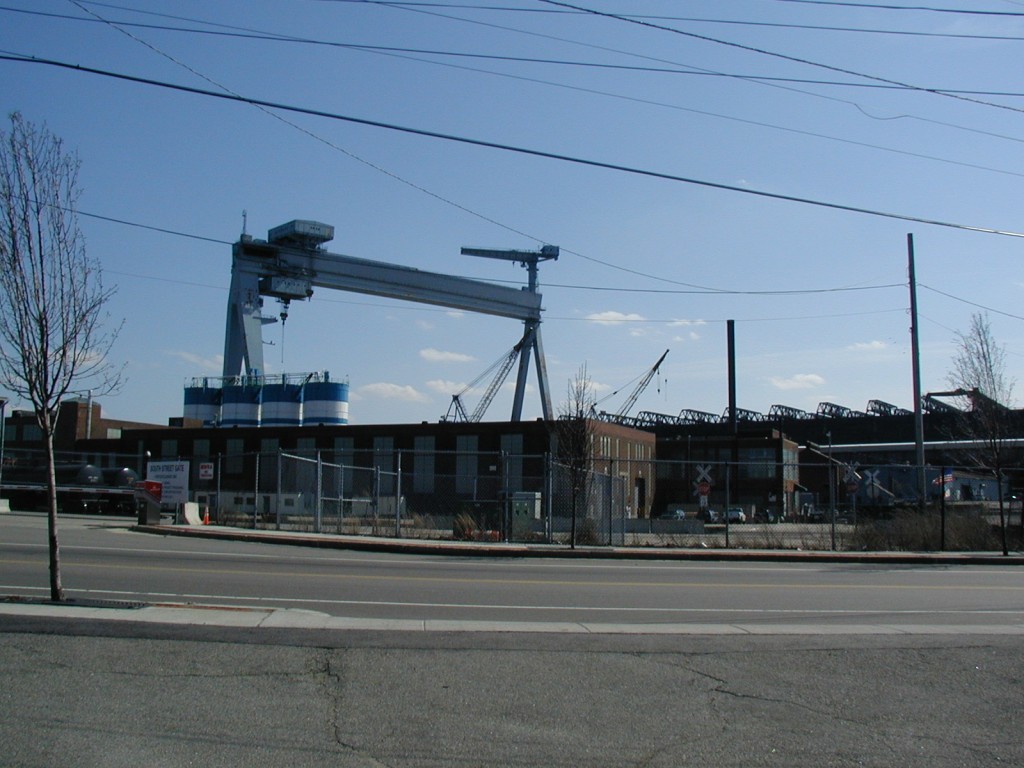 Any kid driving down route 3A would be as fascinated as I once was by this crane because it was so huge: Towering nearly 400 feet above the Fore River shipyard, it could be seen miles away. Capable of lifting a large ship for repairs, this crane solidified the Fore River shipyard as one of the nation's largest up until its departure in 2008. Unfortunately, the crane was then disassembled and shipped to Romania, where it sits on the Black Sea at what is now the largest shipyard in Europe.
The Fore River shipyard has a long history which is authentically American: A major driving force in not only the economic growth of Massachusetts, but in the national security of the United States as well, with its military shipbuilding capability. This lasted through the majority of the 20th century. During the years of World War II, the Fore River yard, along with its nearby Back River facility on the Weymouth/Hingham line, produced hundreds of ships for the war effort. These facilities were supplied with armaments and weapons via rail from nearby depots in what is now Wompatuck State Park.
An old photo of the Fore River shipyard in the first World War:
Source: Creative Commons License, US Naval Historical Center
Today, it has unfortunately followed along the lines of this current challenging chapter of American history….de-industrialization and offshoring. Hence the scrapping of most of the shipbuilding capacity, and the departure of our fine ship building crane to Romania. I would put forth the suggestion that we should perhaps we should think harder about investing in places like this. And no, I don't mean building condominiums: I mean once again using this place as the strategic, industrial, job creating asset it was created to be!
The location of the Fore River shipyard, which lies at the Southeastern edge of Boston Harbor, between the towns of Quincy and Hingham: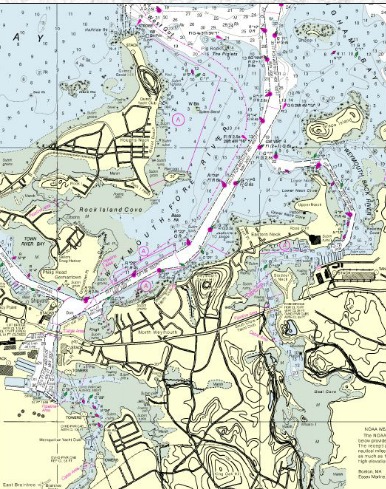 NOAA Nautical Chart. Not for offcial use or Navigation. See disclaimer at NOAA.gov.
Boaters can find some interesting sight near the mouth of the river, particualrly the Quincy Town River Marina, which has multiple amenities including restaurants, transient docking and a fuel dock. Boaters can also venture quite far up the river, well beyond the shipyard. Marinas and docks line the sides of the river all the way up to Weymouth landing in central Weymouth.
Fore River Shipyard at Dusk: A view of what remains of the shipyard, looking West toward the Quincy side from the route 3A bridge at dusk: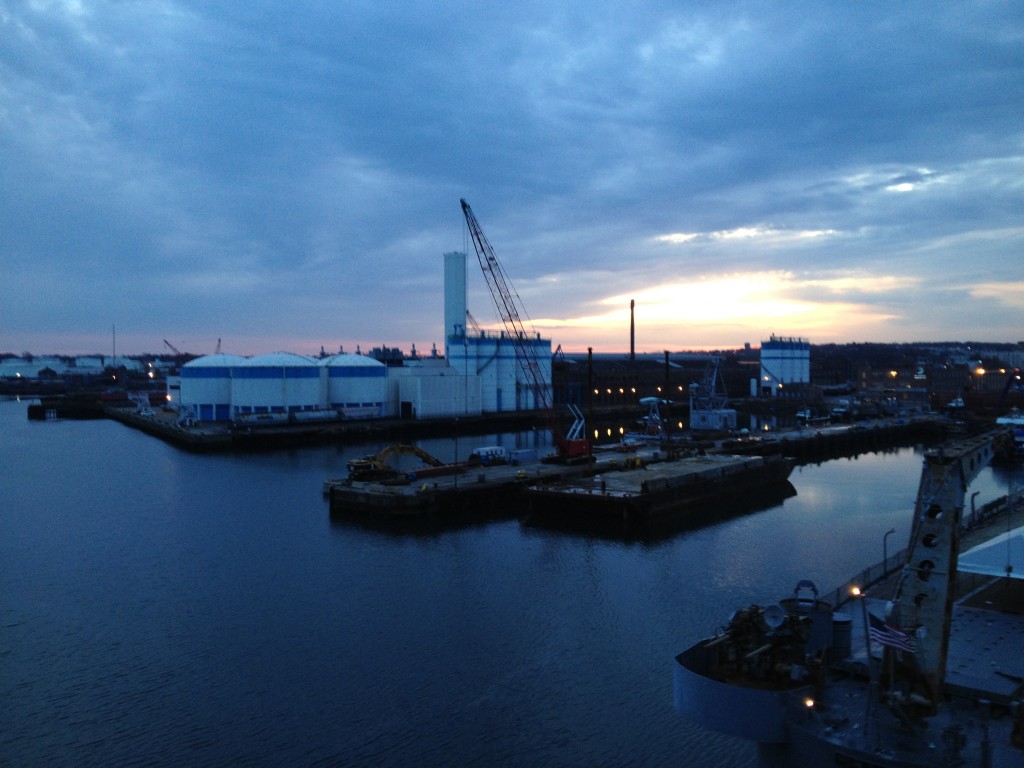 The USS Salem sits docked near the shipyard: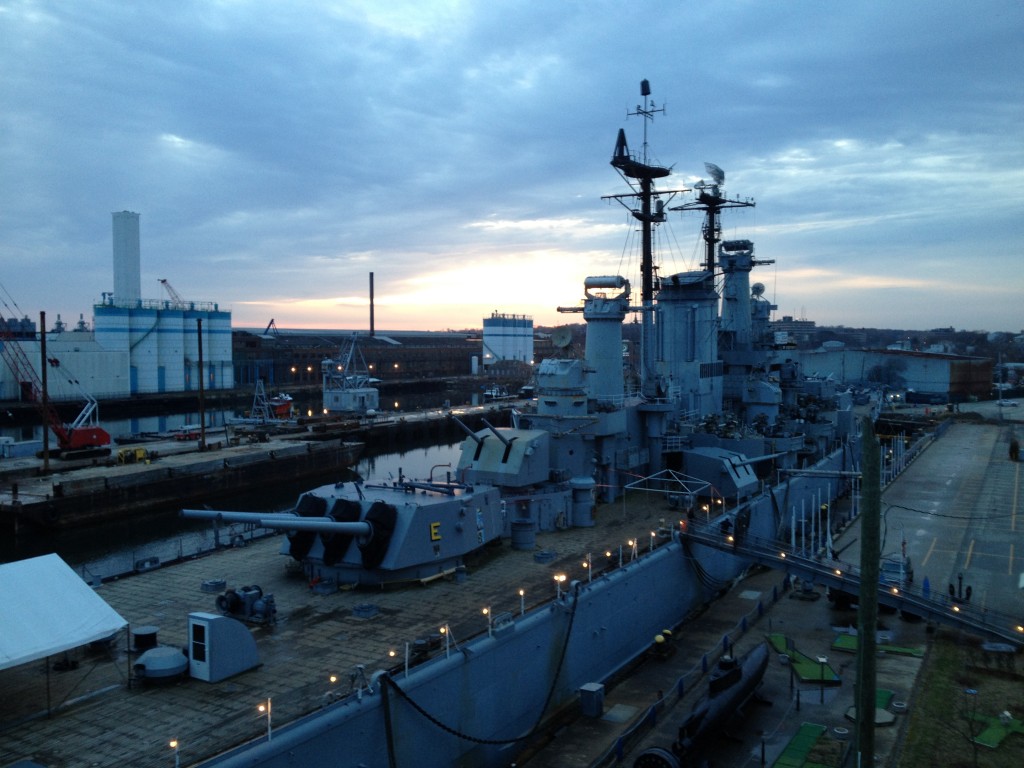 View of the fore River from its opening, looking to the south from Boston Harbor: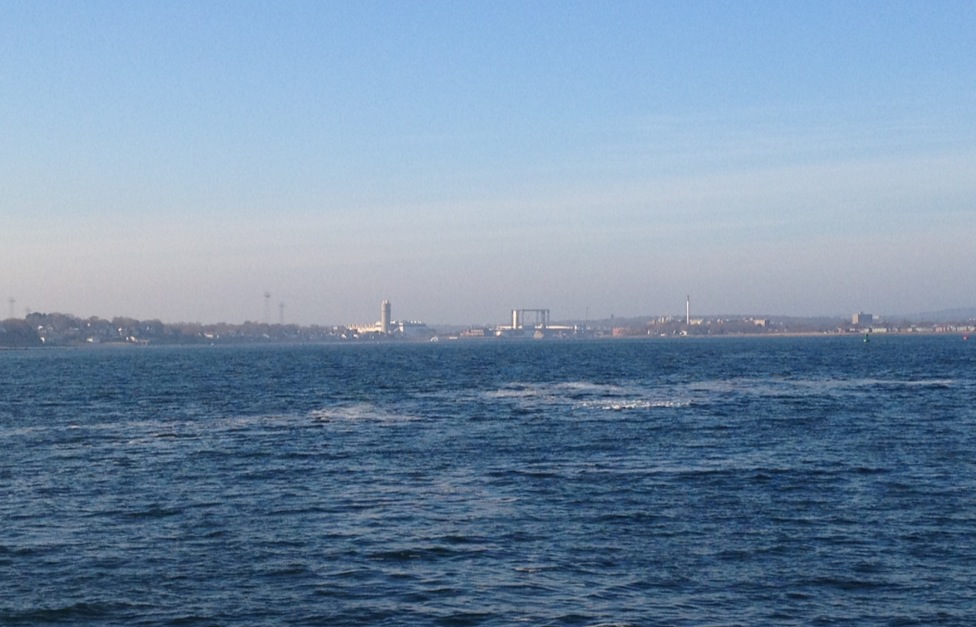 A present-day view from inside the shipyard. Note the large abandoned building in the background: