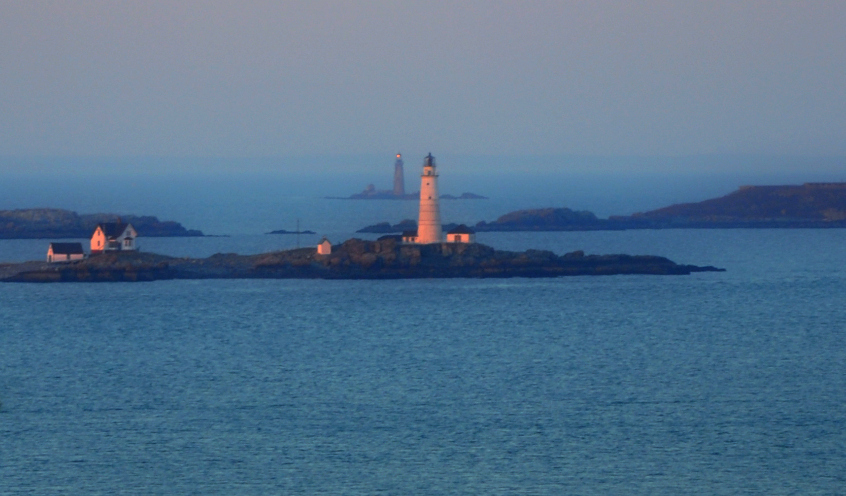 Lighthouses: These iconic nautical landmarks have served an important purpose for hundreds of years. While that purpose has been somewhat obscured by modern nautical technology driven by satellites, lighthouses are still quite relevant and useful to mariners of all skill levels. Below is a list of all the major lighthouses of Massachusetts Bay, along with some information about where to find them. In addition, we threw in some other lighthouses not located in Massachusetts Bay since we had the photos.
The photo above shows the two major lighthouses of Outer Boston Harbor, Boston Light in the foreground and Graves Light in the distance. The photo was taken at dusk from Fort Revere in Hull, which is located on the top of a hill near Pemberton Point.
Starting from the North side of Massachusetts Bay and heading south, here is the list of lighthouses in  order:
1) Thacher Island: The twin lights of Thacher Island sit about a mile off the Coast of Gloucester. They are named for a British sailor who was wrecked here with his family in a storm many centuries ago. (I have written more about Thacher Island and Cape Ann here). These are some of the tallest lighthouse towers around, making them visible for many miles. They have also become weathered from their exposure to the harsh North Atlantic- here are some photos: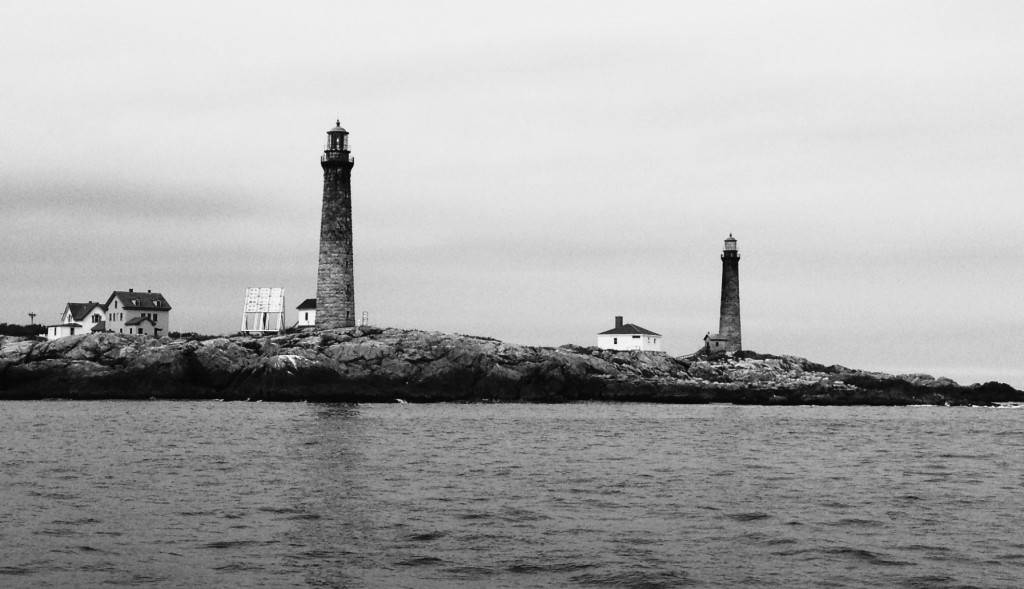 Thacher Island as seen from the North: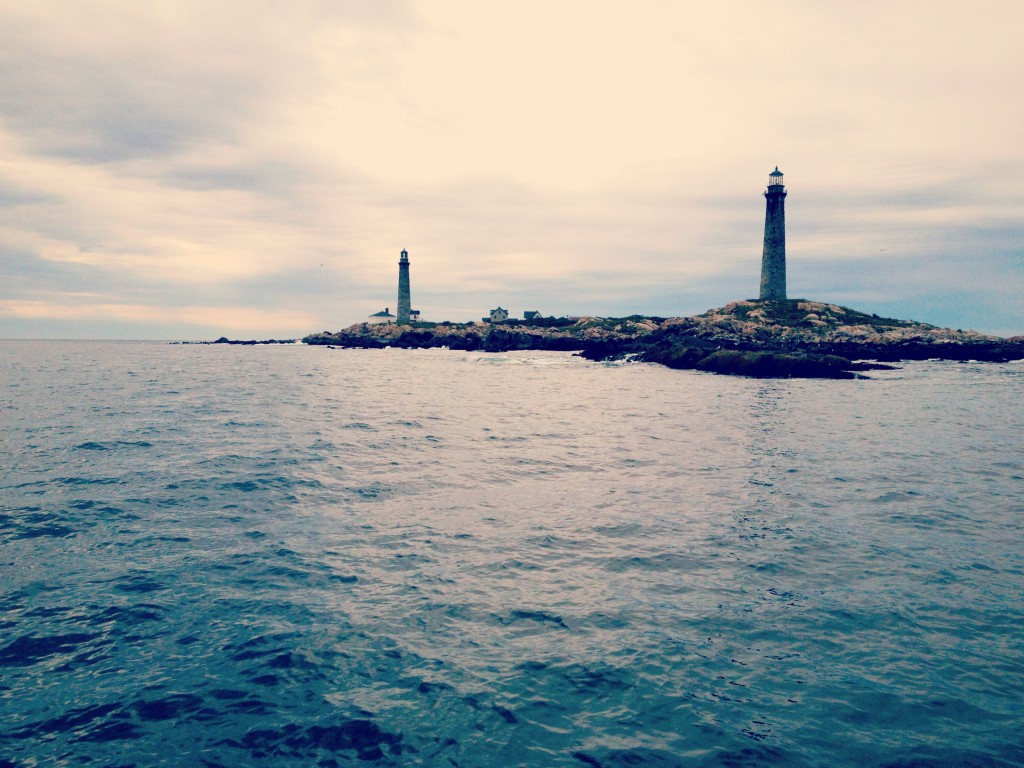 2) Annisquam Light: Located on the Northeast side of the Annisquam River, this is a small lighthouse marking the entrance to the river as well as the dangerous sandbar nearby. From this location, one can see North to Maine on a clear day.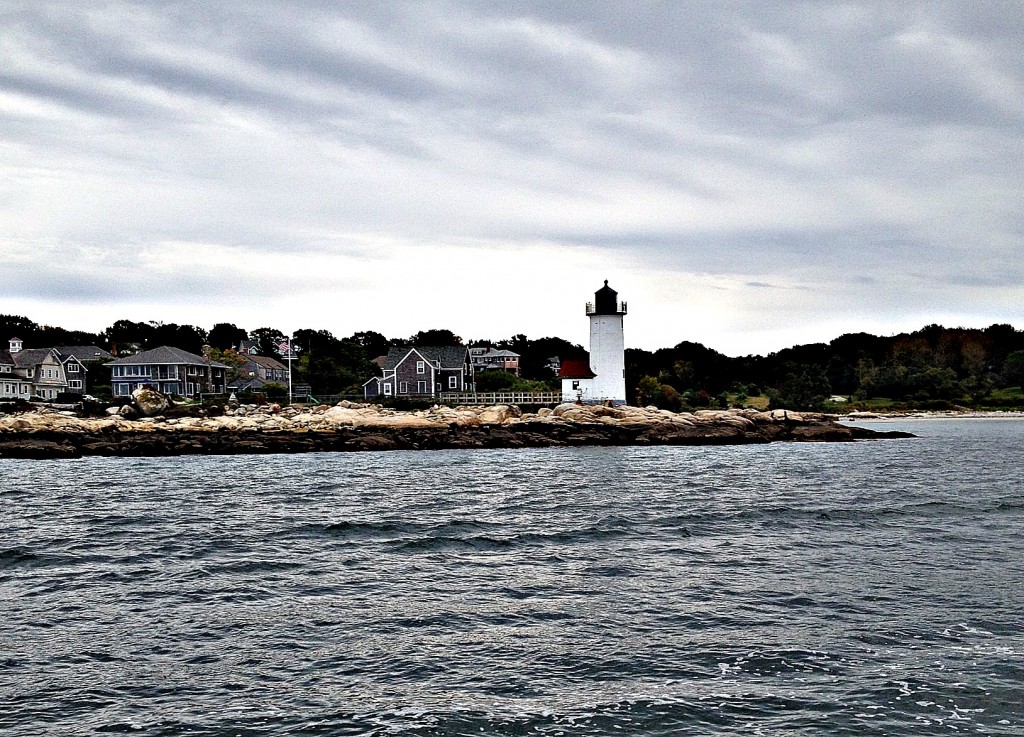 3) Straitsmouth Island Light. This small lighthouse sits on Straitsmouth Island, which is one of three islands lying just to the East of Rockport, Massachusetts. They were first discovered by Captain John Smith in 1614, who named the formation Turks Head. Today, this lighthouse sits just outside Rockport's harbor: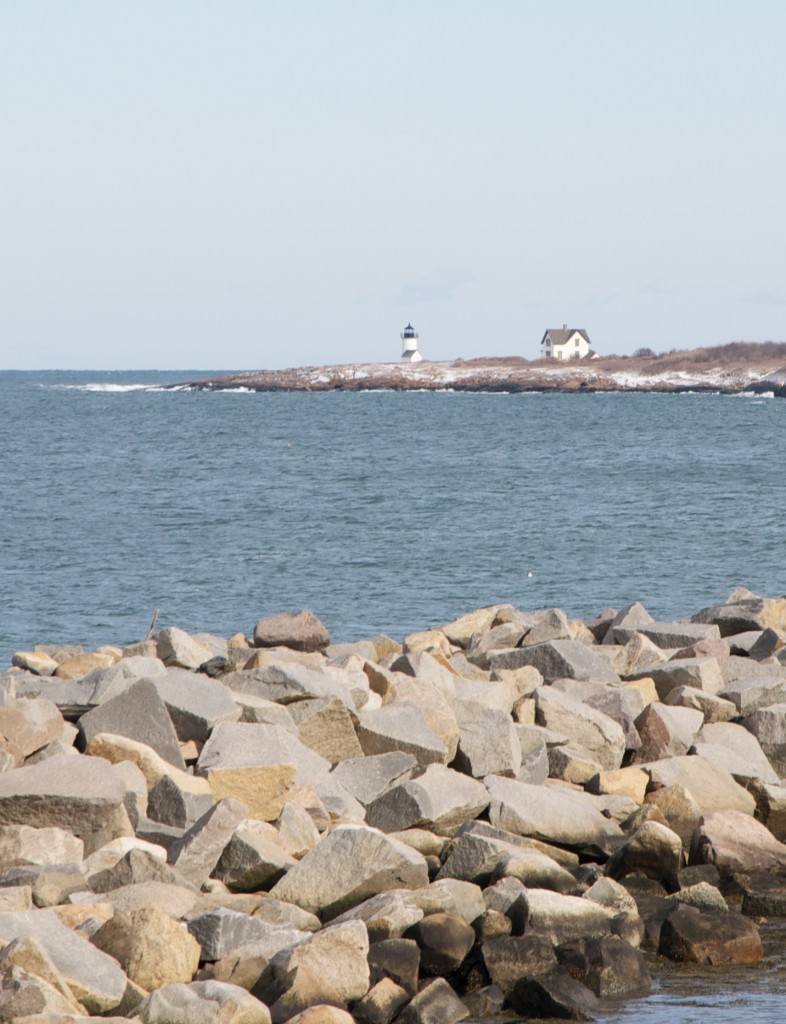 4) Eastern Point Light: This is the major lighthouse marking the entrance to Gloucester Harbor. However, between the entrance at the lighthouse, there is a huge granite breakwater known as the Dogbar. This structure protects the harbor and can be walked upon out to the end. On a clear day, one can see the Boston City Skyline. On a rough day, one can get very wet (or even swept over) while walking on the Dogbar. This is accessible (but not easily) through a long, private road and somewhat unfriendly road. Some type of government agency now collects a fee for parking, which was not the case up until a few years ago. The lighthouse as seen from the Dogbar: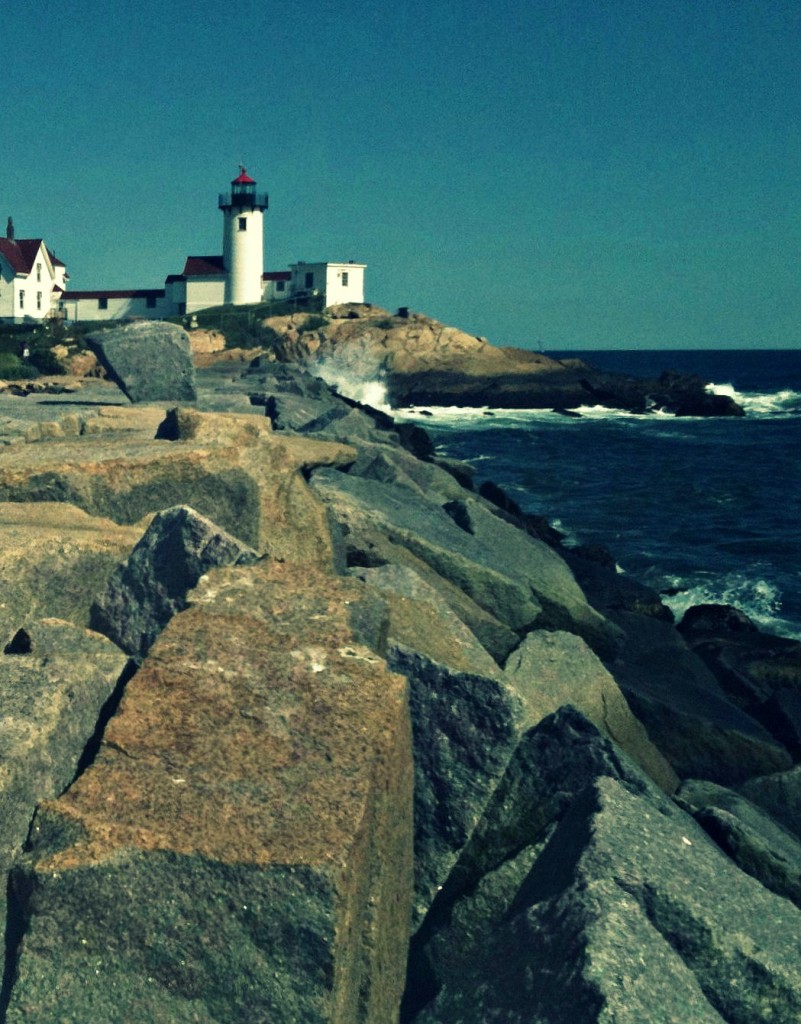 Eastern Point Light as seen from the water: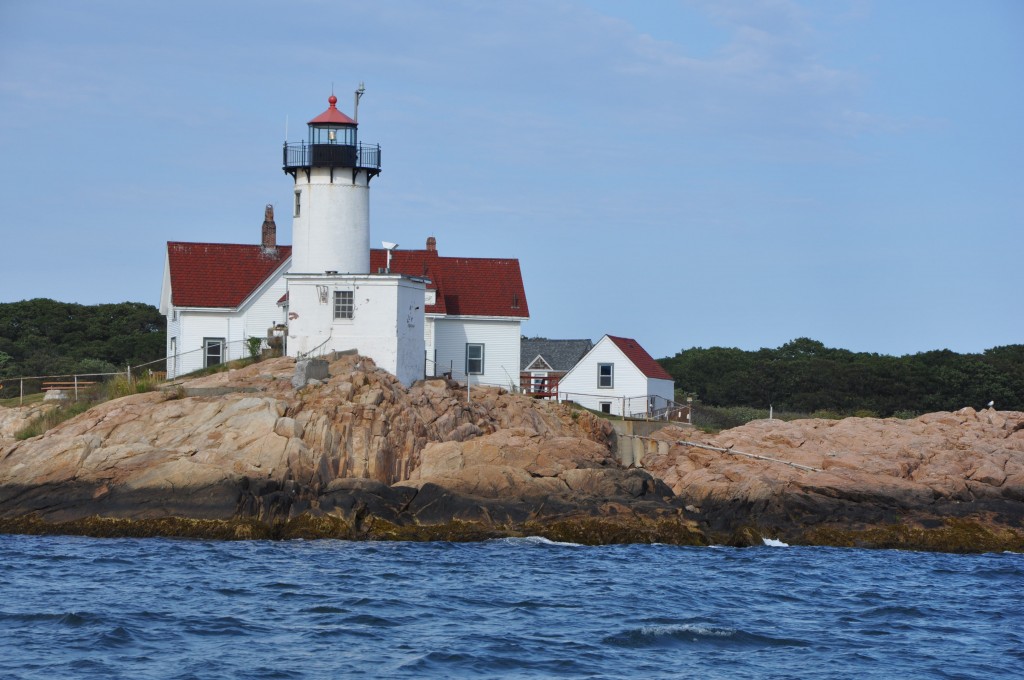 5) Ten Pound Island in Gloucester Harbor. This lighthouse maks the little island South of Rocky neck at the entrance to the harbor: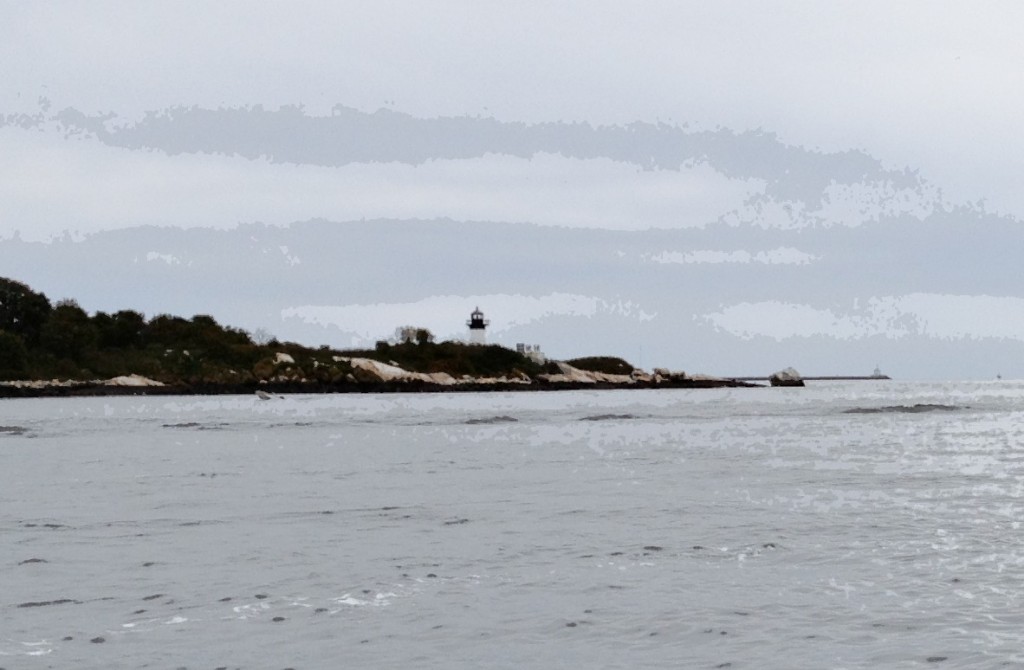 6) Manchester Lighthouse. This large lighthouse is visible from Salem Sound, and is situated amongst some beautiful homes in the town of Manchester-by-the-Sea. The structure was once a fire control tower, but received a nice makeover. I am not certain as to whether or not it is technically a light house, but it clearly was made to look like one: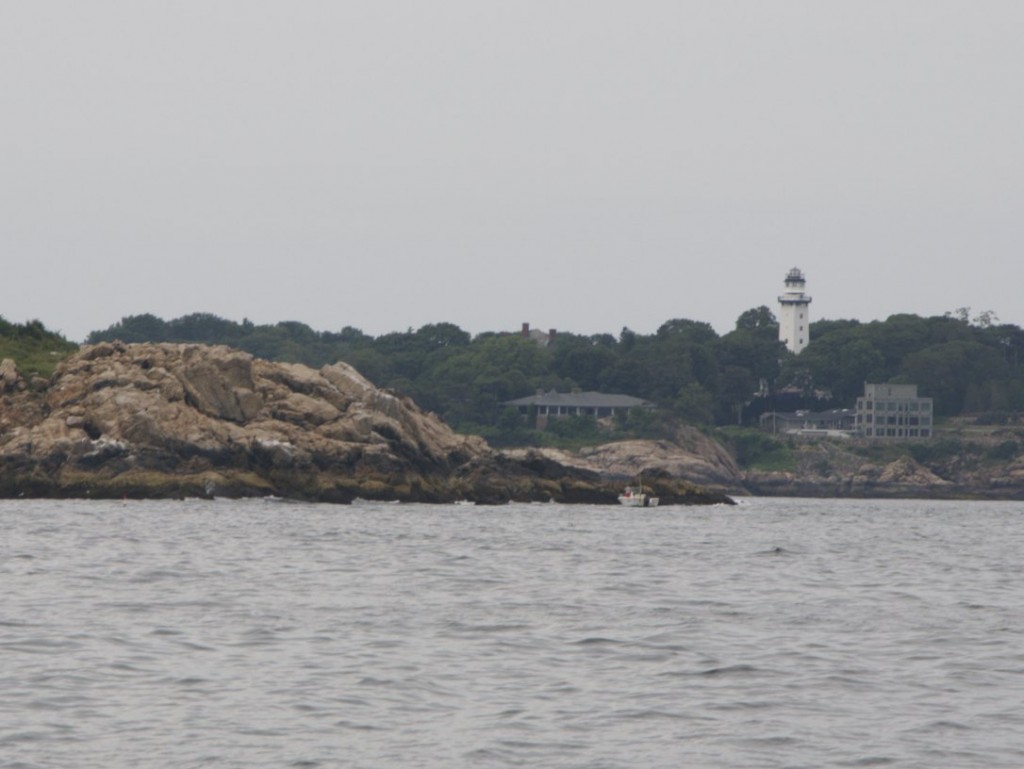 7) Baker's Island Light. This lighthouse is located on Baker's Island, far out on the North entrance to Salem Sound. An old chart I have indicates that their used to be used to be two lighthouses occupying this location!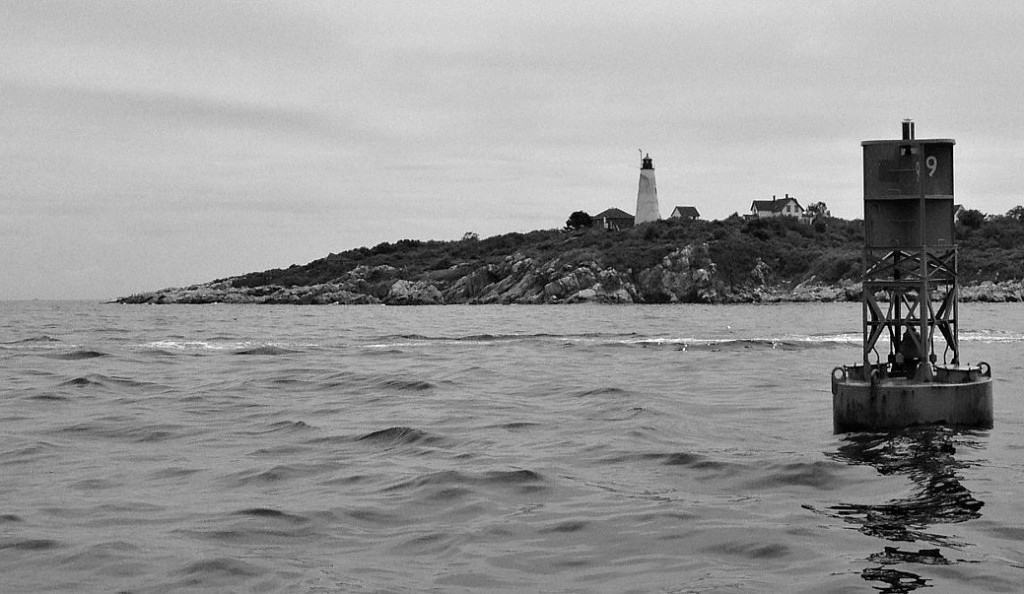 Baker's Island Light up close: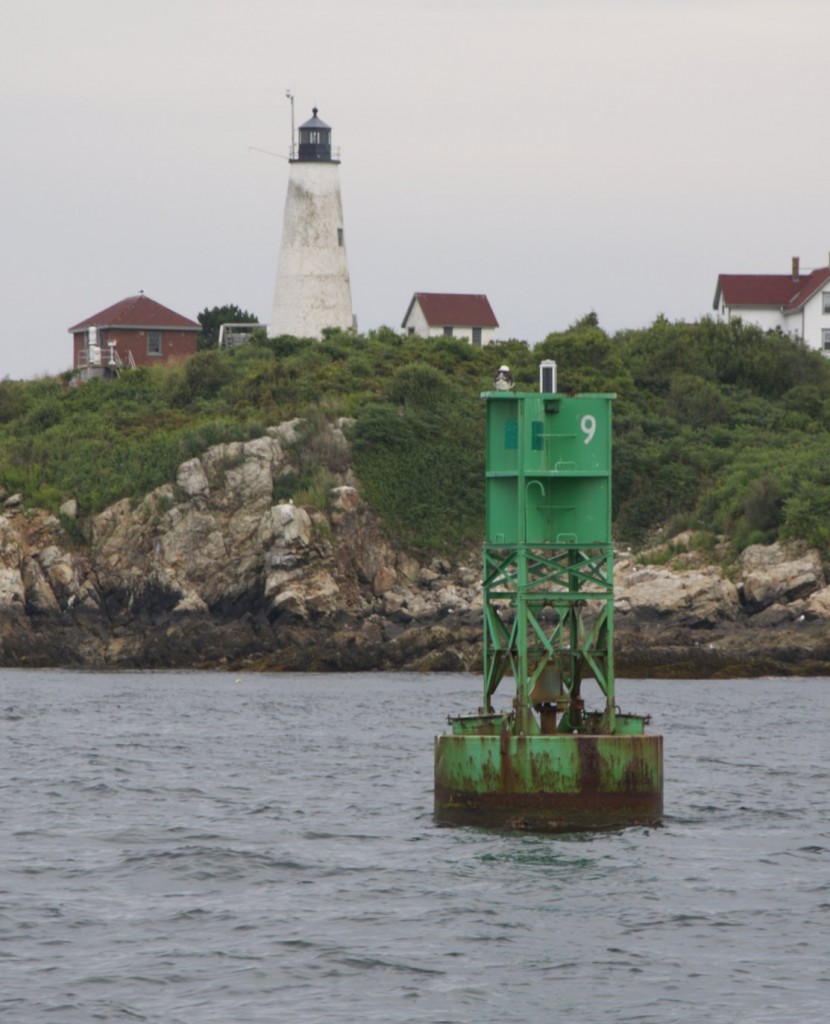 8) Hospital Point Light. Named for its location at a former Smallpox Hospital, this lighthouse is located in Beverly and is not open to the public. It was opened in 1872 and marks the entrance to Beverly Harbor. It is visible from the Willows park pier, which is where this photo was taken.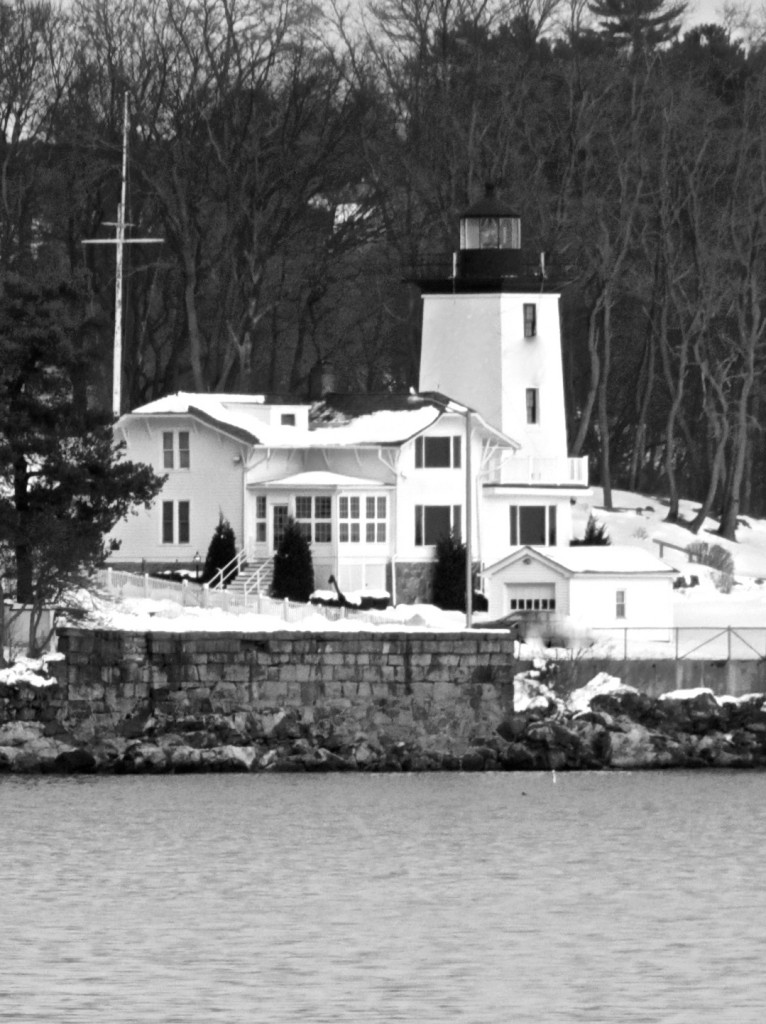 9) Fort Pickering Light. This lighthouse is located on a peninsula just outside the city of Salem. In the photo below, Baker's Island Light is actually visible in the background. The fort was built to protect the city of Salem when it was relatively quite large and strategically important to New England shipping (1700s). Salem also has two smaller lighthouses including the light at Derby Wharf, which is not included in this list.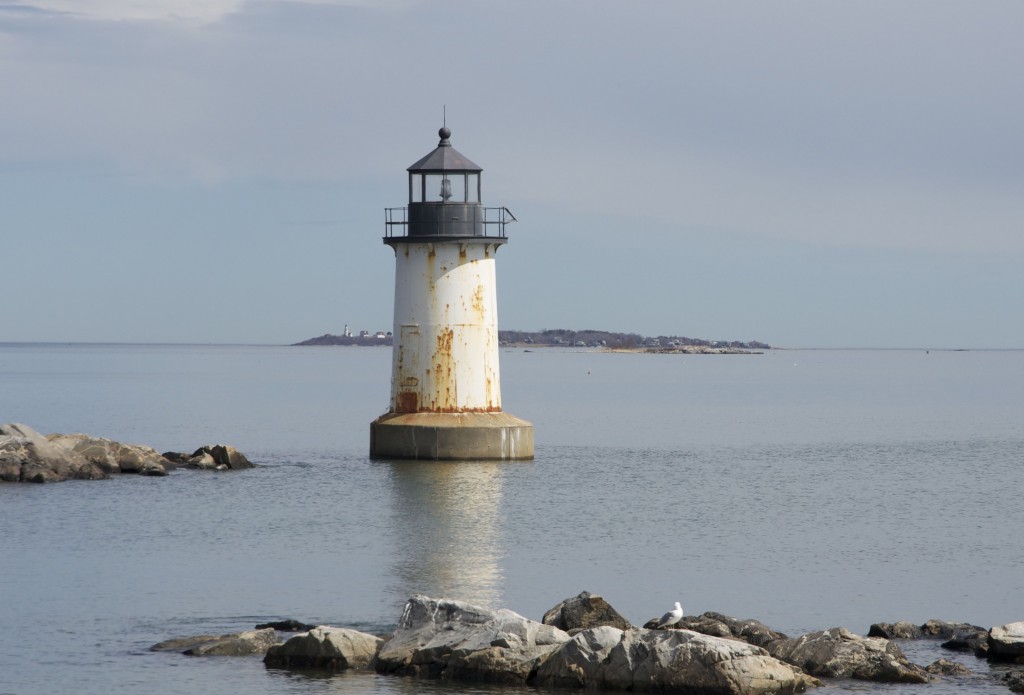 10) Marblehead Light. This strange looking steel exoskeleton of a structure sits and the Northernmost end of Marblehead Neck. Its green light is visible for seven miles.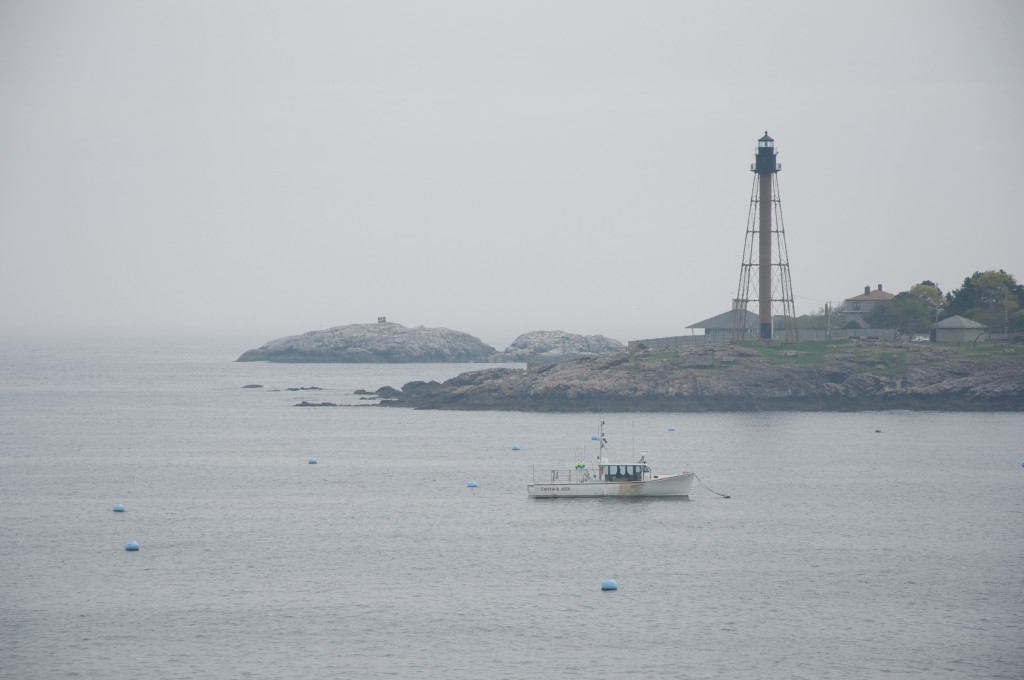 11) Graves Light. This dark, creepy, isolated light sits far offshore in Boston's outermost reaches. It is perched upon a treacherous rock ledge that spelled disaster for many a  mariner before the lighthouse was built.  Lying about ten miles East of downtown Boston, I believe that the lighthouse may be closer to the town of Nahant than the City!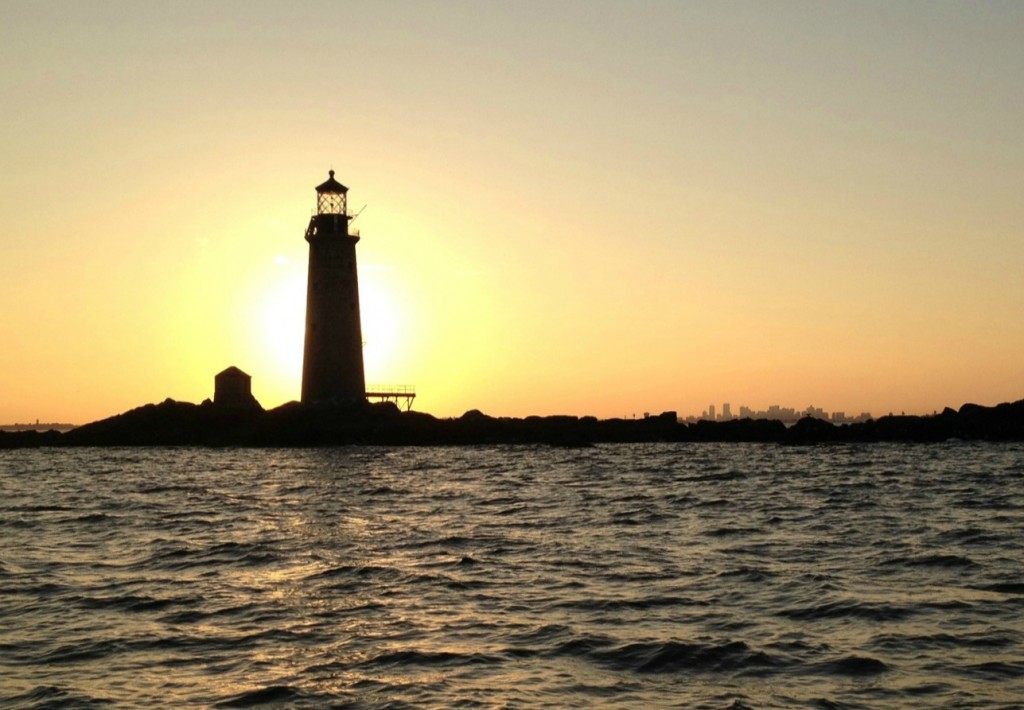 The tower of Graves Light up close: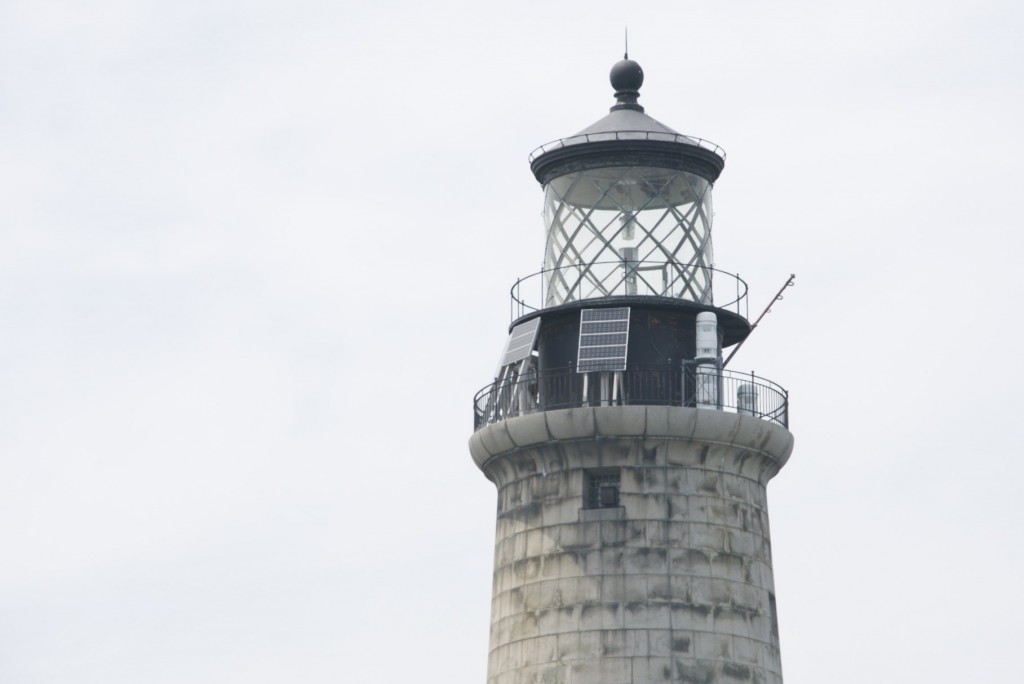 Graves Light on an autumn afternoon: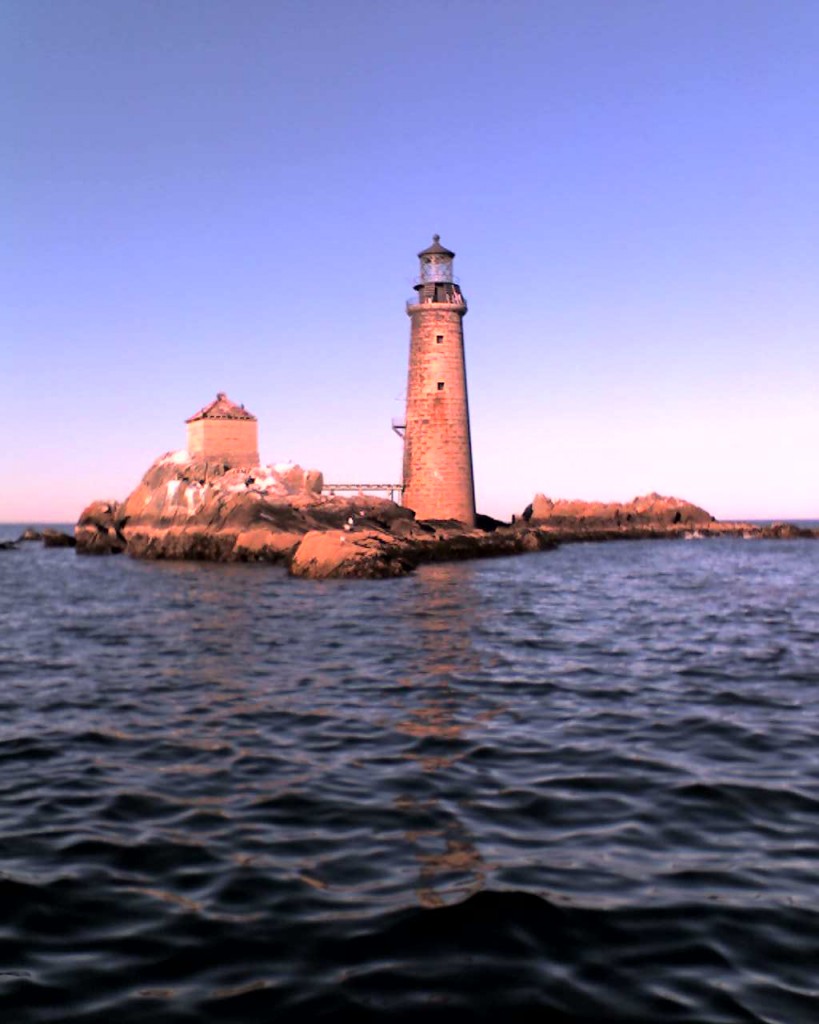 12) Long Island Light. This is probably the most creepy lighthouse in Boston Harbor, just because it is off limits to the public (we have recently written about Long Island here). The lighthouse sits on top of Long Island head, surrounded by steep cliffs and dense brush: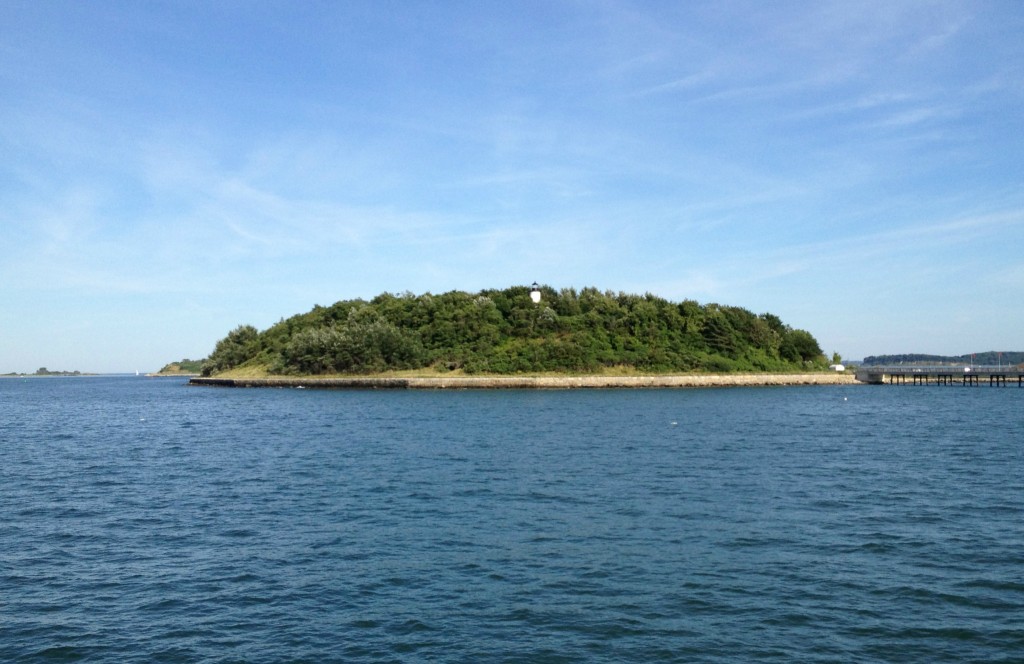 View of the forbidden island's lighthouse up close: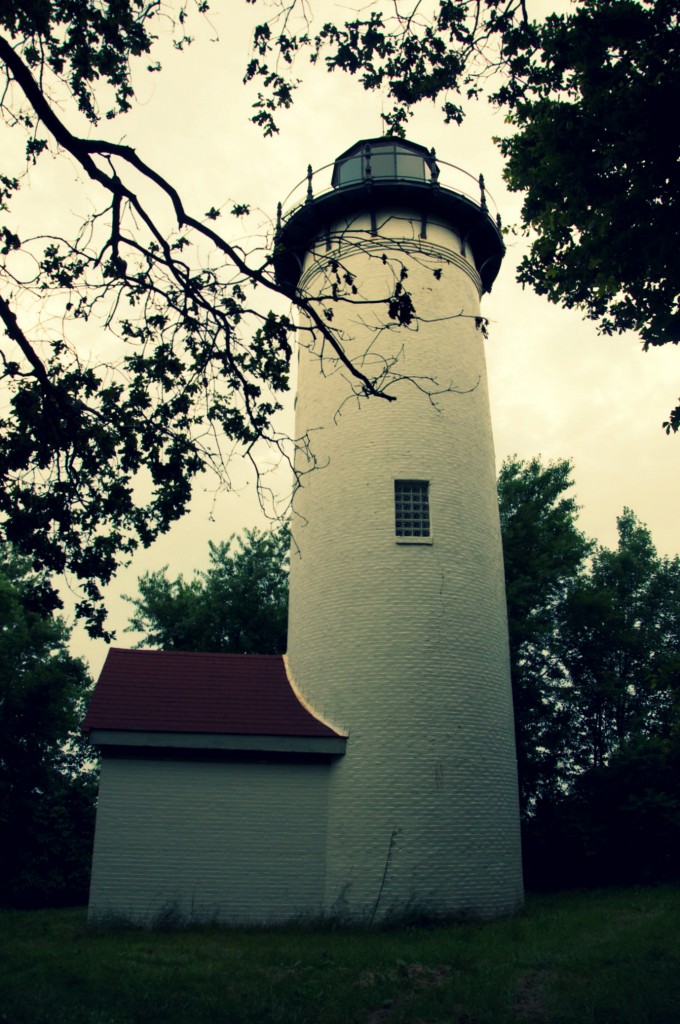 13) Boston Light. This is probably the most scenic lighthouse in the harbor due to its prominent location. Additionally, it is well kept up as it is the only continually manned lighthouse on the East Coast. The light sits on Little Brewster Island. This is one of many structures built on this site (the oldest and original one was burned down by the British at the evacuation of Boston in March 1776).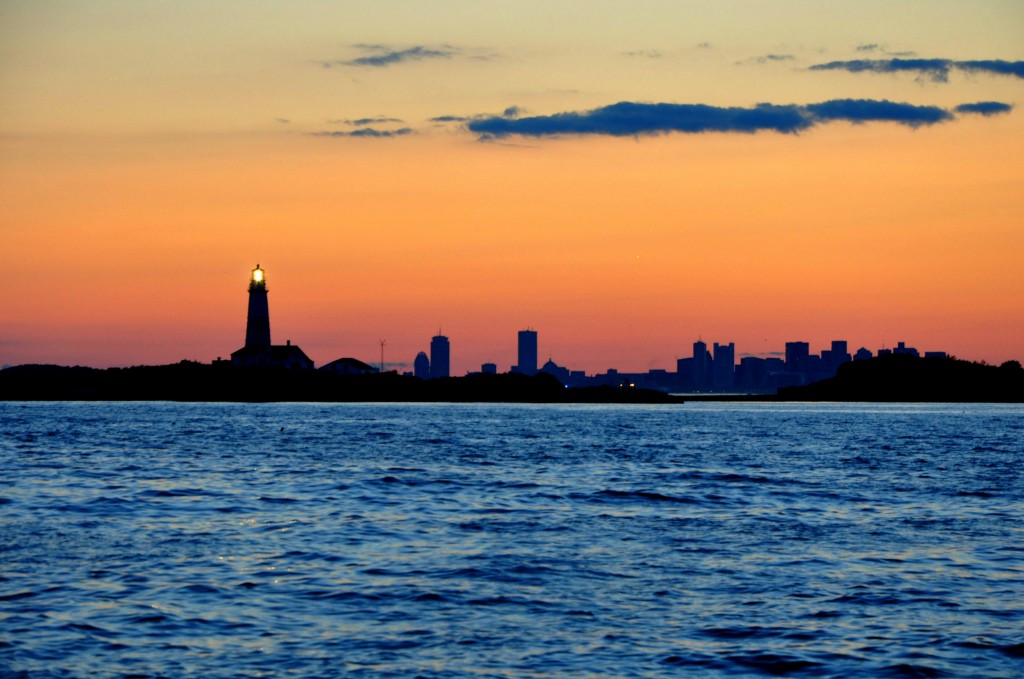 A sailboat passes Boston Light on a summer day: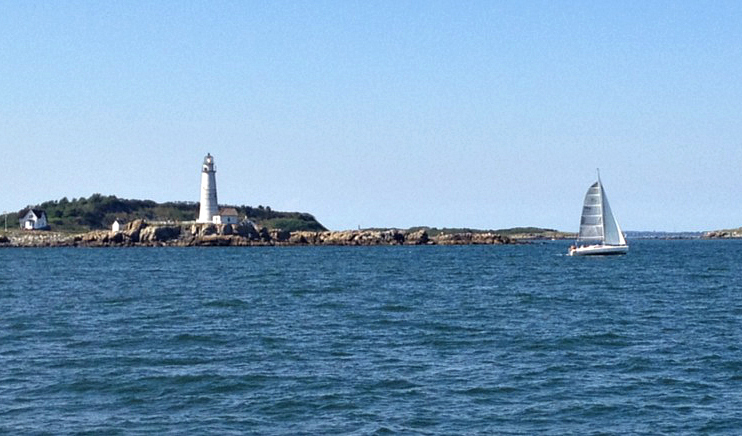 Boston Light up close: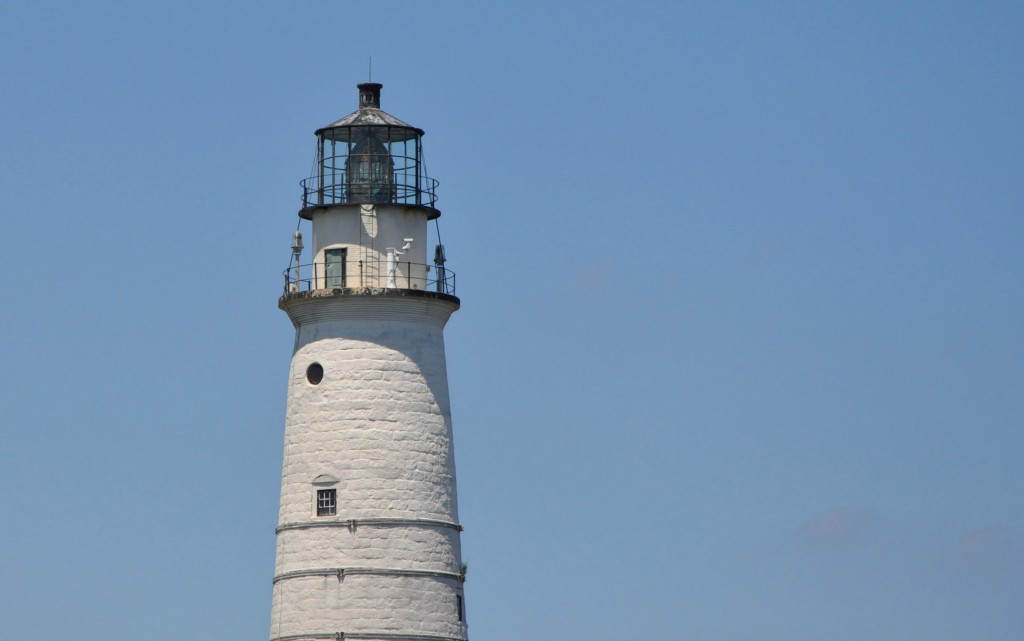 14) Minot Light. Built on a ledge about a mile of the coast of Scituate, this light is subject to some particularly rough weather as can be seen in the photo below. The original structure once collapsed in a very tough storm back in the mid 19th century in a severe storm. This light remains very useful in highlighting the dangers of the very rocky Cohasset Cove area North of Scituate.
Minot Light up VERY close: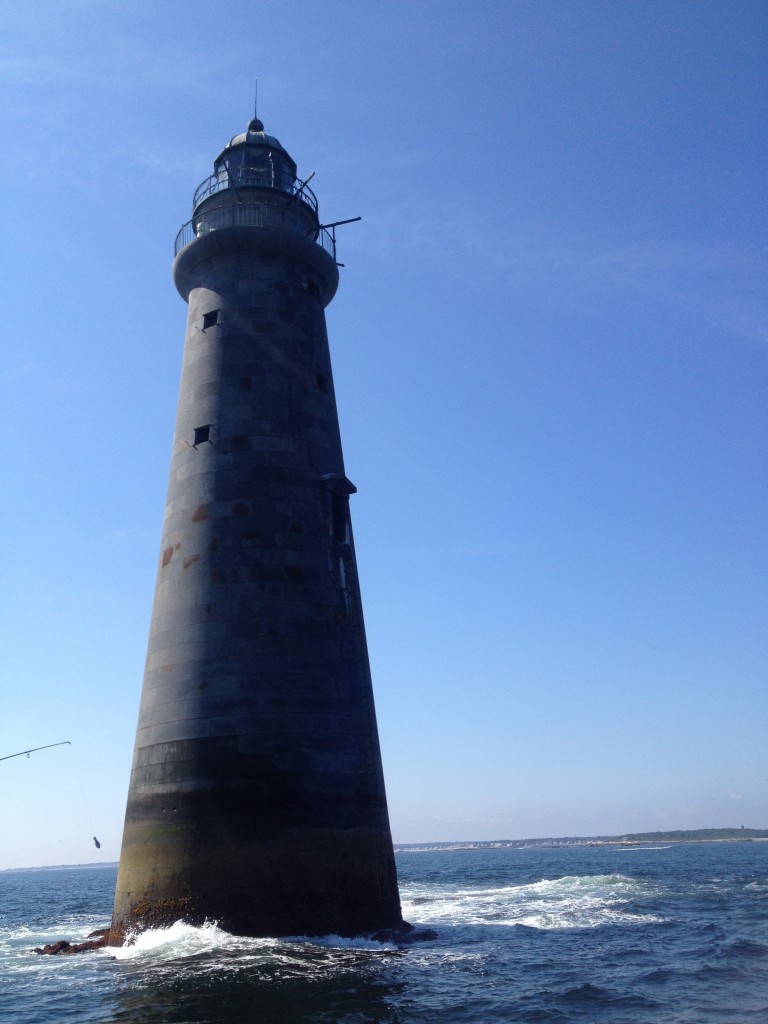 15) Scituate Harbor Light. Just south of Minot, this small lighthouse is located at the entrance to Scituate Harbor, which has a rocky and obstucted entrance. Of all the lighthouses mentioned here, Scituate Light is probably the easiest to visit by car, as it is located right off Rebecca Road in Scituate and even has a free parking lot.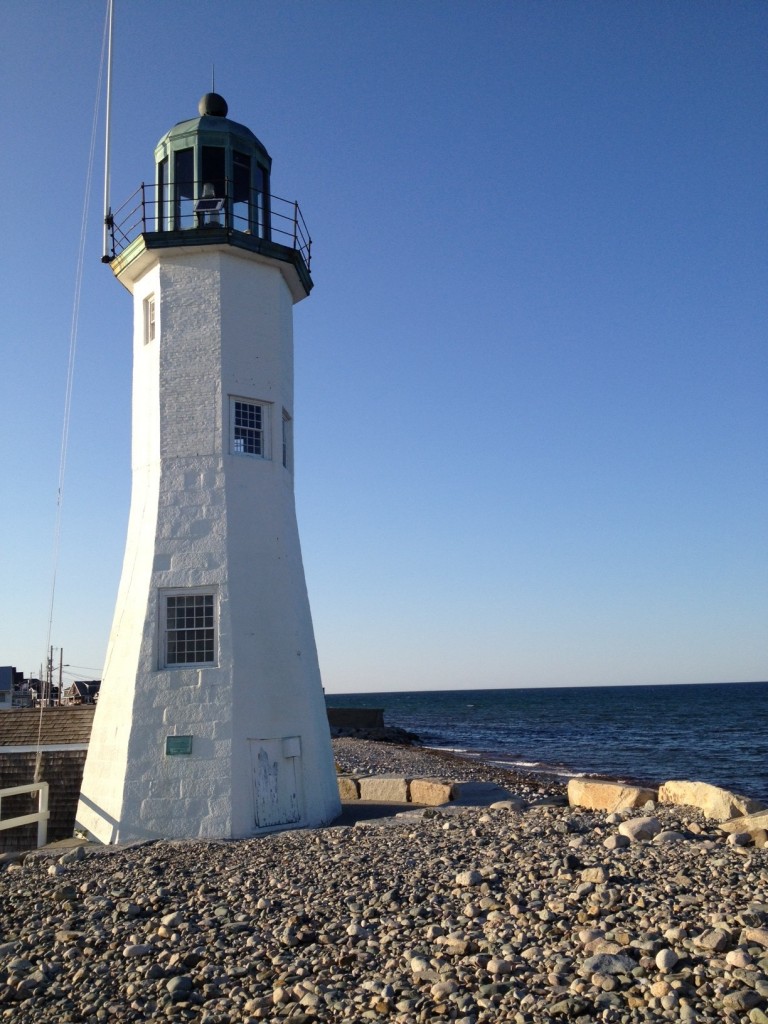 Scituate Light from across the channel: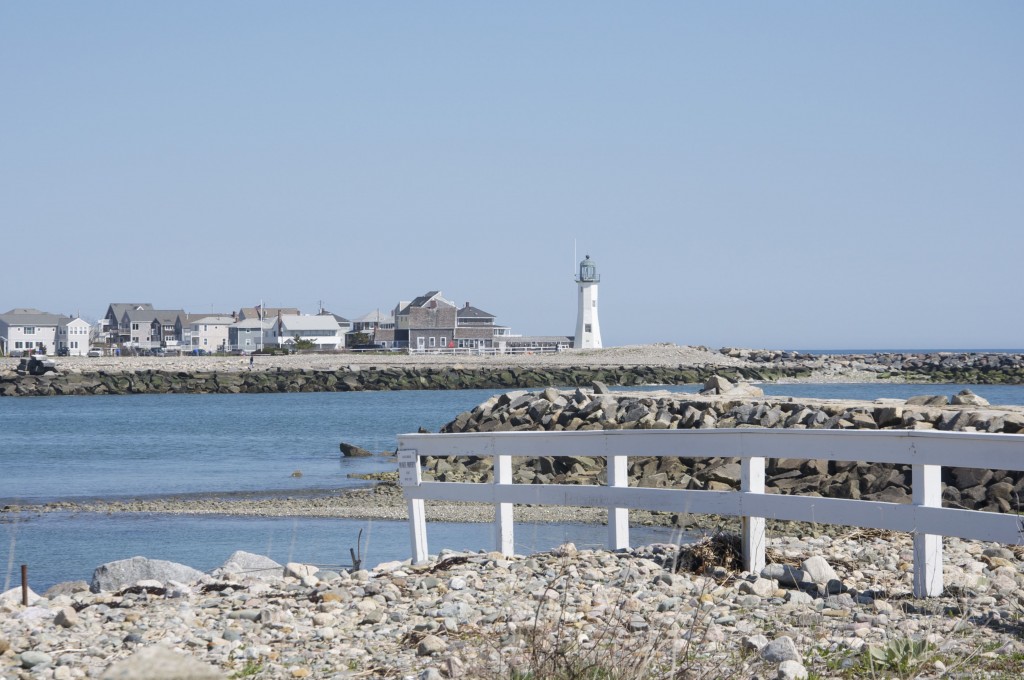 16) Plymouth (Gurnet) Light. This light overlooks Plymouth Harbor, where the Pilgrims once arrived and made their new home many hundreds of years ago. Located on the Gurnett Bluffs of Saquish Head, this light is not easily accessible, unless one has a Duxbury beach parking permit.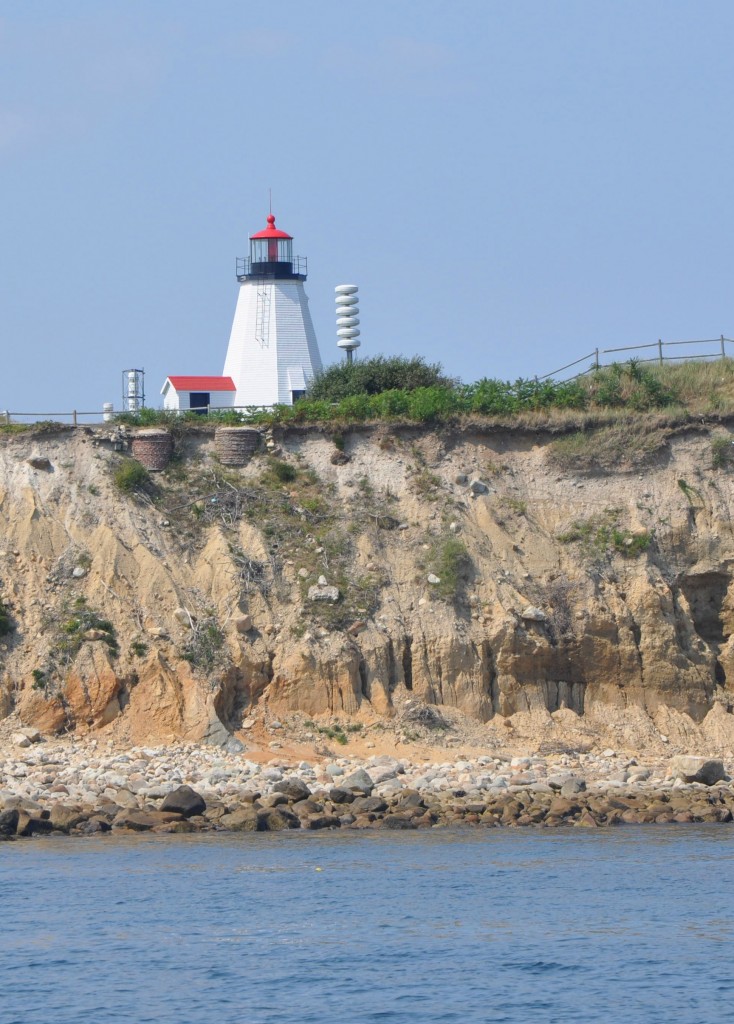 Gurnet Light as seen from Plymouth Beach: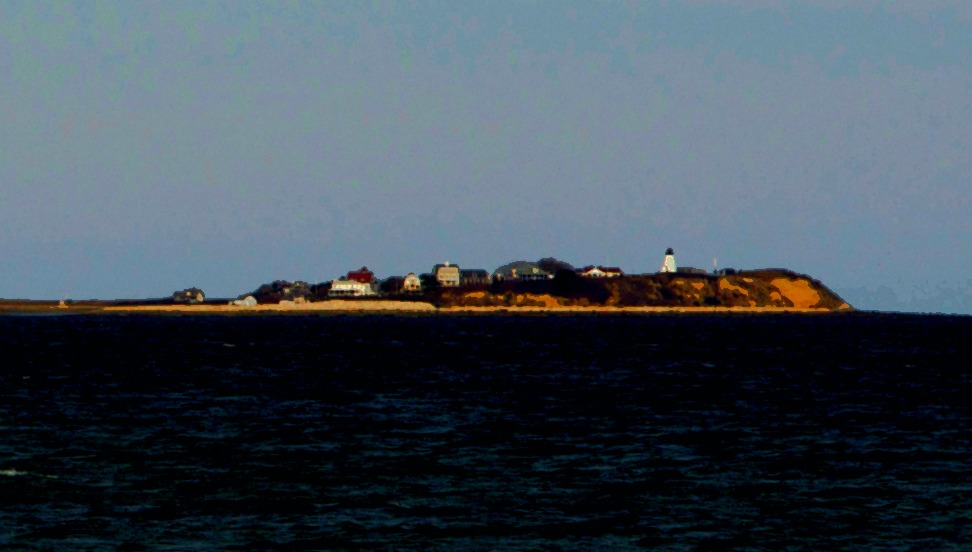 17) Duxbury Pier Light: This light marks the trecherous rocky entrance to Duxbury bay from Plymouth Harbor and Browns Bank, a large bar which becomes exposed at low tide. I the photo below, the Myles Standish monument in Duxbury is visible in the background.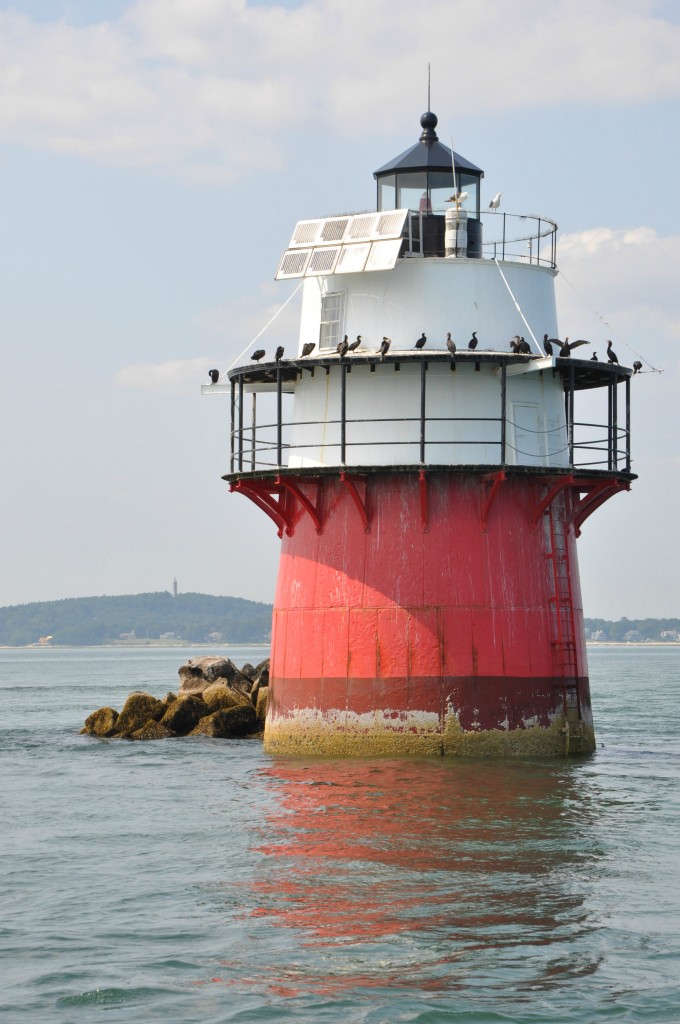 18) Race Point Light: This lighthouse is located on the sandy North End of Provincetown known as race point. This area, where the Pilgrims first made landfall is known for its excellent beaches and biking trails: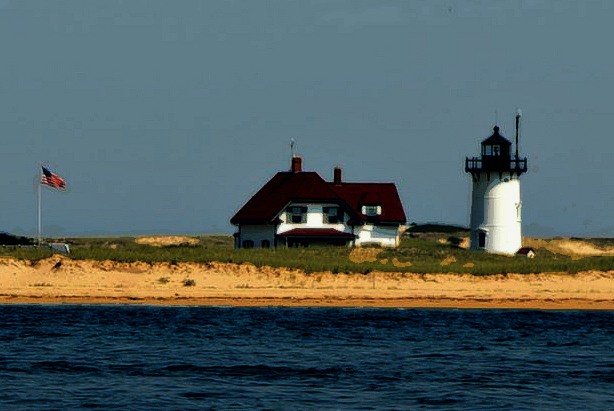 19) Wood End: Further down the Provinceland headlands lies Wood End, where the dunes turn inward back toward the town of Truro. This end is a magnificent spot: sandy, isolated and surrounded by vast stretches of calm Cape Cod Bay waters.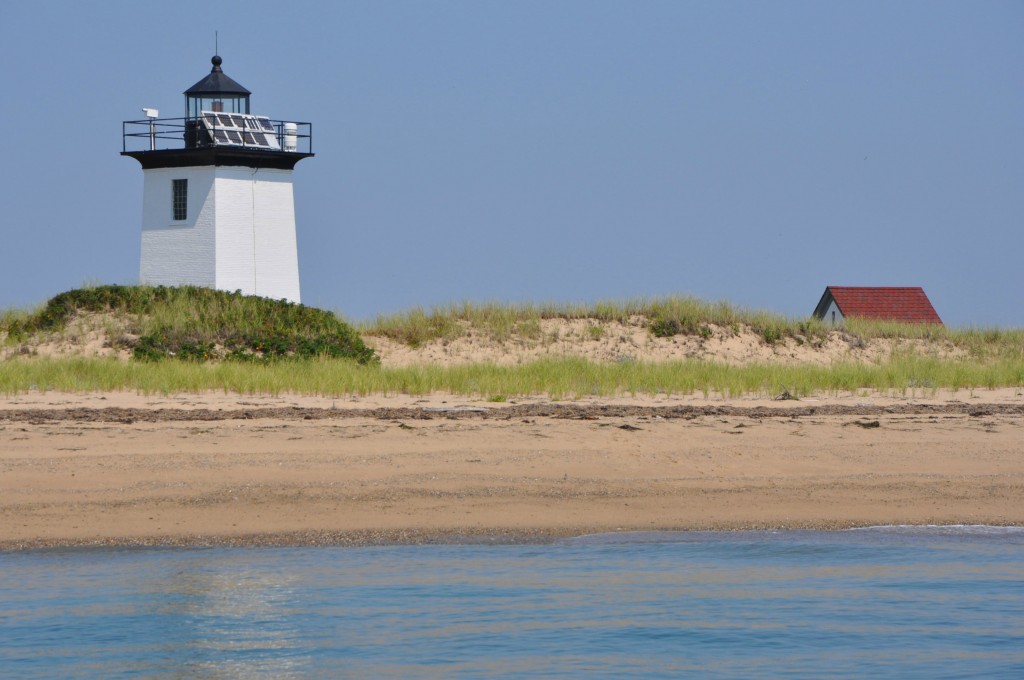 20) Long Point: The end of the Cape! Upon tuning East at Wood End, one appoaches the very end of Cape Cod at Long point. It is here where the dunes give way to reveal the spectacularly protected Povincetown Harbor, shielded from the Nor'east wind fetch during storms yet deep enough to accommodate just about any ship. It is here that Long point light sits. Long Point light against a background of downtown Provincetown: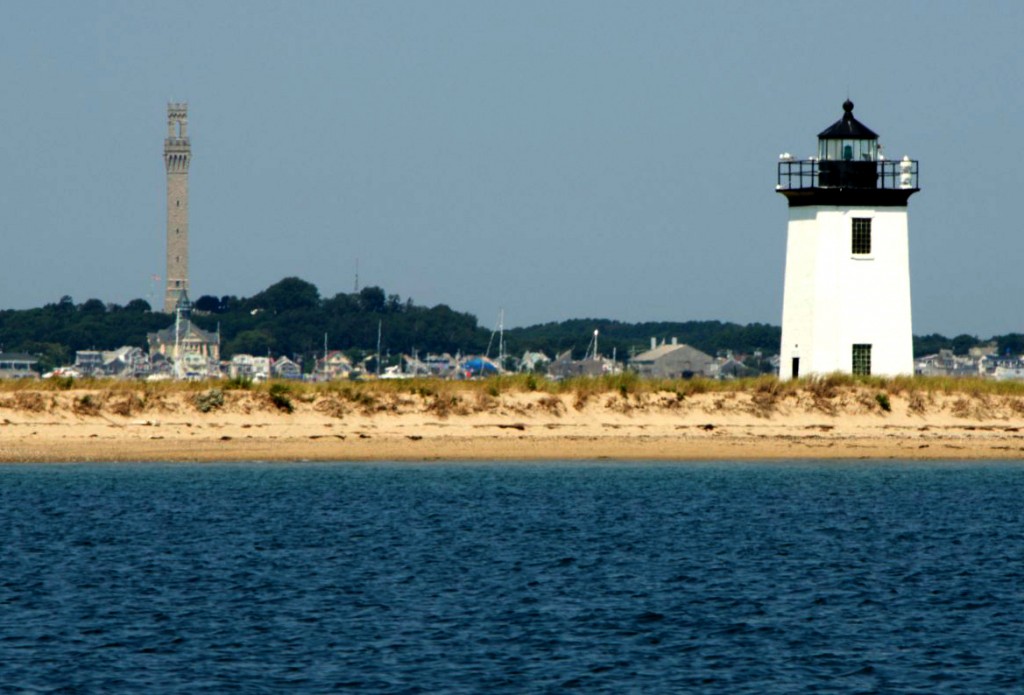 A sailboat heads out of Provincetown Harbor around Long Point: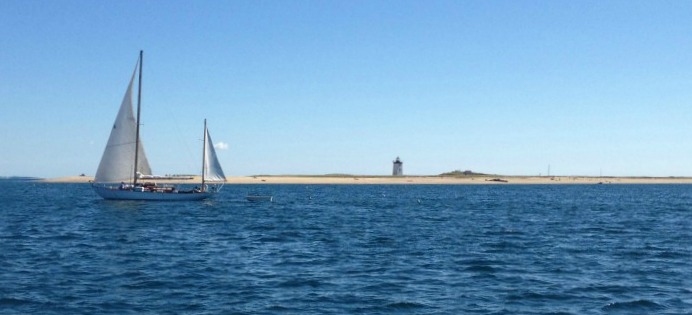 There you have it. Cape Ann to Provincetown! All in, these are the twenty Major lighthouses along the bay.
But this is just the area encompassing Massachusetts Bay. There are other lighthouses in Massachusetts, and here are some of them (not a complete list):
Nobska Light: A picturesque lighthouse in Falmouth, Just East of Woods Hole: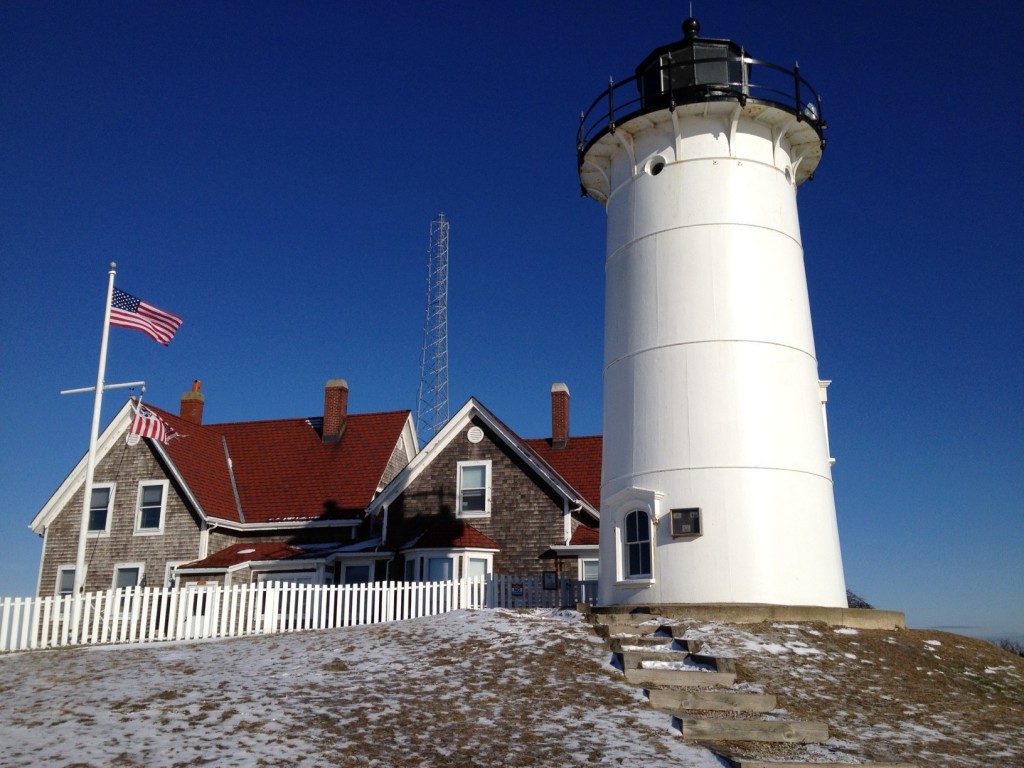 Nauset Light: A strange and distant shot of Nauset Light, highlighting the large sand dunes which it sits atop: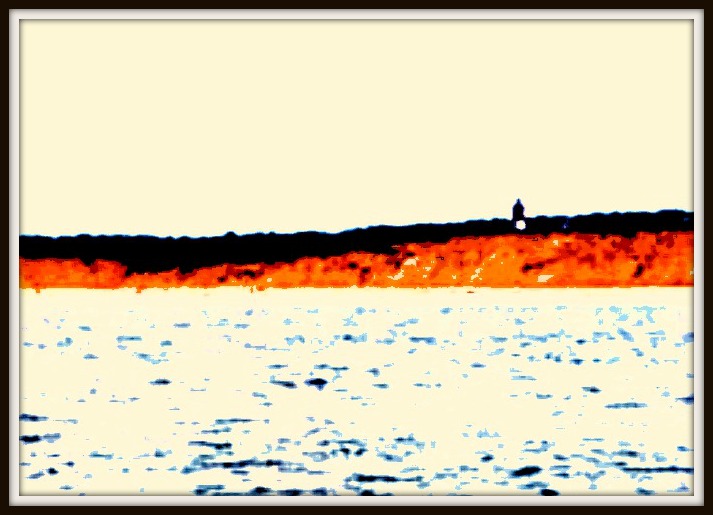 Nauset Light up close:
Bulter's Flats: A "spark plug" type light, (similar to Duxbury Pier light), located just outside New Bedford harbor: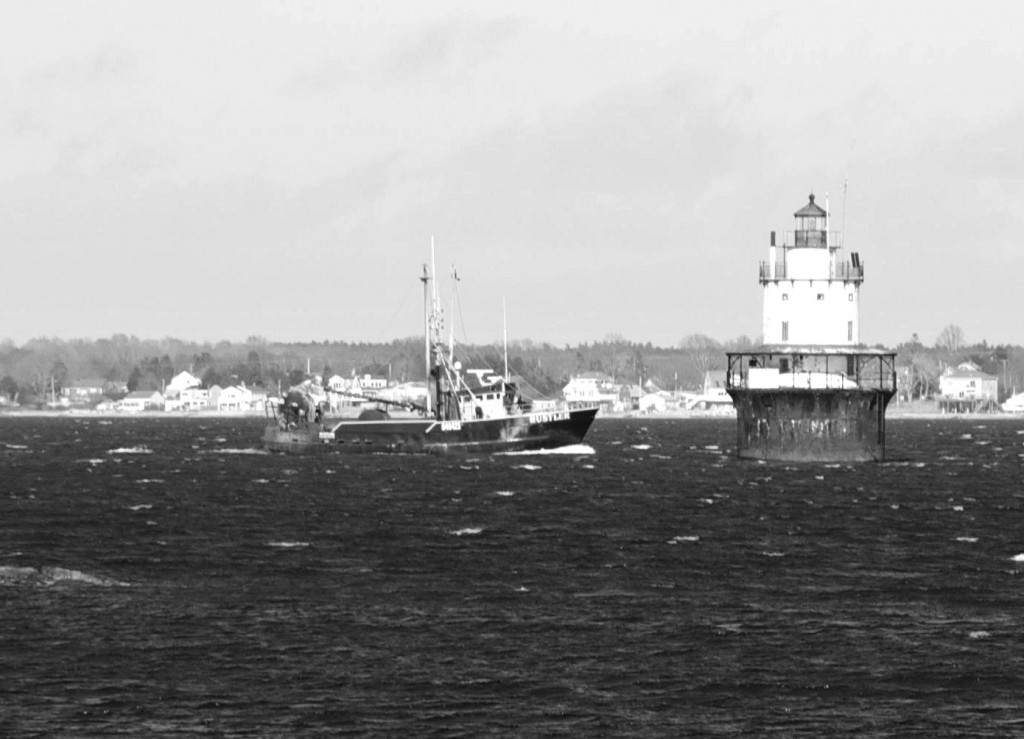 Borden Flats Light: Located in Mount Hope Bay, Fall River: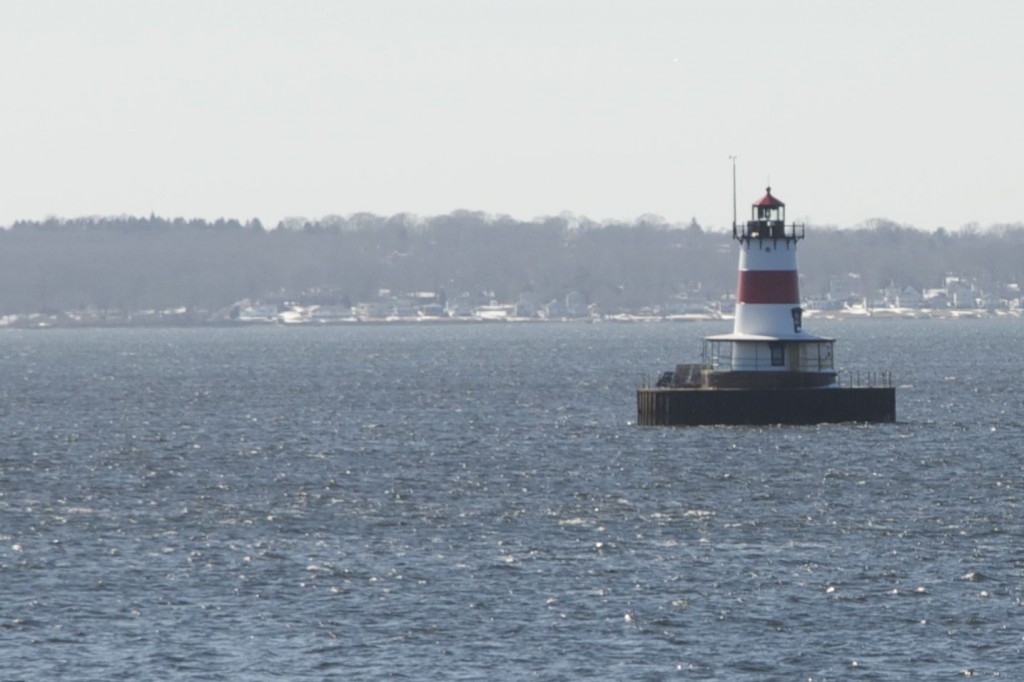 Aquinnah Light: Located on the Western end of Martha's Vineyard, on top of some majestic (but eroding) cliffs: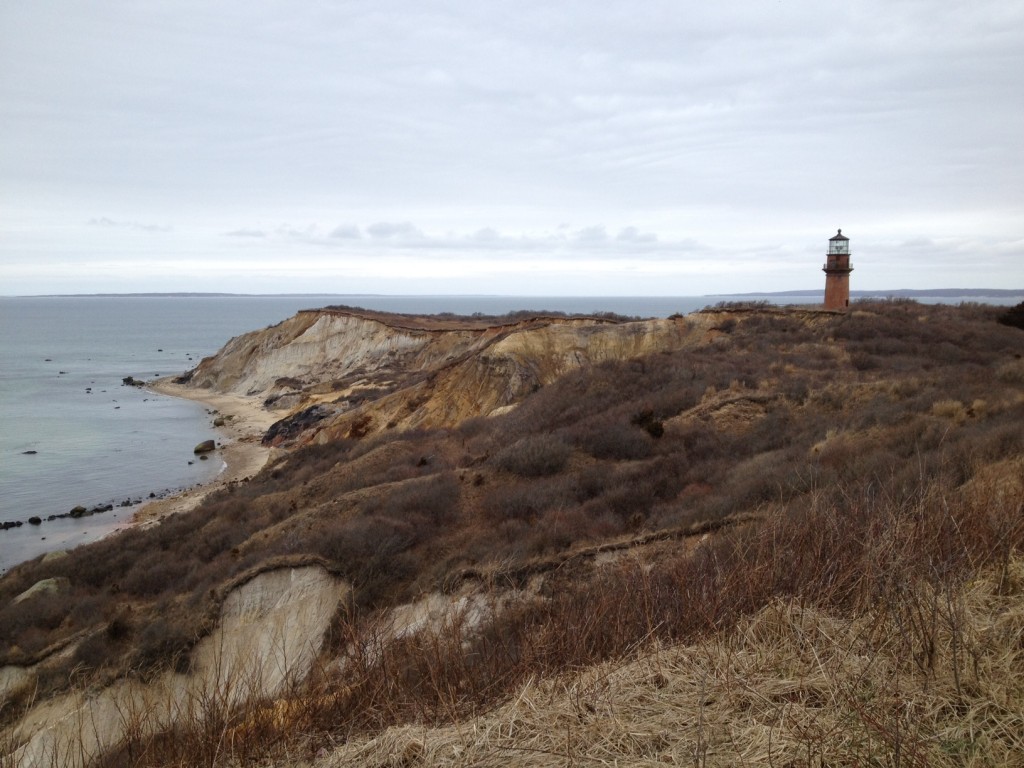 Edgartown Light: Located at the edge of Edgartown Harbor, as seen in winter: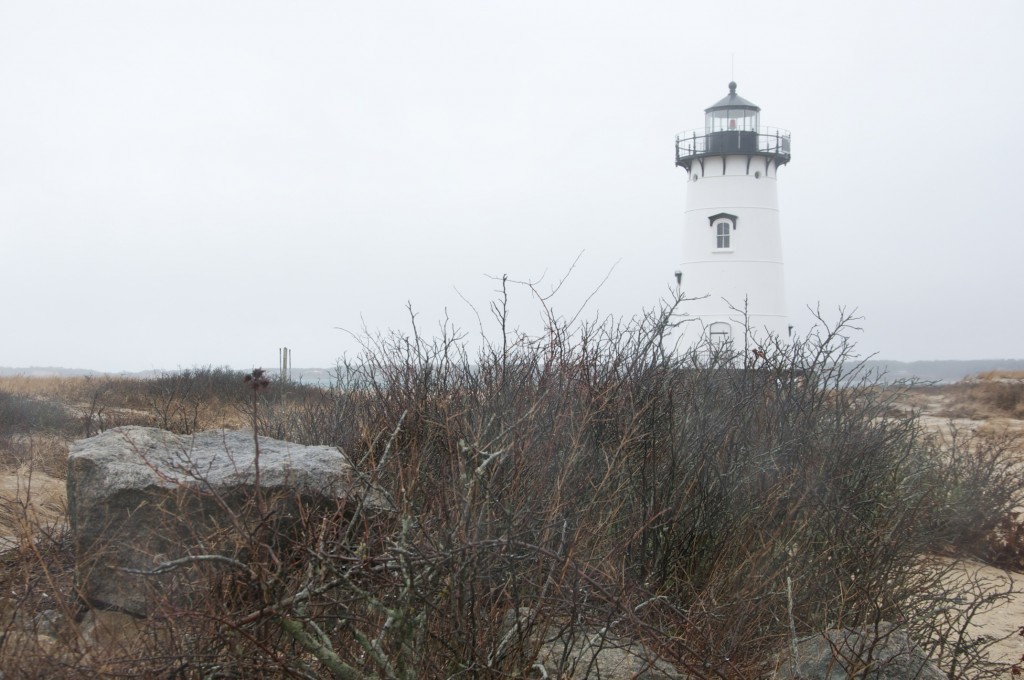 Highland Light: Located high on the top of Cape Cod's sand dunes in Truro, this light is visible from both the bay and ocean side. Here is a photo of the light house as seen from Provincetown Harbor: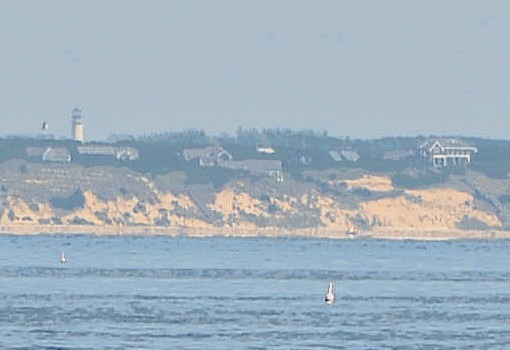 Highland light up close: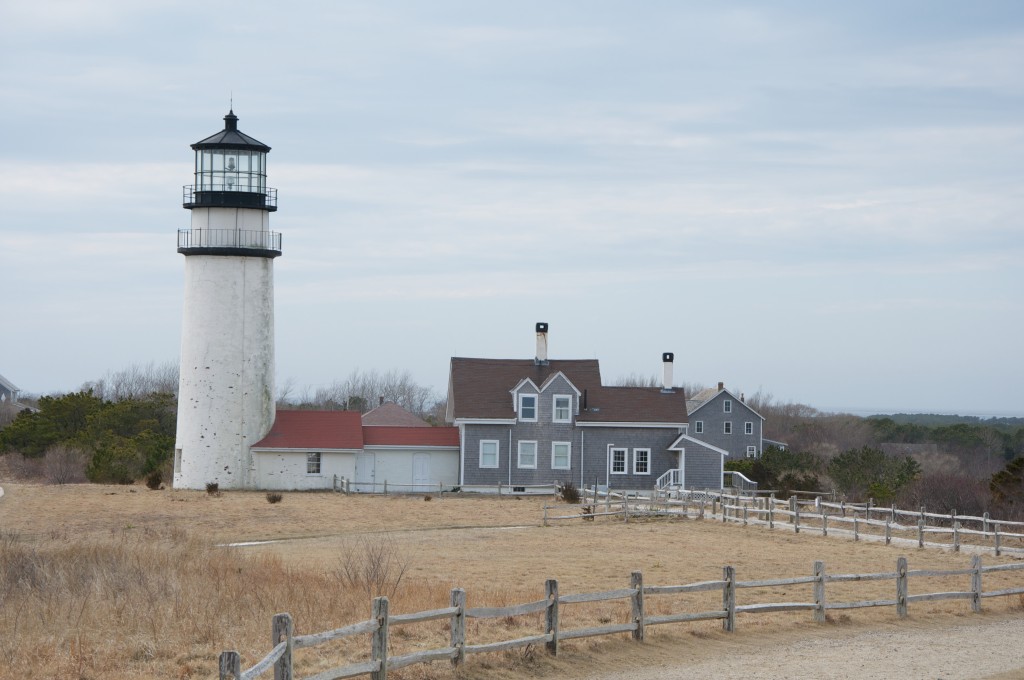 Sandy Neck Light: This lighthouse is located at the end of the seven mile sandy neck spit in North Barnstable, making it difficult to access: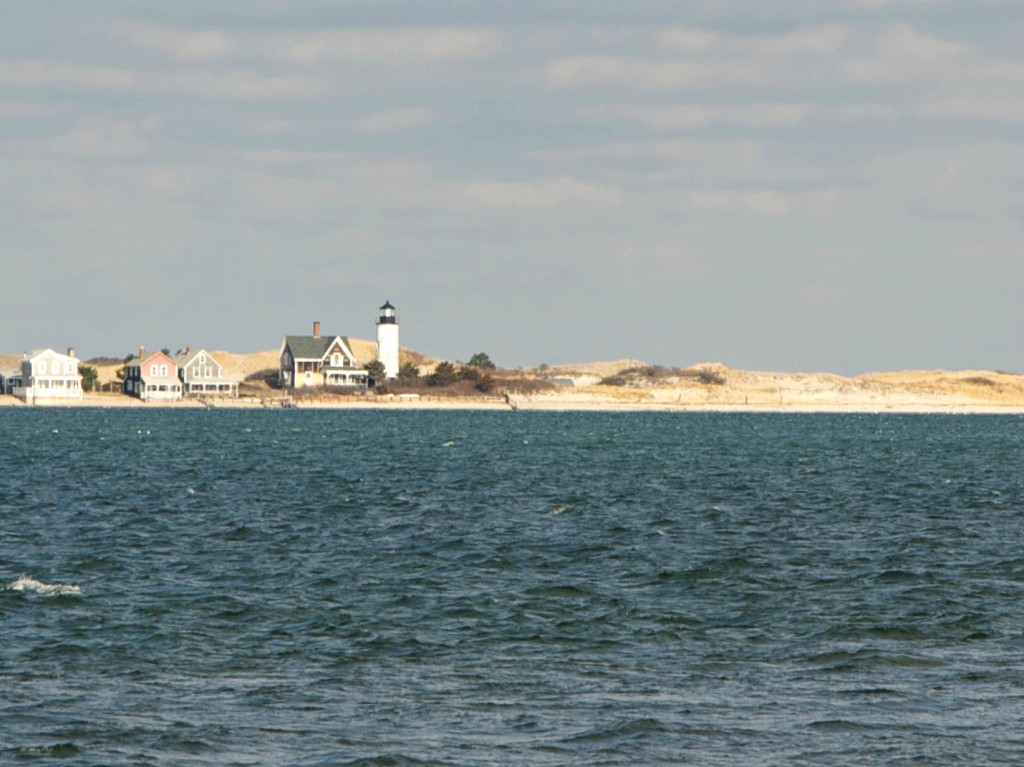 Bird Island Light: This lighthouse is located off the coast of the town of Marion in Buzzard's Bay. It is a bird sanctuary and is not accessible to the public. In this photo, Bird Island Light is visible in the foreground, while Cleveland Ledge is visible in the distance.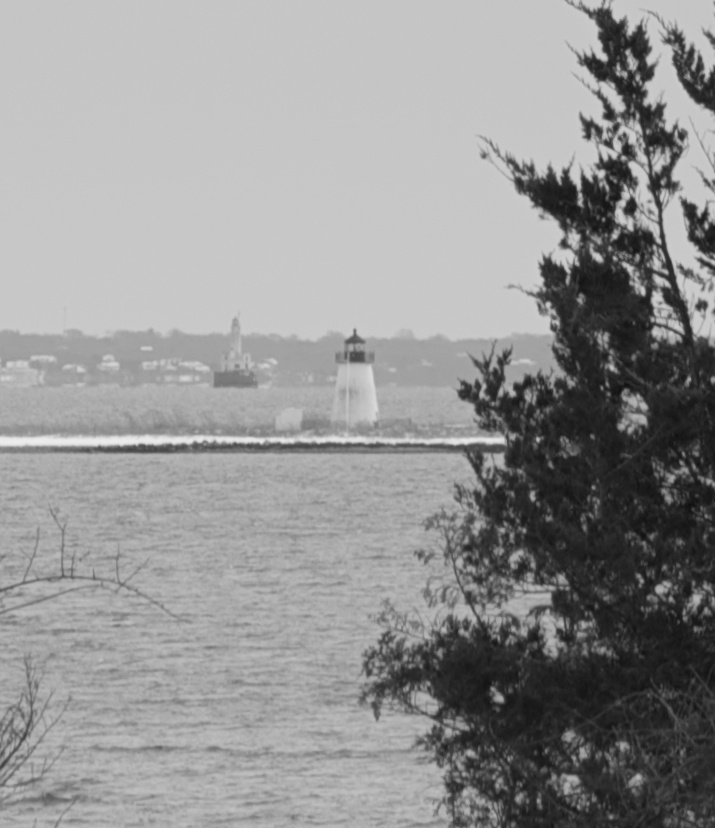 Ned's Point: This lighthouse is located on a point surrounding Mattapoisett Harbor on Buzzard's Bay: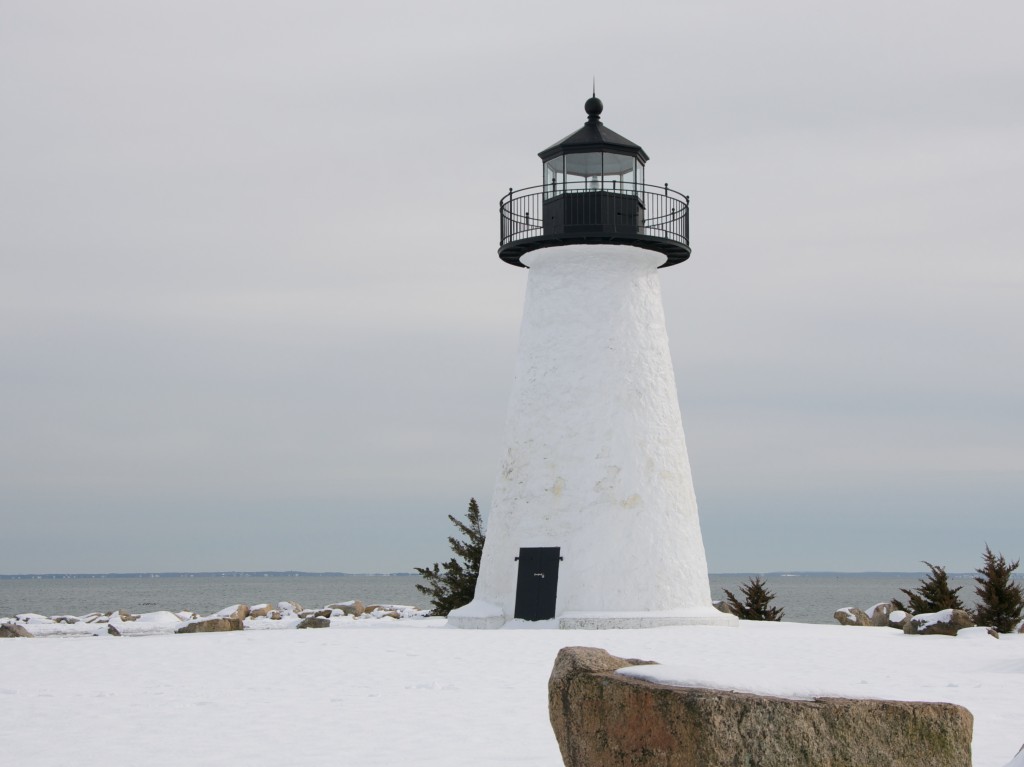 Chatham Light: Located in Eastern Chatham near the break in the barrier island, this lighthouse is visible from the Atlantic Ocean and Nantucket Sound.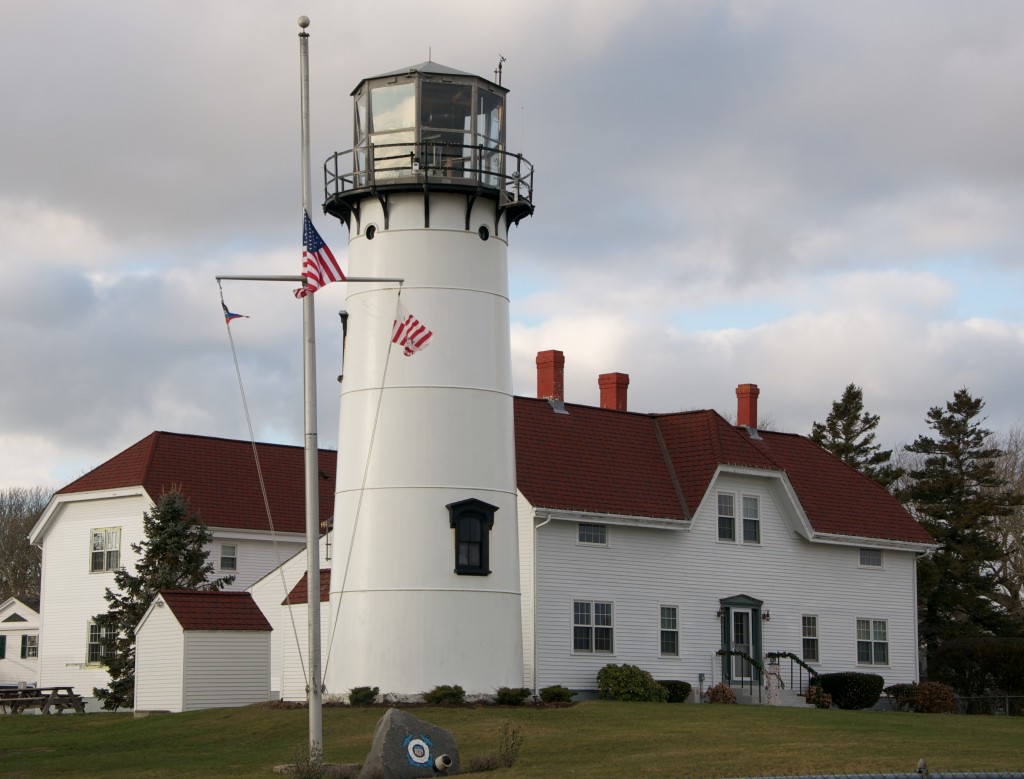 Brant Point, Nantucket: This light lies at the entrance to the Nantucket boat basin, where some of the finest yachts anywhere can be found: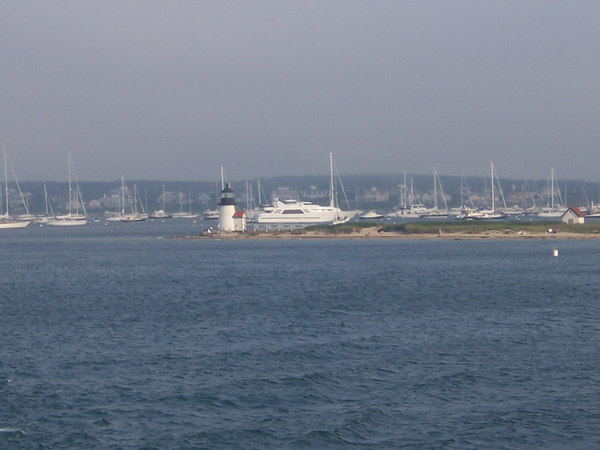 Great Point Nantucket: This is one of the most seculded and desolate places on the Massachusetts coast. The Lighthouse warns mariners of the dangerous sandy shoals nearby: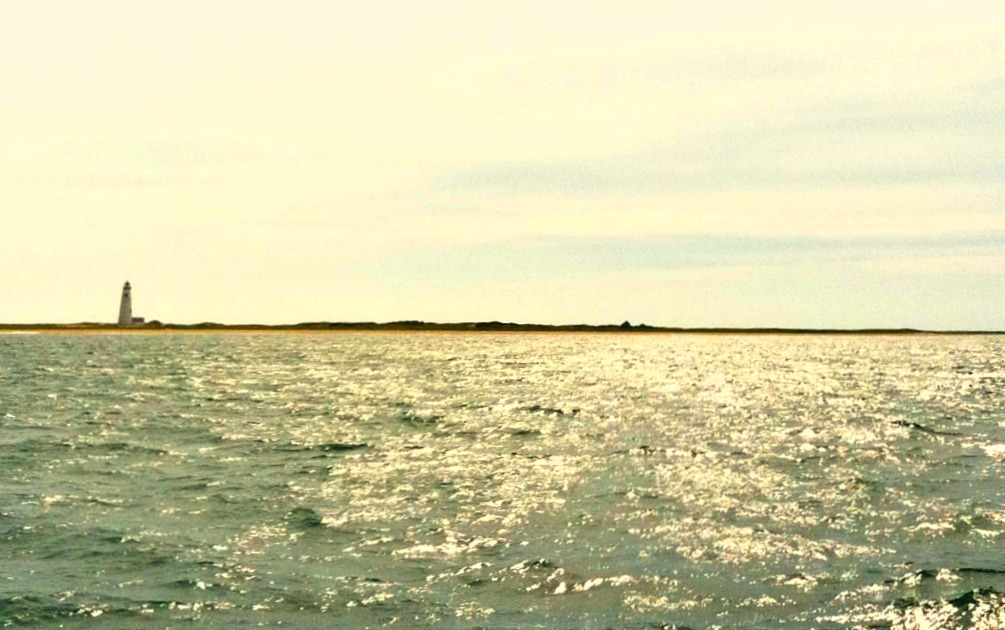 Sankaty Head Light. Located on some bluffs over the Eastern end of Nantucket, the lighthouse faces the threat of severe erosion and has already been moved once: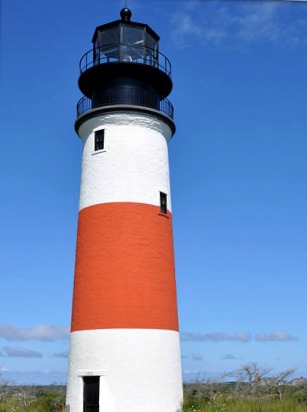 The Nantucket Lightship is a mobile lighthouse. There are several of these ships along the bay, although this particular one below sits in East Boston. These ships were historically used to mark the ever-shifting shoals off the South of Nantucket Island: